When we talk about commitment to roles and character, we don't usually think about Bollywood actors, however, there's a huge list of these actors who have gone that extra mile in order to nail that final nail in the coffin of perfection.
We all have been through times when we just want to those extra 10 kgs and everything can turn into perfect. From mediocre life to a perfect life, with just a decline in those extra 10 kgs, yes it's true, believe it or not. And, the same happens with actors whose body and face is their material and they need to be constantly on with it and taking care of it for a much more beneficial future.
And, then there come roles that change everything. These parts push you towards achieving something from your usual body type, just in order to make the character as real as possible. But it's funny, whenever we talk about body transformations, Bollywood actors just don't come to our minds. They are like these uncharted territories of wonderful talents that work hard for their work, and yet somehow get ignored in their journey of being that. However, if you want to check out some of these inspirational stories of huge body transformation, then you've come to the right place.
These Bollywood actors went that extra mile in being the characters that they're playing on the screen. From gaining weight to losing it down to the last abs possible, they've done it all and they've done it with last possible sweat in their body.
1. Bhumi Pednekar for Dum Laga Ke Haisha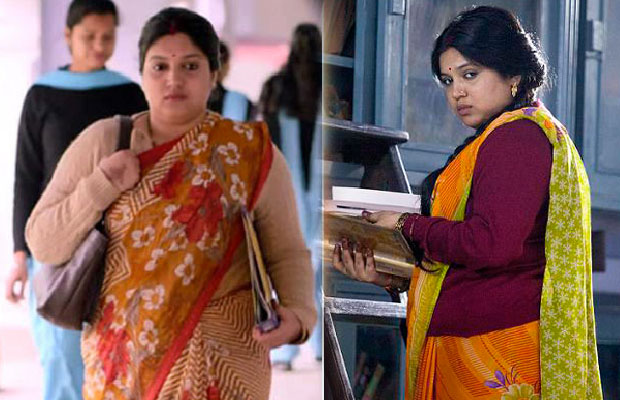 Dum Laga Ke Haisha was Bhumi Pednekar's debut in Bollywood and it demanded more than one can think of, from her. Everyone knows the result of debuting in Bollywood with a big body, you start being typecasted for certain roles. However, she shed off all the excess weight and now has two successful releases in her pocket, Toilet: Ek Prem Katha and Shubh Mangal Savdhan. And, the best part was Dum Laga Ke Haisha turned out to be a huge hit and even got her best debut awards at various functions.
2. Aamir Khan for Dangal
source: UTV Motion Pictures
We all know of Aamir Khan as the Mr. Perfectionist of Bollywood who doesn't shy away from going that extra mile to make his appearance on the screen a worthy experience for his audience and fans. However, when we went on to gain 30 kgs and lost it all by the end of Dangal shooting, everything changed. He was no longer just a perfectionist, he was a real actor who loves his art and agrees to do anything and everything in order to bring justice to his character. Nothing speaks of passion more than this.
3. Shahrukh Khan for Om Shanti Om
There was a time in Bollywood when only newbies and fitness freaks were crazy about the six-pack abs phenomenon. It was never a concern for the Khans in Bollywood to get some pack of abs for being relevant in the movie industry, however, Farah Khan's Om Shanti Om changed the entire tradition for Bollywood. Shah Rukh Khan worked extremely hard and got himself six-pack abs for "Dard e Disco" and it became an instant hit among the audience and his contemporaries. Times have changed since then, but one thing is for sure, Farah Khan has always been pushing Shah Rukh to do something new, in Happy New Year, she made his work on attaining eight-pack abs.
4. Farhan Akhtar for Bhaag Milkha Bhaag
source: Viacom18 Motion Pictures
Tell me, one person, who didn't drool over Farhan Akhtar's transformational body in Bhaag Milkha Bhaag, I'll wait. Soon people realised the potential of Farhan Akhtar's hot bod and the number of muscles it can attain. Ever since then, he has been considered to be one of the hottest actors in Bollywood, someone who can do anything and everything.
5. Hrithik Roshan for Guzaarish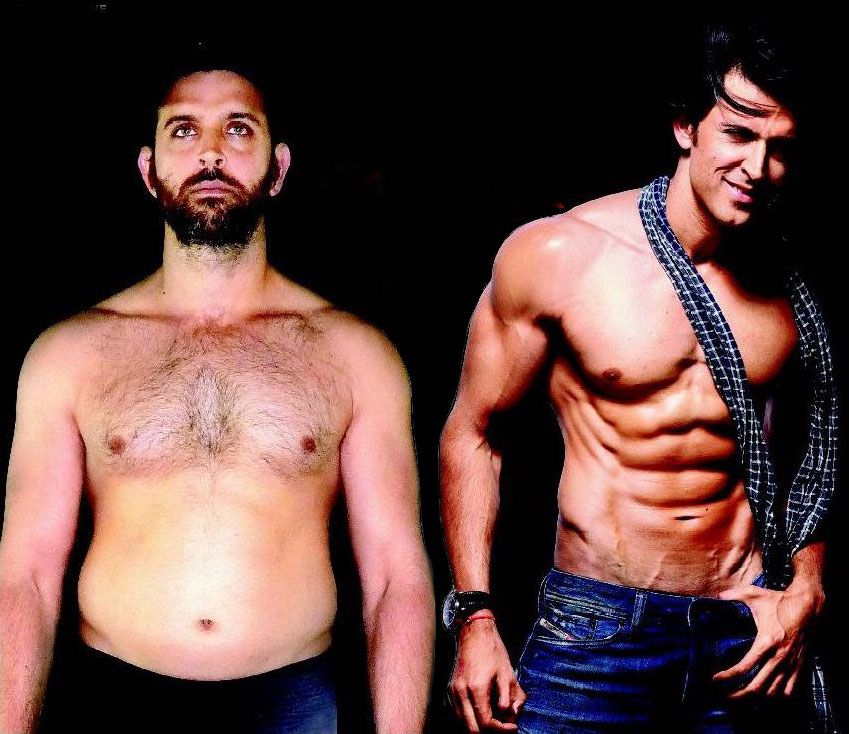 We all know about the glorious looks and body of Hrithik Roshan that just never fails to impress, however, when he played the role of a wheelchair-bound paraplegic, he gained a lot of weight to replace his abs for a pot belly. Guzaarish came in 2010 and even though it wasn't such a big hit on the box-office, it definitely had a huge impact on the audience. And, after wrapping up Guzaarish, Roshan went back to his hot bod for Zindagi Na Milegi Dobara in 2011.
6. Rajkummar Rao for Trapped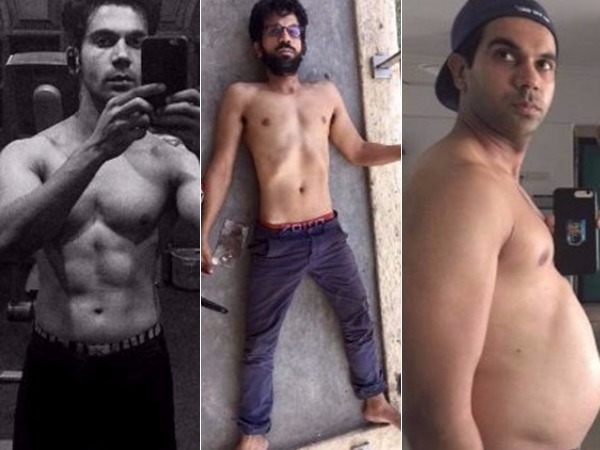 Rajkummar Rao is considered to be the next big thing in the Bollywood who comes with a great talent and a lot of passion. Not only does he give a stellar performance in each of his movies, he has the ability to get under the skin of his characters to make them look as real as possible on the screen, something that very few actors have been able to master in Bollywood. His recent body transformational journey is nothing short of crazy. First, he lost a huge amount of weight for Trapped while being alive on black coffee and two carrots in a day, then he attained a complete six-pack body for Behen Hogi Teri and then gained a lot of weight in order to achieve a round belly for his web series, Bose! How many actors can even think about doing something like this?
So, what do you think? Do you have the patience and hard work to give in for your dream bod?
19th September 2017
Jyotsna Amla