Hrithik might have the Greek God looks, Saif may have the stubble to interest the witty, articulate women and Shahid Kapoor may have the puppy-eyed innocence about him.
But Arjun Rampal has 'still got it'. And he has plenty going for him. With his brooding intensity, stubbled look, lanky frame, chiselled physique he lends a refreshing touch of soothingness to the macho about him.
It's a rare combination- the gift of looks and the presence of swagger. And only a few can match up or overpower standing next to Arjun Rampal. He's every bit a gentleman as a dude they expect modern Bollywood actors to be.
But that said, even as Arjun Rampal isn't a superstar, his films hardly doing a third of a business that those of Shah Rukh, Aamir, Akshay or Salman's films do, on a regular run, the actor does have in possession a mighty superstar of a home. It's not of the palatial size of Shah Rukh Khan's Mannat. It doesn't have the earnestness of Salman's familial set-up.
But Arjun Rampal, best remembered for movies like Pyaar, Ishq Aur Mohabbat, RaOne and, Om Shanti Om has a certain opulence about his abode that can give anyone a run for their money.
And recently, the successful actor and father to two shared pictures of his plush Mumbai apartment on his Instagram handle. In so doing, he gave an idea to the outside world about the den of luxury he sits on akin to a lion presiding over a kingly throne.
What also became apparent after seeing some eye-popping and gorgeous pictures from Arjun Rampal's home is that the actor has a keen eye for placing art in his living space.
In most corners of his plush, fancy Mumbai apartment, art can be seen adorning the living spaces as if infusing creativity in a span of spaciousness with rich vigour.
Whether fans, film-viewers, audiences, fashionistas and anyone else- everyone has an idea as to what kind of homes do modern film stars possess. Nine in ten would tell you to have a home that compliments a star's personality- stylish, colourful, artsy and decked with a lot of gravitas- what else can be expected from our cinematic giants out there?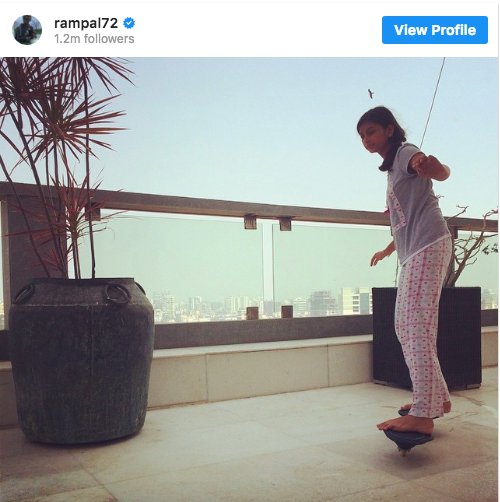 But Arjun Rampal's home is neither smitten by an endless charade of colours. And at the same time, neither is it opaque enough to confuse the onlooker. It's a perfect balance of space and modern aesthetics that truly articulate one's personalised style statement. It's trendy, ravishing and, yet not over the top by any stretch of the imagination.
In a brilliant articulation of his house published in the famous Architectural Digest magazine, Arjun Rampal's home was described rather artfully:
What stands out is a cool, almost pop-art, a portrait of British supermodel Kate Moss hanging above the cabinet in the elevated dining area. Simba and Muscles, Rampal's canine friends, enjoy the feel of the faux fur rug in the living area. The balcony, however, must be a favourite spot for Rampal and his kids. The patches of plants in large urns add texture and pops of colour to space. The outdoor lounge provides comfortable seating, while unique outdoor light fixtures create the perfect atmosphere for casual entertaining.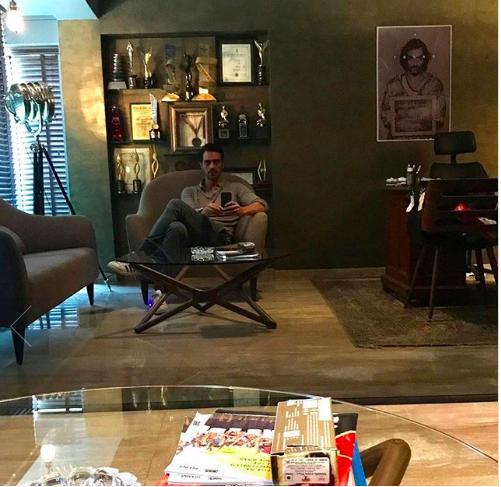 A duplex at Bandra West, Arjun Rampal has spent quite some time in tastefully doing his home and it reflects in the very essence it oozes. In a city known for both- large-hearted individuals and cramped up spaces, the skyline of Mumbai buzzing with more skyscrapers than birds, it's rather beautiful to admire the sight of an actor indulging with fervent enthusiasm about doing his house properly.