When it comes to Bollywood, there are few names which we think about even while saying the word 'Bollywood', the most famous, successful, beloved actors of all time based on everybody's choice and liking. But there is one actor that resides in everyone's heart and is known as the Khiladi of Bollywood. Yes, you got that right, Akshay Kumar. He is one of the highest-paid stars in Bollywood and has had a wonderful career in the Hindi film industry with more than 100 films under his name.
Moreover, Khiladi Kumar has started working on producing very unique and extremely popular films, in the recent past, all of which has contributed to Akshay Kumar net worth and his overall income. In addition to all that, Kumar is also one of the highest tax-paying actor and citizen of the country who is also doing something or the other for unprivileged citizens and families of armed forces.
But there is a lot more of the actor outside of his filmography, so, let's get to know him a little better and where Akshay Kumar net worth stands, today.
Early Life: Akshay Kumar
Rajiv Om Hari Bhatia, professionally known as Akshay Kumar was born on 9th September 1967 to Hari Om Bhatia and Aruna Bhatia in a Punjabi family in Amritsar. His father was an officer in the Indian Army, and for most of his growing years, he lived in Chandani Chowk of Delhi and moved to Mumbai when his father left the Army and became an accountant with UNICEF. He has gone to Don Bosco High school in Matunga and learnt Karate simultaneously. For higher education, he went to Guru Nanak Khalsa College but he dropped out as he wasn't much into studies. He went to Bangkok as he wanted to do martial arts as well.
After returning from Bangkok, Kumar came to Calcutta to teach martial arts and was suggested modelling by a student. He started his career with modelling first and then finally stepped into the acting field.
| | |
| --- | --- |
| Name | Akshay Kumar |
| Net Worth | $325 million(Rs.2414 crore) |
| Date of Birth: | Sep 9, 1967 (53 years old) |
| Gender: | Male |
| Height: | 5 ft 10 in (1.8 m) |
| Profession: | Actor, Presenter, Stunt Performer, Martial Artist, Film Producer |
| Nationality: | India |
Acting Career – Akshay Kumar Net Worth
His first film was Saugandh which was released in 1991, however, it didn't perform very well at the time. A year later in 1992, the action-thriller, Khiladi was released which was directed by the epic duo of Abbas Mustan, making it an extremely successful and important stepping stone in Akshay's acting career. It was considered to be the breakthrough film for him which gave him the pet name – Khiladi and established his image as an action hero. Most of the movies at the beginning of his career didn't do well. Then, slowly with movies like Main Khiladi Tu Anari, Mohra he gained success, but it was actually the Khiladi series that finally put him among the Bollywood superstars list.
Then, he kept doing films which were offered to him, few did good and few didn't. For the initial years of his career, Akshay Kumar was stuck with his action hero image, until Hera Pheri came and introduced Kumar as a comedy hero, opening multiple roles for him. The success of Hera Pheri and his comic timing gave birth to some of the cult classics of today and have also been able to keep Akshay still relevant and at the top.
In the 2010s, Kumar again did something interesting to breakthrough his comedy hero image, and that was to go ahead with his Good Man image. Currently, the actor is known for being part of some of the most heartfelt and nationalistic films, going extremely well with his fans and followers.
Also Read : Shah Rukh Khan Upcoming Films
Awards
Akshay Kumar has received 13 nominations for Filmfare Awards, out of which he has won 2. He got the Best Villain Award for his film Ajnabee, and the Best Comedian for his film Garam Masala. He has also got National Film Award for Best Actor for his roles in the movies Rustom and Airlift, both of which released in 2016. In 2009, he was awarded the Padma Shri by the government of India. In 2011, the Asian Awards honoured him for his achievements in Indian Cinema.
Akshay Kumar Net Worth
According to several sources, he is among the highest-paid actors of Bollywood and his net worth sums up to be $325 Million, which in Indian rupees would be ₹2414 crores. He demands 25-30 crores for a movie and earns nearly ₹50 crores every year through various brand deals and commercial projects. His net worth continues to grow by 15-20% every year. He is a kind donator and has donated to various Women's organizations, the families of martyrs, and children's organizations.
| | |
| --- | --- |
| Net Worth in 2021 | $325 Million |
| Net Worth in 2020 | $310 Million |
| Net Worth in 2019 | $270 Million |
| Net Worth in 2018 | $240 Million |
| Net Worth in 2017 | $224 Million |
Net Worth Growth In Last 5 Years
In a year, Akshay Kumar does some 3-4 films on average, earning more than ₹100 crores each, which quite a different approach to what other successful actors are currently working around. In just the last five years, his net worth has grown by $100 Million.
Personal Life
Akshay Kumar is married to Twinkle Khanna, who is the daughter of Bollywood actors, Rajesh Khanna and Dimple Kapadia. They have a son and a daughter. Akshay is a lover of sports and fitness and he has also been titled as one of the fittest people in Bollywood today. He doesn't drink or smoke, neither promotes it. In 2011, Kumar changed his citizenship from an Indian to a Canadian.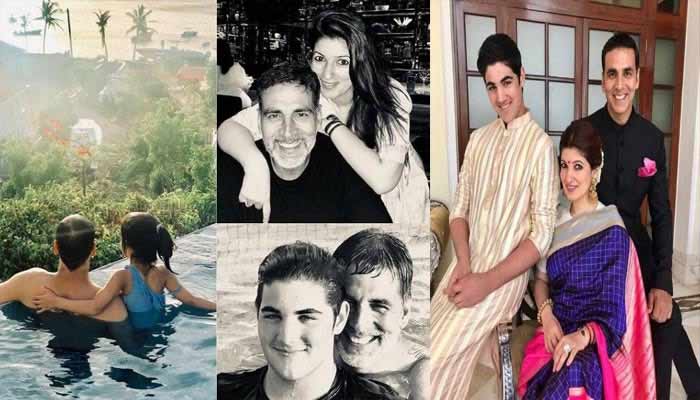 So, this was all you need to know about the life of Akshay Kumar and Akshay Kumar Net Worth, who has had many ups and downs in his lives, but never feared failures and continued to strive hard. He is one of the most successful actors in the Bollywood industry currently and continues to bring interesting stories for people.
Fascinating facts
He missed his flight while on assignment for modeling, which saddened him because he might lose his work as a model. On the same day, he arrived at a film studio with his portfolio and got an opportunity to cast in the movie "Deedar."
Unlike other celebrities, Akshay Kumar is a very punctual person who also values his time and follows a regular routine of sleeping early and waking up early in the morning. This is why he stays in shape and stays focused on his job. As a result, Akshay Kumar's net worth is evident in his hard work and dedication to his work.
Akshay Kumar Assets
Akshay Kumar owns a mansion in Juhu, Mumbai's which is known by the name "Prime Beach". It has a spectacular view of the Arabian Sea from his mansion. He also owns a number of real-estate properties abroad which is one of the factors for Akshay Kumar's net worth and his growth in the last 5 years.
Furthermore, Akshay Kumar owns a total of 11 fancy cars which includes Mercedes-Benz, Bentley, Honda Crv, and Porsche. He's also a major biker who own few bikes of well-known brands.
Unknown Facts
He is a non-smoker
He is a teetotaler
He follows a strict routine by waking up at 4 a.m daily and leaves for his shoot by 6 a.m
He changed his name from Rajiv Hari Om Bhatia to Akshay Kumar
He is popularly known as Khiladi of Bollywood by many people
He learned kungfu and karate and became a champion
He has faced many hardships in his initial days and shared a room with 10-15 people