Bollywood remakes of Hollywood movies has been a trend also named under the categories of inspired movies. Whether it is from Hollywood or Tollywood (considering the recent years), remake movies is a tradition that has existed since forever in Bollywood. It's one thing to make some sloppy movies in the industry and it's completely another to pick up a perfect plot from western cinema and make a disaster out of it.
We aren't stating that Bollywood has failed every remake of Hollywood movies but it won't be wrong to state that majorly those remakes have turned out to be a mess that even Hollywood can't clean. Why? Simply because Bollywood loves to twist it with an extra dose of drama and spice.
While there are many embarrassing Bollywood remakes of Hollywood movies, we have managed to find a few, that have topped the list of being the worst.
List of worst Bollywood remakes of Hollywood movies-
1. Milenge Milenge- Topping bad Bollywood remakes of Hollywood movies
The remake of Serendipity that starred John Cusack and Kate Beckinsale. Hollywood made it perfect with no bullshit all connecting sequences, however, Bollywood experimented with this perfect romantic plot in its own way. Shahid Kapoor and Kareena Kapoor took the emotions overboard in this one and the poor direction made it one hell of a mess.
2. God Tussi Great Ho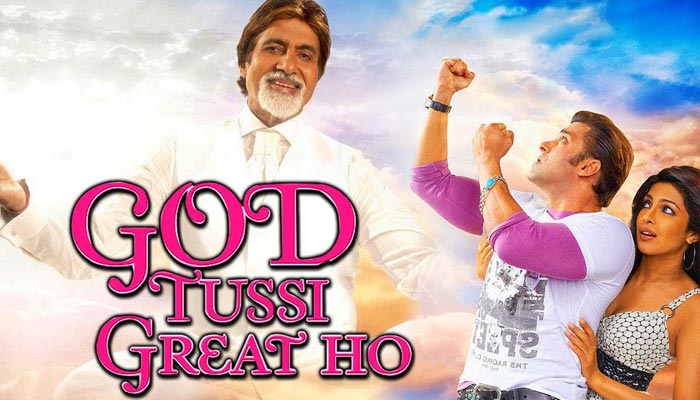 The remake of Bruce Almighty and the first thought is – Are You Fucking Kidding? Salman Khan played the character of Jim Carrey which is the biggest blunder owing to the fact that Salman can never match up to his expressions (No offense to Salman lovers). The truth is Salman may have never given so many expressions in his entire career that Carrey could give in just a movie. Although, we would say Amitabh Bachchan at the place of Morgan Freeman did not completely disappointed. It was a blunder. The remake was overstuffed with emotional drama and senseless sequence.
3. Mere Yaar Ki Shaadi Hai
Who in the hell thought that Uday Chopra can play the role of Julia Roberts? The remake of My Best Friend's Wedding was an utter disappointment with its poor start cast except for Jimmy Shergill and Alok Nath. The only good thing about this remake was good acting which wasn't even existed in any frame. So you get what we are trying to tell you here?
4. Players
The Italian Job entertained a lot of people for being such a brilliant movie but Bollywood left no stone unturned to make it an utter nonsense. Players had Abhishek Bachchan, Bobby Deol, Bipasha Basu, Sonam Kapoor, Neil Nitin Mukesh in lead roles and looking at that start cast, it was bound to be one of the biggest flops ever. It broke our heart to watch the over the top action that was unnecessarily laced with humor and drama.
5. Salaam-E-Ishq
Love Actually made us cry our heart out for being such a romantic movie. Every story in the movie had its own charm until Bollywood tried its hand on this script. The Bollywood remake of the movie, Salaam-e-Ishq was more of a tragedy than a romantic movie. All the stories were poorly written and directed. None of them make a cut and none of them were close to romantic.
6. Aap Ki Khatir
There was nothing in the movie that made sense. Dino Moria was having affair with everyone. Akshay Khanna was getting paid to pretend to be a boyfriend yet he falls for Priyanka but then he lies to her and Priyanka is unsure about Akshay and Dino. Urrggghhh! It was a hotchpotch. It totally ruined the fun that The Wedding Date was.
You may be also read- 10 Bollywood Movies That Should Never Be Remade!
7. Jodi Breakers
The only good thing about the movie was Bipasha Song, at least it was an eye candy. The remake of Wedding Crashers, which was supposed to cast to guys, actually casts one male and female actor, who get married to each other. The most nerve cracking twist ever. We can't even talk more about it.
Now that we look at the scenario, we realise that Priyanka Chopra was in 3 of them. Probably that's why she went on making her career in the west. However, we do know that the times have changed and even Bollywood know that remakes with extra masala won't work. We hope the makers don't continue to do such disasters.