As every year, Bollywood produced tons of movies much to the delight of its nationwide fans in 2017. This is when the Indian Film Industry hasn't yet been officially been recognized as a factory from which high volume movies are churned out repeatedly.
While there were some interesting films that garnered lots of critical attention such as- Raees, Kaabil, Jolly LLB 2- there were several bloopers whose storylines seemed nearly as plastic as the material the world is fighting hard to avoid.
Then whether it were for their drab stories, weak character plots- something as unhealthy as a thinly built Shraddha Kapoor on an all-liquid diet- there were several movies that brought Bollywood fans to the middle of the seats for a good yawn inducing sleep. Tons of popcorn went to waste, not to mention the lamley spent money on buying their tickets.
So which were 5 of the most unimpressive and forced movies that Bollywood churned out in 2017?
1. Tubelight

Chances are, if you saw this Salman Khan no-brainer in a posh movie theater in an urban setting, you did want to smash your head against an actual tubelight.
No matter how hard the Khan brothers- Salman and Sohail- tried to hide the inspiration behind 'tubelight' character- there was Forrest Gump screaming on top. Just that instead of running, Salman's character stayed back in the village and used his dimwit to crack a few laughs. Well, mostly when his character got free from doing a weird hand gesture suggesting he could move the earth and whatnot.
Whatever the state in which the film's story was scripted- a half drunken one or a fully inebriated one, there was no light in tubelight whatsoever. Funnily, the film's soul- Salman's brave elder brother, who's mostly sought for and talked about in his absence, who joined the army- remained conspicuously absent from much of the movie.
What was that whole point?
2. Golmaal Again

If this movie made anyone laugh, then it most likely might have been the film's director, Rohit Shetty. For the audiences clearly didn't seem to find the zing and the comic insanity between two actors who seemed so remotely connected to humour as is a Nawazuddin to a James Bond flick: Ajay Devgan and Parineeti Chopra.
Whoever thought that comparing the bark of a lame stray dog at night to a ghost was a convincing tickle joy for Ajay Devgan's character would tantamount to shooting oneself in the foot. Whether it was the terribly lisping character of Shreyas Talpade- who last made a sensible movie nearly a decade ago in Iqbal- or the overly irritating Tusshar Kapoor- perhaps slurping in irritation for yet again playing a muted character- Golmaal Again lived true to the figure it characterised: a big dull zero.
3. Ok Jaanu
Firstly, that second name in the film's title. How novel and new was that from Bollywood?
If not that, then the same storyline you have heard and seen several times again; something that could be likened to being gifted the same blue shirt every birthday. Here's a simple clue: guy and girl become friends accidentally. It's the same city. Bombay. Then comes a believable twist. The friendship turns to love. Have you seen that before? Ever? Maybe in just a million and a half movies.
Then there's the ultimate twist none saw coming. Due to their divergent career paths, one has to take to the city lights of Los Angeles and the other to London, a city where there are more Indians now than there are English in England.
So what happens in the end? Of course, love wins and the two- a terribly understated Shraddha Kapoor and a dude who apparently doesn't work long enough or consistently enough to ever live up to his dreams, yet is seeing pursuing and fulfilling them- Aditya Kapoor- stay together long enough to put you to sleep till the next christmas.
The point is, had Ok Jaanu not been made, Bollywood would've still been pretty ok.
4. Mubarkaan

An over-the-top Punjabi Hindi drama that lamely structures itself into being something remotely resembling a comedy, one had to tolerate Arjun Kapoor twice in a film that had less humour than there are rains in a famished part of rural India.
In fact, it was hard to choose from what was more terrible to endure. Was it the sight of a grotty looking Arjun Kapoor wearing a turban or handling his unique double role, one that epitomises a half-hearted, average joe who's good for nothing and the other, that is obviously a bully, always questioning the weaklings' next move.
Surely, jokes from Anil Kapoor didn't help either. Is Christmas falling on December the 25th this time? Yes, that was Mubarkaan's attempt to convince you into believing that every time Bollywood attempts to make something funny, there are either tons of Punjabis loosely strung together in a half convincing plot, there's a good for nothing tale always in the heart of London with a girl trouble. Bottom line being there was nothing congratulatory in Mubarkaan.
5. Toilet Ek Prem Katha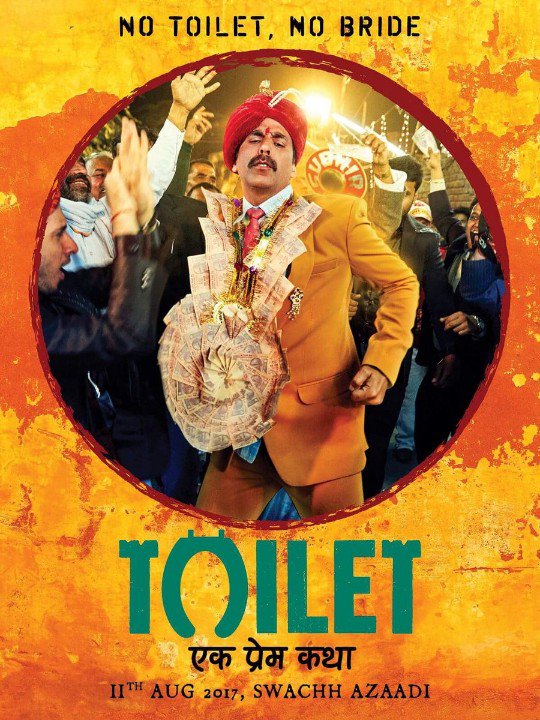 Finally, there was an out and out propaganda film made perhaps to please the ruling government, orchestrating perhaps the only good initiative it has ever envisaged- that of constructing toilets across the country in a bid to uplift India's sanitary awareness- having everything in it to not like except characters from the ruling government.

Die-hard Narendra Modi fans would have hated the movie for not having the Prime Minister himself feature in the film perhaps coaching educated, burly Indian youth and their ignorant families about the several benefits of using a toilet.
Yes this is the underlying reality about India in the 21st century: audiences- educated that they might be, actually buy expensive tickets and of course, the customary bucket of popcorn and sugar-causing cola to hit the multiplex to see an overstretched, soapy, needless drama about the importance of there being a toilet in a familial set up.
As if you didn't know having toilets were important and actually using them to take a dump meant something hygienic and pertinent to physical well-being, you might as well thank your stars that a superstar of the repute of an Akshay Kumar finally found over two hours to teach you so.
That there was a love story tied to an element of excretion actually made viewers who were highly displeased with the movie's effort come out with a solitary verdict: flush it!
But guess what, the average Indian who's either forever late or just too ignorant of that thing called basic courtesy or hygiene is still pissing on the roads as you pass by.