Saving is like that bandwagon that everyone wants you to hop on, as soon as you start earning your first penny. And, it might sound like tying a leash around your hopes and dreams, post-college life, but trust us, it's more of a safety harness that keeps you above the ground when the going gets tough. Everyone needs to understand more than a thing or two about how to save money, and not just save it in a box and forget about it, but rather save it efficiently so that it grows even when it's just sitting there.
Thankfully, as we have progressed towards a more digital age, we have a ton of information right at the tips of our fingers, along with investment options to carefully choose from, as per the returns we like.
So, if you want to efficiently and effectively drive through your financial life and learn how to save money like an adult then keep these six tips close to your passbook and cards. These tips will help you navigate better through the jungle of options to select the right investment option, along with the initial and long-term decisions that you need to make. Keep on reading to know more.
1. Plan For Your Future
Establish what is important to you right now, 3 years from now, 5 years from now and 10 years from now. This helps you to set your goals and make you more mindful about why you're starting to save money in the first place. Moreover, this also helps you in making your goals and needs to be more accessible to attain, since you have a clear and more vivid idea about it.
2. Budget Your Life
No matter how much you're earning, always remember to start your earning journey with a full-fledged budgeting journey. It is one of the most effective ways to understand where your money goes and save it along the way. Also, you just don't need to make a budget for the entire thing to work, you also need to commit and stick to it.
One of the most popular budgeting techniques that most people follow is the 50-30-20 rule. Where you spend 50% of your income on your needs – rent, food, etc., 30% on wants and fun things – travel, new gadget, etc, and 20% on your Savings – Investments, PFs, Policy, etc.
3. Bifurcate Your Needs & Your Wants
We humans often try to negate ours wants for our needs, giving our self multiple reasons to believe it, even when we know it isn't that important. On this journey to financial freedom and saving money better, you need to have a clear understanding on what are your needs on a month-on-month basis, and this also helps you to stick to your budget more efficiently.
Also Read: The Intelligent Investor Book: 3 Life-Changing Lessons From The Bible Of Investment
4. Create Secondary Account
Another super-efficient and interesting way to save money and gain financial independence in later years of life by creating an account where you're gaining a good amount of interest on your money kept, along with a sense of forgetfulness about the same.
When you're no longer associated with an account regularly, you tend to forget about it and the money kept in it, making it more susceptible to hoard money on a long-term basis, while it's compounding over time.
5. Start Saving For Emergency Fund
Always remember, no two days look alike and the same goes with your life. One can never know which the wrong turn can lead to an entire upside-down life situation. An emergency fund needs to be your topmost priority at all times.
To understand how much you should have in your emergency fund to stop caring about it, here is the rule that most people swear by – the least you should have in your emergency fund is your three-six months salary to sustain yourself and your life in case you met with some unfortunate circumstances.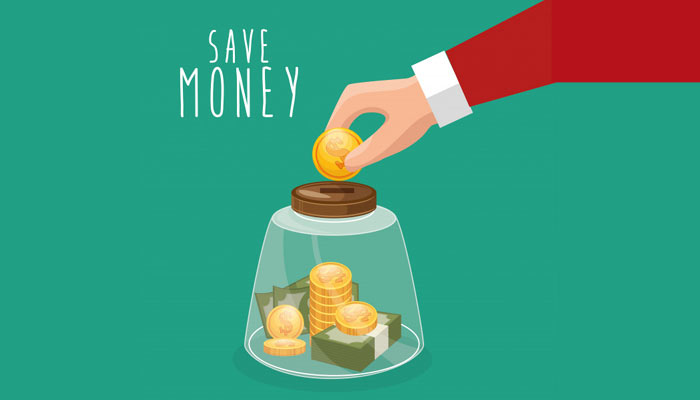 6. Not Just Save Your Money; Grow Your Money
Yes, this entire piece is about how to save money, but you don't want your money to be stored in some safety box for years and years on end where it will be depreciating with every going day. So, start investing your money, and one of the safest ways to do so is in SIPs and Mutual Funds, the ideal money builder for middle-class people.
You can also look into riskier options with higher returns like stocks, bonds, crypto and others, but only commit to that game if you're well aware of it.
7. Always Have an Insurance
Imagine, you've saved an ample amount of money, more than the amount on which you can sustain for two years and then you get to know about some immediate surgery, illness or accident that will cost you a lot – and this is where all your hard-earned money drained. So, to stop something like this from happening with you, always be mindful about your insurance policy to be a pillar of support during your testing times.
8. Keep Your Retirement Fund Intact
Let's admit it, we can't even begin to imagine our entire lives being stuck to a demanding job with working hours in a haywire and life in a constant pit of mess. While we're still able to jungle and live through it today, this is not something that you would want to keep on going through for the rest of your life.
Start building your retirement fund. Enough for you to sustain yourself for 20-25 years doing things that you love and spending your precious time with people you genuinely care about. The best part, there are tons of easy ways to do it perfectly, and little by little. If you're an Indian citizen, you have the option to save your money in NPS (National Pension Scheme) that offers tremendous returns and keeps your future fool-proof.
Also Read: Best Online Trading Platforms In India To Get You Through The Stock-Life At Ease
So, these were some of the best ways to gain financial independence at an early age and save money smartly. As mentioned, there are tons of platforms and options that you can look into to get a better idea about where to invest and how to do it efficiently, as for budgeting and saving, always give your needs more importance and don't try to fool yourself into believing that your wants are your needs, until it genuinely is – in that case, just live your life buddy!