Facts first and always. As of 2019, according to trusted market sources and reports, the revenue figure of China's BYD was no fewer than 6,490 crores (when valued in INR).
Perhaps it's not incorrect to suggest that, at this point in time, there may be some among us who cannot even write that figure all too accurately.
And honestly, every day that India idles away, rather wastes in transforming to pure-electric cars, is every opportunity to lost to China and the likes. Though, make no mistake, China, in this case, must be credited and emphatically so.
They envisaged and prepared for a pure-electric future long before any of us in India were even willing to walk down that road.
Government policies and positive thinking notwithstanding, even today when you pitch the idea to a Mercedes or Audi owner to shift to a fully-electric sedan, they will not move in the direction.
Why? Not because they don't trust electric cars and the massive green promise and cost saving these machines emphasise and stand true to; but because of the lack of confidence, perceptibly so, on the government's pace and commitment toward building a fully-electric vehicle ecosystem.
Where are the chargers in Delhi, and if so, are they spread out across different corners of the city, will be the first and foremost question!
But that's never the case with a brand in China, such as BYD. And why only BYD- think Geely, Chery, BAIC, Dongfeng and whatnot!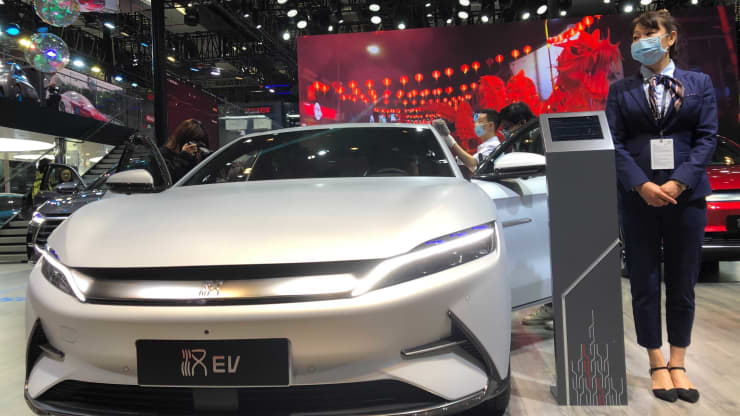 Regardless of its dubious marketing policies and product quality, the costs of Chinese products being way cheaper than most of us would think, they've built mega electric cars and are among the world's leading resource from the standpoint of EV!
Suggested Read: Best Electric Cars In India 2021: Price, Battery Capacity, Range & Charging Time
And what could possibly explain this better than focusing on just how fruitful and memorable a month August was for one of the world's best electric car brands, BYD!
During August, the Chinese carmaker experienced sales figures that soared to 300 per cent. Read that again!
Key excerpts from a CNBC story highlight the following:
BYD sold 61,409 new energy vehicles in August, more than four times the amount sold a year ago, as demand for electric cars continues to rise in the world's largest auto market.
That figure was nearly evenly split between sales of battery electric vehicles and so-called plug-in hybrids.
It was also a rise from the 50,492 cars sold in July. BYD shares rose 5.5% in morning trade in Hong Kong.
BYD, which is backed by Warren Buffett's Berkshire Hathaway, is one of the biggest electric vehicle makers in China. But a number of start-ups including, Nio, Li Auto and others are now readying to challenge it.
BYD's figures focus on sales volumes while Nio, Li Auto and XPeng released delivery numbers, so the comparison is not like-for-like, but it does indicate the scale of the respective companies.
The above told, time has truly come to embrace a purely-electric future, one where there are cars but ones that don't pollute, but systematically contribute to saving the ecosystem to which we all belong, whether the mortal resources composed of human DNA and flesh and blood or the metal which will one day, eventually be scrap!