Best bikes under Rs 2 Lakh in India has been one of the most search queries on Google and as India moves towards its economic growth, people are now willing to spend this sum, which seemed unimaginable a couple of years back, to get the best from both worlds of power and comfort.
In the last two years, 200-400cc bikes have been ruling the 'best bikes under Rs 2 Lakh in India' category and people now are eager to get their hands on these value for money beauties that offer pure performance, practicality and also doubles up as a daily ride as well as a tourer.
Earlier, Royal Enfield Classic 350 was the only offering in this segment and, rightly so, the RE beast have been sold in huge numbers but with the introduction of KTM and Bajaj's new Pulsar lineup, the game has changed and now buyers have a choice to pick the right bike for them. The list of 'best bikes under Rs 2 Lakh in India' not only caters to all the above-mentioned needs but also include some great motorcycles ranging from nakeds to cruisers and from an adventure motorcycle to a sportbike.
Since there are numerous choices in the market, we took the liberty of listing the 5 best bikes under Rs 2 Lakh in India and show you your money's worth.
In no particular order, here are the 5 Best Bikes Under Rs 2 Lakh In India.
Without a doubt, Royal Enfield Classic 350 is the highest-selling RE model in this price bracket and boasts an unbeatable attraction due to the 1960s retro design with some added chrome as well as design elements, redesigned fenders, optional upswept exhaust, new tail light section, a split and sprung rider's seat.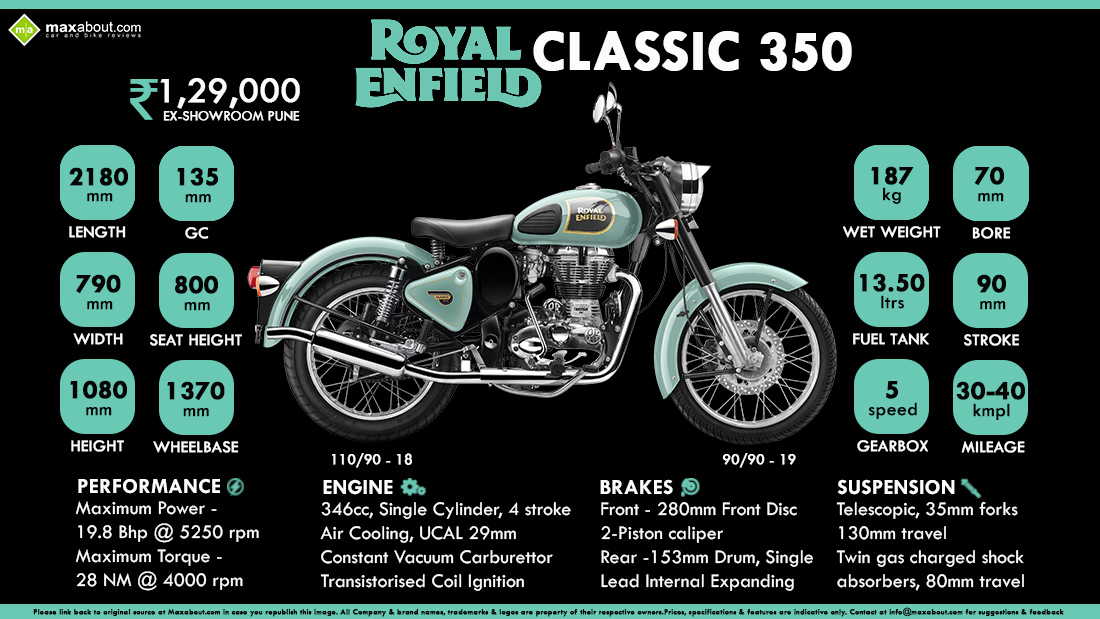 It's powered by a 346 cc air-cooled, single-cylinder, twinspark engine making 19.8 bhp of peak power at 5250 rpm and 28 Nm of maximum torque at 4000 rpm.
The Classic 350 recently received several new color options, Gunmetal Grey shade being the most recent one. Priced at ₹ 1.35 lakh (ex-showroom Delhi) and ₹ 1.43 lakh (ex-showroom Delhi) for Gunmetal Grey option, RE Classic 350 still asks for a waiting period of over a month.
This recently launched Bajaj's 400cc bike has been making news for quite a while now and has become one of the highest selling best bikes under Rs 2 lakh in India. Beefy looks, big engine and a feature list including full-LED headlight and ABS, Bajaj Dominar is a capable commuter as well as a long-distance tourer. Its 373 cc single-cylinder engine produces over 34 bhp of peak power, 35 Nm of max torque and comes with a slipper clutch as standard.
For a rider looking to upgrade to a larger displacement motorcycle with decent performance for daily commute as well as for weekend drives, Bajaj Dominar is a value for money product. At ₹ 1.41 lakh (ex-showroom Delhi), the Dominar competes directly with the Royal Enfield Classic 350, with a contemporary styling and better performance.
3. KTM 250 Duke
Bajaj and KTM have taken the naked lightweight category by storm in India and after the huge success of Duke 200 and 390, here is the KTM Duke 250 to offer you the best of both worlds. With a similar styling and design, edgy yet aggressive looks and enough performance credentials to give other quarter-liter competitors a run for their money, the KTM 250 Duke has found a spot on our list of Best Bikes Under Rs 2 Lakh In India.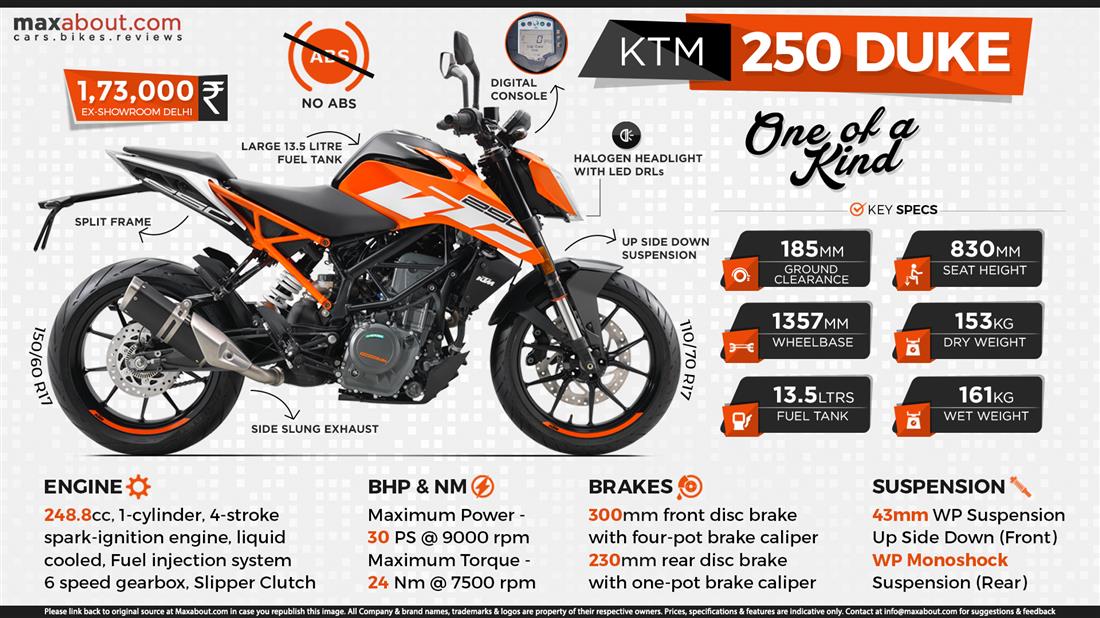 The 248.8 cc single-cylinder engine, sourced from the 390 Duke, makes 29.6 bhp of peak power @9,000 rpm and 24 Nm of max torque @7,500 rpm. Positioned as a naked street bike, the 250 Duke offers best-in-class performance and an agile handling package. Priced at ₹ 1.75 lakh (ex-showroom Delhi), while the KTM 250 Duke is on the expensive side of this category, it still offers a great price-to-performance package.
4. Yamaha FZ25
Since the naked lightweight segment has seen a huge increase in demand, Yamaha too has launched its FZ25 this year, followed by the Yamaha Fazer 25. With the styling package inspired by its successful 150 cc FZ-S, Yamaha FZ25 is a well-proportioned and good-looking motorcycle. The only con here is that the bike looks way too similar to its smaller sibling.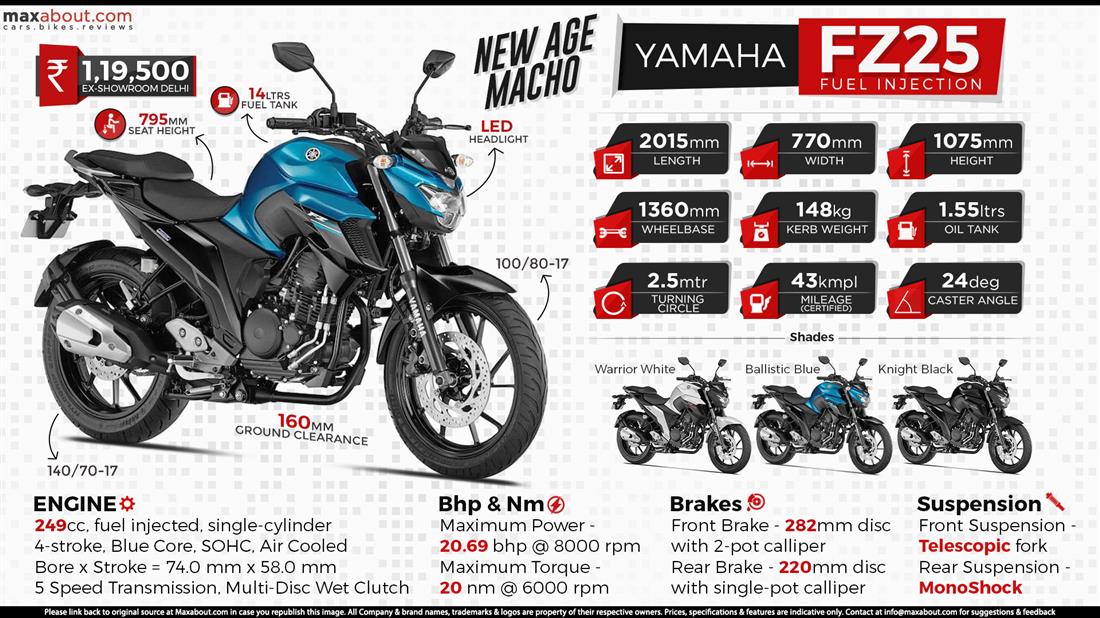 FZ25 is powered by a 249 cc air-cooled, four-stroke motor, producing 20 bhp of peak power and 20 Nm of max torque. A smooth and refined engine coupled with a precise five-speed transmission and predictable road manners have brought the FZ25 to our list of Best bikes under Rs 2 lakh in India. And it's got enough power for those occasional highway duties, making it a balanced and well-rounded offering.
At ₹ 1.19 lakh (ex-showroom Delhi), the only downside that FZ25 carries is the fact that it isn't offered even with an optional ABS.
5. TVS Apache RTR 200 4V
This TVS offering has been going head to head with Bajaj Pulsar 200NS for more than a couple of months now and with sharp, edgy looks, a smooth and torquey engine, the Apache 200 offers superb road manners. To add a cherry on the top, it handles with precision during quick direction changes, offering great handling as well as intuitive response.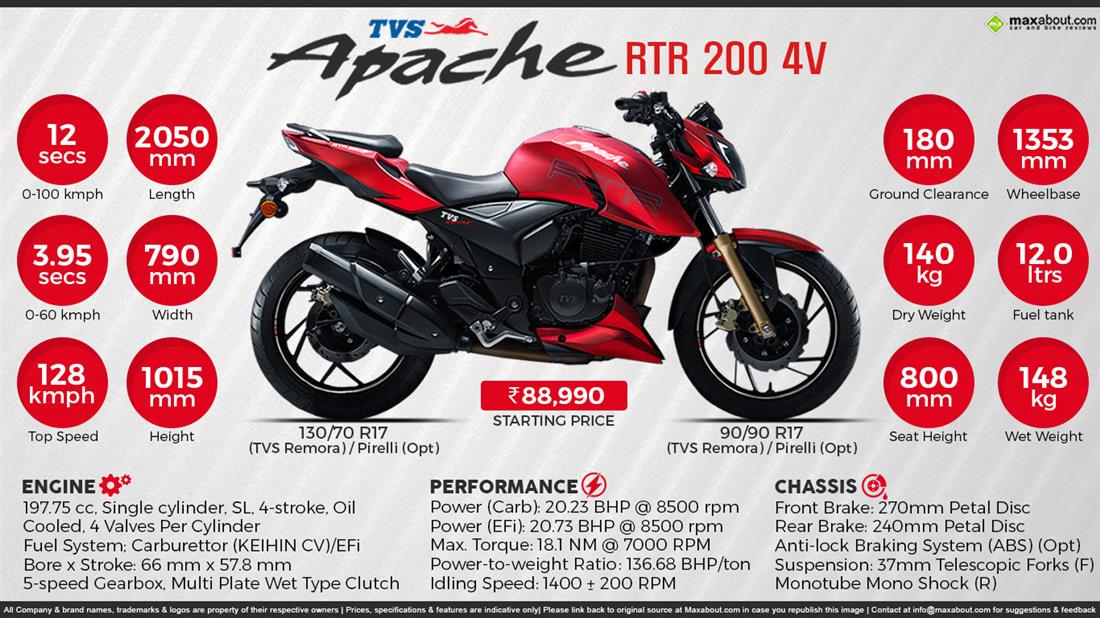 The RTR200 receives its power from a 4-valve, single cylinder oil-cooled motor producing 19.7 bhp of peak power @ 8500 rpm for the carburetor version and 20.7 bhp @ 8500 rpm for the EFI version. The maximum torque output of 18.1 Nm at 7000 rpm and a top speed of 127 kmph makes it one hell of a bargain at this price. With superior Pirelli tires and ABS offered as option Apache RTR 200 is one of the Best bikes under Rs 2 lakh in India offering practical everyday usability. At ₹ 97,915 (ex-showroom Delhi), the Apache RTR 200 4V is the least expensive bike in our list, but that has nothing to do with its credentials.
Honourable mentions
Honda CBR250R: ₹ 1.6 lakh (ex-showroom Delhi)
With friendly ergonomics as well as comfortable riding position, CBR250R is a perfect fully faired bike for the daily commute or even for weekend touring. Powered by a 250cc, liquid-cooled DOHC, single-cylinder engine, making 26bhp and 22.9Nm of torque, while the CBR250R doesn't have the crackling performance, it's got enough power to satisfy your intimidating needs. It comes in both ABS and non-ABS variants.
KTM RC 200: ₹ 1.68 lakh (ex-showroom Delhi)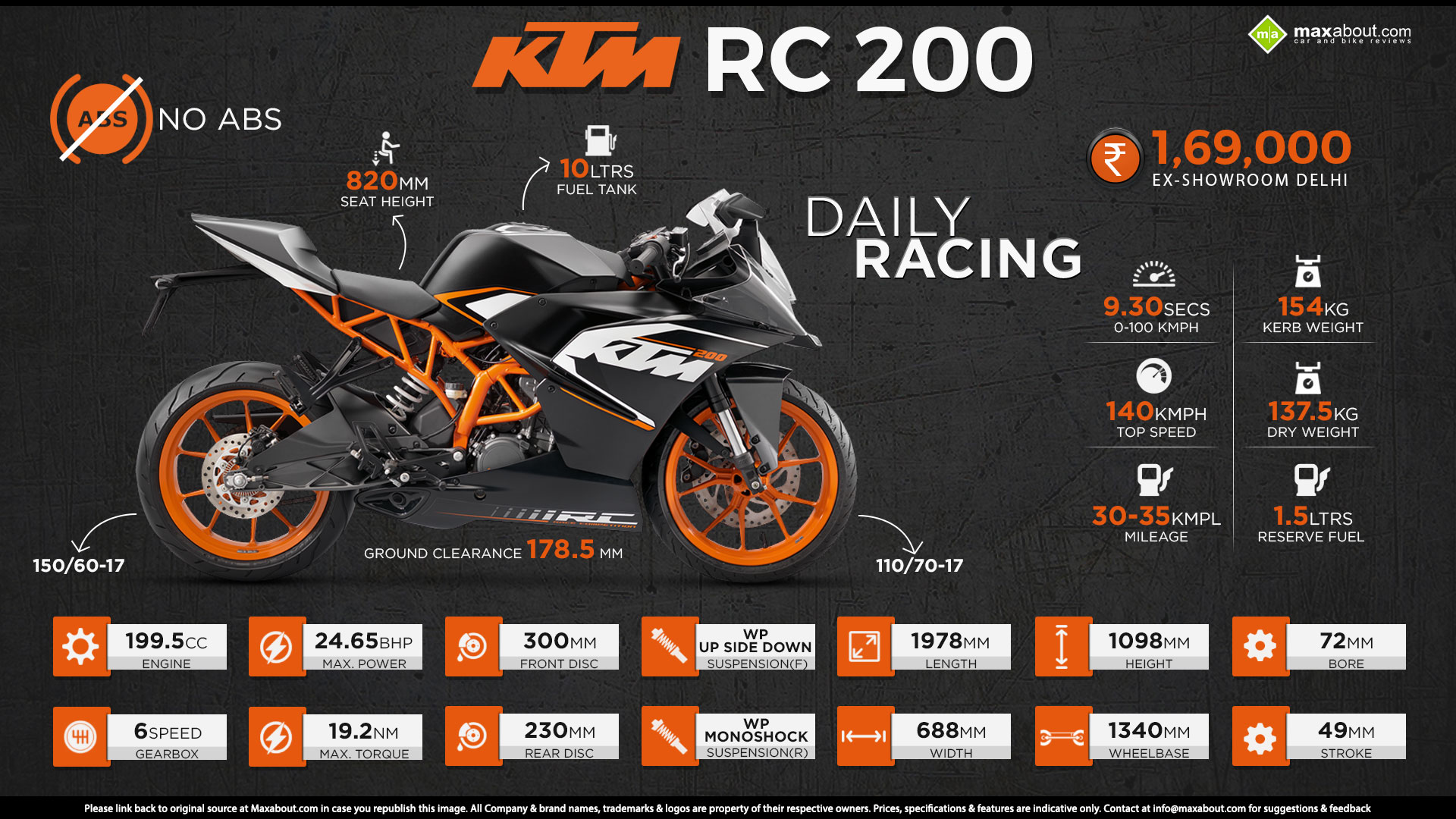 It is a full-faired supersport at a budget and is powered by a 199.5cc liquid-cooled, fuel-injected, single cylinder engine that likes to be revved. The short ratio six-speed transmission helps in quickly shift through the gears in traffic as well as settle into a comfortable pace in top gear. Great for city riding and a track machine for a beginner, the RC 200 offers a package which is difficult to resist. However, the only downside is the aggressive riding position.
Mahindra Mojo: ₹ 1.63 lakh (ex-showroom Delhi)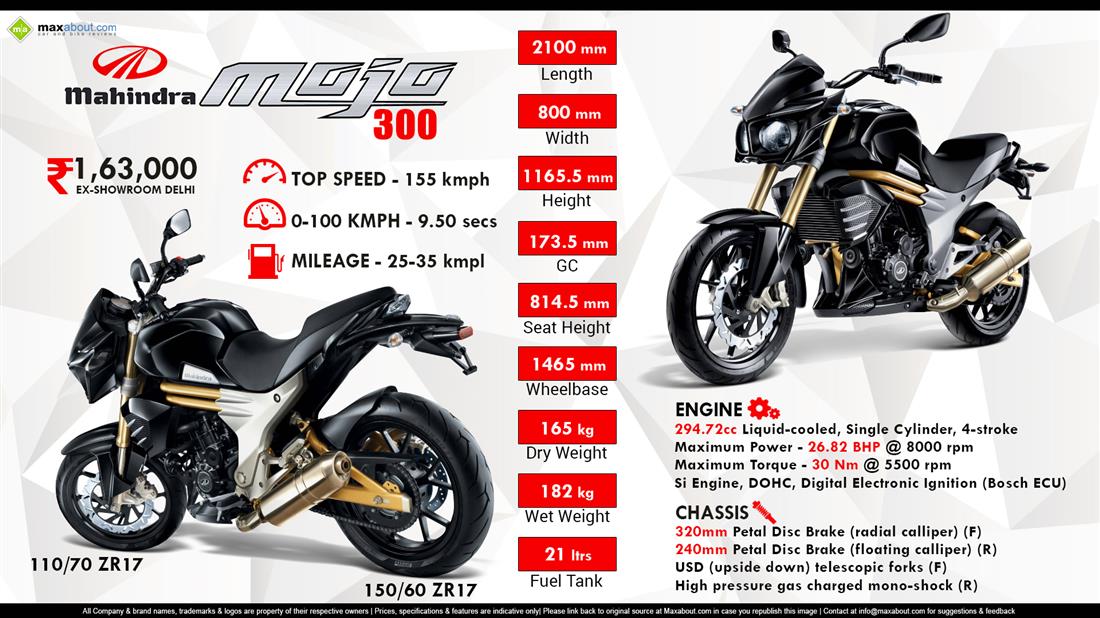 Mojo is powered by a 295cc single-cylinder, liquid-cooled motor, churning out 26 bhp of power @ 8,000rpm and 30Nm of max torque @ 5500rpm. The engine is smooth as well as refined and comes with a punchy mid-range. It offers plenty of juice for high-speed cruising and the engine doesn't protest even driving near the redline. The Mojo's looks might not an appealing bike, but it does quite look unique with an over-the-top front end and those twin exhausts adding bulk to the bike.
These were our picks for the Best Bikes Under Rs 2 Lakh In India and do let us know which one of these turned out to be your perfect companion, in the comments section below.
(Image Courtesy: Maxabout)