Facts About Gemini Women
If you see a gorgeous, artistic, intelligent, sharp, and fun-loving woman in front of you. You must think of a Gemini woman. As they are known for their looks and brains too. The phrase "beauty with brains" is very apt for a Gemini woman. So, let's unfold some more facts about Gemini women.
Gemini women are born between May 21 and June 20. Gemini is ruled by the planet Mercury, the ruler of communication. They are also symbolized by two pillars, representing the Greek mythological twin's Castor and Pollux. This zodiac sign is often identified as "the twins."
The Gemini sign is known as two-faced or having a split personality. Gemini as a zodiac sign is an air sign. Gemini women are feminine, beautiful, sharp-minded,
curious, and cooperative. They are also good at putting themselves in others' shoes, which is why they are very adaptable and sometimes they have a hard time connecting with/to earth.
Some of the most famous gemini women we know are Marlyn Monore, Angelina Jolie, Margaret Fuller, Aly Raisman, Aruna Roy, Nicole Kidman, and many more.
Gemini Girl Facts
Gemini girls have a compound personality, woven from contradictions. The element of Air determines the duality of nature, which combines the opposite traits such as a sharp mind and inability to concentrate, sociability and sudden seclusion, generosity and pettiness.
The Gemini girl often suffers from internal contradictions, a turmoil is always going on inside her. But externally to society or surrounding people, she is a fun, active and pleased child.
The girls, born under the sign of Gemini, value freedom the most. They never need a cage to fit in to feel secure. Therefore, Gemini dreams to be someone who can break the mold without being judged. They are more open to choose new ideas in professional matters too, like they want to grow up into a journalist, a designer, an
artist, an interpreter, and many more.
Gemini girls are very feminine and the star of the group. These little fashionistas are always dressed properly. They know and admire their beauty too. They are very curious and keep asking questions all the time. They are keen observers too because they want to know everything happening around them.
Gemini Woman Love Facts
Gemini women are compatible with other Air signs like Libra and Aquarius; as well as Fire signs like Aries and Sagittarius. They are least compatible with Pisces and scorpio.
Gemini woman love facts are as similar as her ever changing personality. This is like a two sided sword as it creates both a mystery and confusion for the other partner in the relationship.
● A Gemini woman loves to experiment and is therefore an adventurous lover. They love exploring new activities which keeps up the excitement alive in today's monotonous digitally equipped lifestyle.
● A Gemini woman is very romantic in nature and believes in balancing out personal space within a relationship. They are not a possessive or obsessive
type of lovers in fact too much nagging and clingy behavior of the male partner puts off the Gemini women.
● A Gemini woman always loves a man who is a good listener and communicator as she loves to talk. Although they are not good at committing as they always
struggle to make decisions.
● The love of a Gemini woman has one more important aspect that is expectations. Gemini women expect a lot from her man in terms of care and attention. They crave attention a lot.
● Impatience is another trait that makes Gemini women difficult to date at times.
Also Read: 5 Factors That Make Gemini The Most Interesting Zodiac Sign To Date!
Gemini Woman Personality
Fun loving, spontaneous, adventurous, enticing, intelligent, well spoken, open minded are some of the best personality traits of a Gemini woman. But as we say every personality has some good and some not so good traits, similarly indecisive, impatience, confused, impulsive, etc are some of the not so good traits of her personality.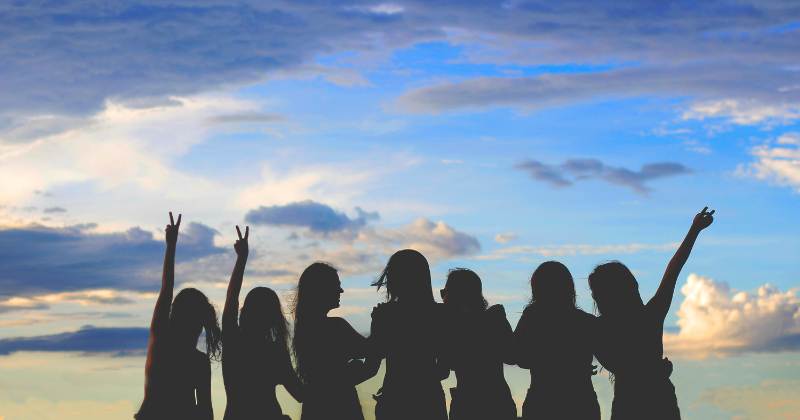 Gemini Woman Traits
Gemini Woman Favorable Traits
The Gemini woman can be quite soft, tender, gentle and very feminine. She is very adaptable and likes to move with the flow. She believes in living in the present, at the moment, rather than the past or the future. Gemini women like solving problems, too.
She is intelligent, full of ideas and information. She has the ability to think on the spot on her feet, especially if something has captured her interest. Since Geminis are ruled by Mercury, the planet of communication, Gemini women will be a social butterfly. She loves exploring new people, new places, and trying new things, and is always willing to experience new things in life to keep the excitement alive. She loves to spend time doing things that excite her and being as free as she can be.
Also Read: Interesting Facts About Pisces Women
Gemini Woman UnFavorable Traits
The Gemini woman can be quite double-dealing as she is inconsistent with her decisions, her personality, and the way she acts with people. This could also be considered indecisive.
Gemini women tend to get bored easily in relationships, constantly craving something new and exciting. She is very open to traveling to new places at the drop of a hat, meeting new people, and trying new things for physical intimacy too. Her relationships might be very intense just because she wants their partner to be stimulating all the time. This demanding nature to do something new also leads to complications and they end up cheating too at times.
Gemini women are great communicators socially, however, not good at talking about their feelings. In fact, at times she will not open up at all. She will just avoid and ignore it. She copes with her emotions through cynical humor and avoidance techniques. That's the air sign!
The Gemini woman due to very inconsistent nature is not one of the best people to bet your trust on. She will give solid advice to a friend at one point and then gossip about that same friend to someone else later.
The Gemini woman is dynamic or as negatively denoted: "two-faced." She can be quite fickle, erratic and have an inconsistent personality. She is indifferent and moody at one point, attentive and caring at the next. Gemini women are very open to new experiences, traveling to new places, and meeting new people as she is a great communicator. She is unpredictable and inconsistent and this can make her unreliable and untrustworthy. But known for their adaptivity they are great survivors too.