Donald Trump, inarguably, the next most famous Donald after Duck is one popular man. When not engaged in devising vile tactics about punishing immigrants and separating children from their immigrant parents, he's meeting key 'thinkers' of the world such as Kim Kardashian for important deliberations at the White House.
Eating fries, hamburgers along with dollops of coke, his life, it must be said, is a harrowing challenge in itself.
The next big moment in Trump's life, after meeting future contender for Nobel Peace Prize- the Kim Jong-un who's made a name for feeding members of his regime to wild canines- is the visit to the United Kingdom.
There, Donald Trump and his wild-yeti hair would be meeting Theresa May, renowned for sporting an invisible "I support Brexit Tattoo."
The world is poised to anticipate something great as an important dignitary from the land of Bacon and Cheese comes visiting the dominion of English Earl Grey. But wait, there's something critical and unassuming that binds the Donald Trump visit to Thatcher-land.
It is believed, that a giant 'Trump Baby' would most certainly take to the skies, albeit wearing what can clearly be seen as bright-white coloured baby nappies. Not a creation of the British royal navy, not certainly a product aimed at exhibiting British military might, the Trump baby doll, well, whatever it is, is a sign of welcome for the most powerful man in the world.
But, here's a concern.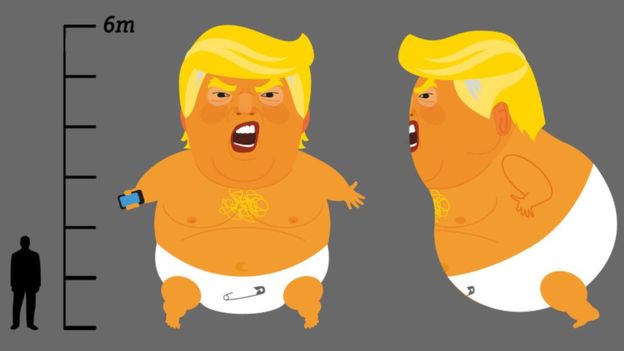 With great, sparkling golden hair dispersed into thin air, overlooking the London Eye and whatnot- the sight may be only as terrifying as seeing another Godzilla attack on the New York City.
So even before sparks fly at 10 Downing Street on July 13 between May and Trump the English will have to contend with a possibly loathsome flying baby Trump amid expected clear sunny skies.
The man who gave permission to fly the "baby Trump" is none other than London mayor Sadiq Khan, who, it is expected, could be gifted a US citizenship by the American muscleman, but whether he would be interested in meeting Linda Sarsour once in the US, one's not sure.
But an important constituent of Trump's visit to the UK isn't just the trade ties and bi-later relations between two of the oldest allies on the face of the earth. It's the rather pudgy design the baby balloon commands.
Bordering closely on an Owen Wilson hairdo, seemingly bursting with a volcanic lava of machismo that only a man like Toby Jones can bring- for once- England will have something beautiful than Emily Blunt or Jude Law.
With a golden hair, the colour of which boasts of a striking similarity with the remnants in a baby's dirty nappies, holding a phone- perhaps running on Vodafone- this monstrous Trump baby can clearly be seen wearing a bright red lip-wear from a Bobby Brown or something.
Does that give Abbey Clancy fashion-goals- we are yet to see?
Under the current plans, the inflatable will be allowed to fly for two hours on the morning of Friday 13 July. The flying balloon baring a contrast to Pink Floyd's legendary flying pig for 'animals' may give art critics an instalment in a fashion journal.
With such myriad benefits up for grabs, it is hardly a surprise that Donald Thumped, pardon me, Trump's visit is generating great buzz in the media.
Disclaimer: This is just a light-hearted piece. In case you hated it, the author requests you to parcel a bunch of raw onions or stale tomatoes- whatever it is, you can afford- over to the White House with immediate effect. Cheers!