Whoever loves Pizza just raise your hand in collectiveness to show your support for this kind of luck in your life.
So, as everyone knows how hard and difficult it is to get a seat in Yale which is considered to be one of the most prestigious universities in the world. However, this one girl from Brentwood, Tennessee, secured herself a seat in Yale by writing a college application essay on how much a Papa John's delivered Pizza, makes her happy. We're not joking, this is actually true.
College application essays are one of the most important steps in the whole selection criteria in American colleges, plus there's also a lot of pressure that comes with it. Colleges usually judge one on the basis of their essays and get to know how interesting, intelligent and enlightened, a candidate is. And, the journey to be interesting and entertaining, along with being different is something that every candidate wants to achieve. However, Carolina Williams decided to go with the most basic, yet interesting, thing in her life, as her college application essay.
Carolina was asked to write a 200-words essay about "something you love to do", and she indeed wrote about the best thing in her life that she like to do, again and again. And, that's, ordering Papa John's pizza.
This Is What She Wrote For Her Essay

She brilliantly wrote about how much joy, ordering a pizza, brings to her, as well as, makes her feel independent. Apart from getting accepted to Yale, Carolina also received a handwritten note from one of the Admission officers, who appreciated her love for pizza and wrote, "as a fellow lover of pizza, I laughed out loud (then ordered pizza) after reading your application."
This Is The Reply She Got!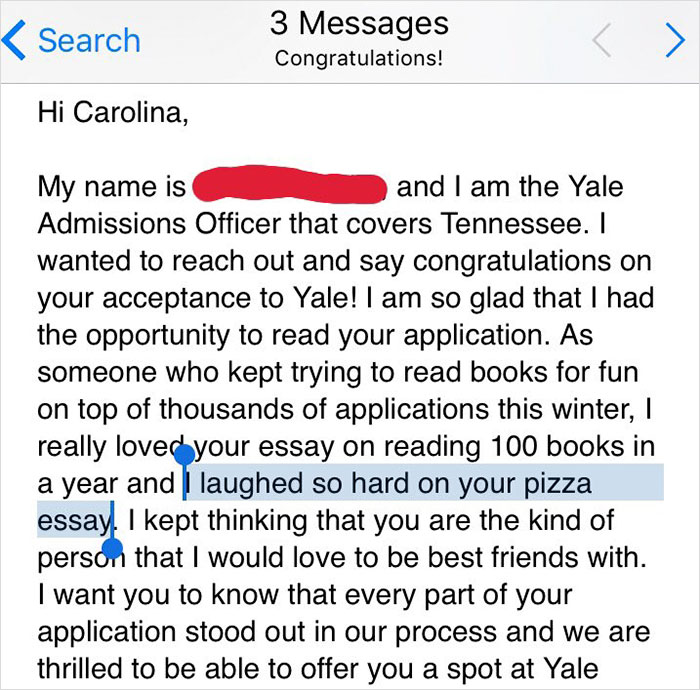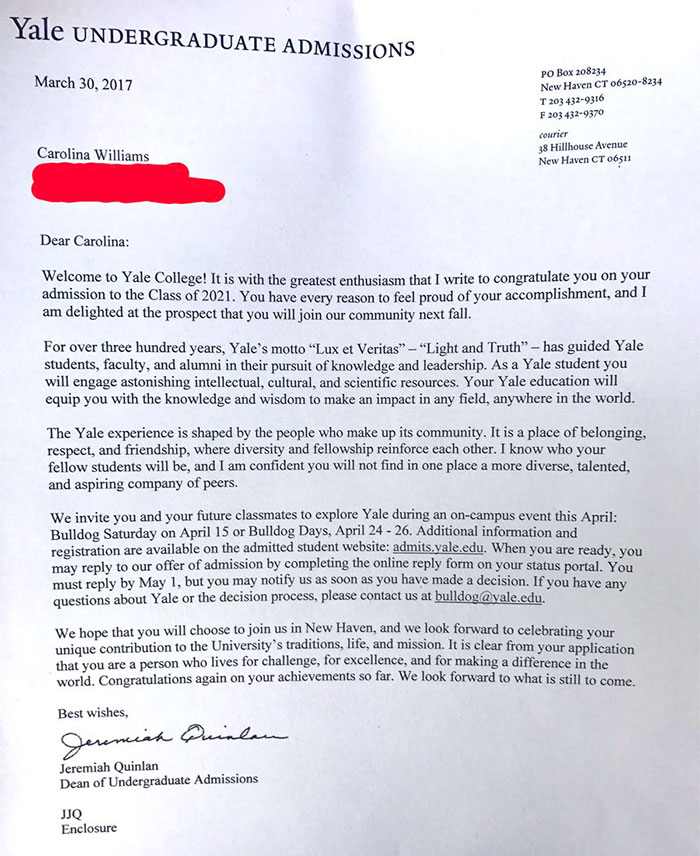 This is not the end of the good news in this piece, Carolina tweeted out to Papa John's to tell them how their delivered Pizza was one of the reasons behind her acceptance in Yale. To this, Papa John's responded with a note, a bunch of free goodies, free pizza for a year and even a free pizza party in her dorm room. They even offered her a summer internship at the Papa John's headquarters and all of this good news was delivered by Mr. Papa John's himself, in this video message.
She Tweeted Out To Papa John's
This Is How Papa John's Responded To Her
https://www.youtube.com/watch?v=Ikuf_b7wMOo
source: Papa John's
All in all, this just shows us how much helpful and important Pizza is, in our lives. 
Source: BoredPanda 
5th June 2017
Jyotsna Amla