The Schengen visa is a visa that allows its holder to visit all Schengen states. Schengen states are a total of 26 countries. These countries are: Estonia, Finland, France, Germany, Greece, Austria, Belgium, the Czech Republic, Denmark, Hungary, Iceland, Italy, Latvia, Liechtenstein, Lithuania, Luxembourg, Malta, the Netherlands, Norway, Poland, Portugal, Slovakia, Slovenia, Spain, Sweden, and Switzerland.
The Schengen visa allows its holder to:
To stay in the Schengen States of a duration of no more than 90 days
transit through the international transit areas of Schengen States airports
Where to Apply?
All countries have different rules & regulations for this, it depends on the country you're applying from. Either you need to apply at the embassy, visa consulates, visa center (eg: Vfs Global), or embassy/consulate of another Schengen state.
If you're going to visit only one Schengen country you'll have to apply at the visa center of that country and if you're going to visit more than one country apply for your visa where you're staying more.
When to Apply?
Apply for your Schengen visa as soon as you can. You can apply a maximum of 1 year prior to travel. We recommend you apply at least a month in advance.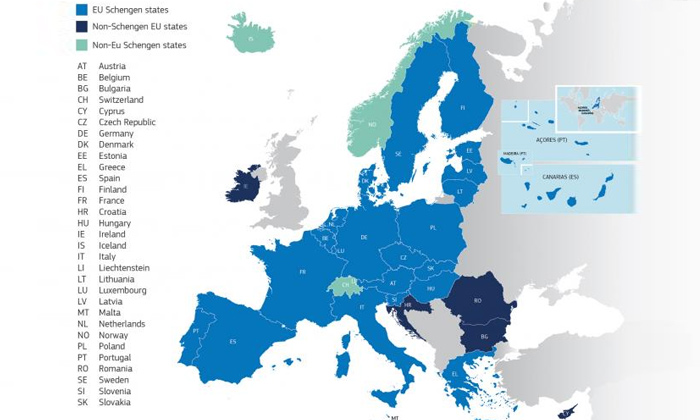 Step by Step Schengen Visa Process
There are mainly 6 steps to apply for a Schengen visa.
Step 1: Appointment
Book a Schengen visa appointment to continue with your application. In most countries, you can book an appointment online. But in others, you'll have to book the appointment by visiting the embassy or consulate.
Step 2: Visa Application Form
No matter which country you're applying from, the Schengen visa application form is the same for all the countries.
You will need the below information to be filled out in the visa application form:
Personal information
Purpose of the trip
All the details regarding the trip (eg: where will you stay by which flight you'll go there)
Step 3: Documentation
This is the most important step while applying for a Schengen visa application. You'll get the visa or not is entirely dependent on this step. You'll be required to provide the below documents:
Visa Application Form (Fill each column of the visa application form if you don't have an answer write NA)
Passport (Few pages blank and at least 6-month validity)
Two Identical Photos (Consider going to a photo studio that specializes in visa photos)
Travel insurance (Purchase the insurance which has at least USD 30,000 sum assured per person)
Round Trip Flight Reservation or flight itinerary (You don't need a confirmed flight ticket you just need a hold ticket which is also known as Dummy Ticket)
Proof of accommodation (You don't need to pay for the complete hotel booking, but you just need a reservation in the hotel)
Proof of financial means (Provide half-yearly bank statement of the person who is sponsoring the trip the trip sponsor can be father, mother, husband, son, or daughter.)
Step 4: Visa Interview
Reach the visa application center on the day of the appointment. Make sure you arrive there on time or at least 15 minutes prior to the interview scheduled. Bring all the necessary documents with you and hand them over to the visa consular there once he/she ask.
You may be asked some personal and general questions like:
What is the purpose of your trip?
Are there any relatives or friends living there already?
Who is sponsoring your trip?
Where will you be staying?
What is your educational qualification?
Step 5: Visa Fee
There is a non-refundable visa fee for a Schengen visa application, which is EUR 80 for adults; EUR 40 for children 6 to 12 years; and children below 6 years are free. You need to pay the visa fee at the visa application center.
Step 6: Result
Generally, applicants get the answer within 15 days after applying. In some instances, it might take a little longer.
Suggested read: South Africans Can Visit 99 Countries Without A Visa