Prime Minister Narendra Modi on Friday met with the Japanese Emperor Akihito before the key bilateral talks that Modi is scheduled to take part in his three day visit to Japan. The PM also had a stopover in Thailand where he paid homage to the Late King Bhumibol Adulyadej.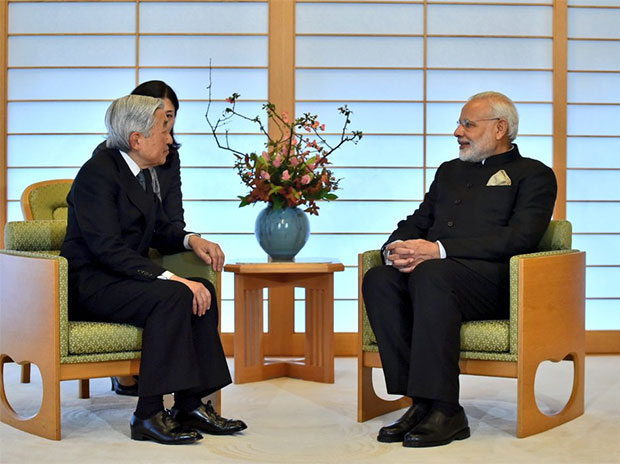 Narendra Modi arrived in Japan on Thursday and this is his second visit to the nation after coming to the power in 2014. Modi also visited Japan twice during his tenure as the Chief Minister of Gujrat.
Vikas Swaroop, the External Ministry spokesperson, said that this rare meeting between PM Narendra Modi and His Highness Emperor Akihito symbolises the unique warmth between India and Japan.

India and Japan will have to continue to play an imp role in Asia's emergence: PM Modi in Tokyo pic.twitter.com/hjXR8x30Va

— ANI (@ANI) November 11, 2016
Narendra Modi and Shinzo Abe, the Japanese Prime Minister, will travel from Tokyo to Kobe through the bullet train 'Shinkansen' which will give the two counterparts a 'quality time' to talk about regional and  bilateral issues.
Japanese Officials said that Prime Minister Abe liked the idea of travelling together and he also wanted to show The Indian Prime Minister some of the key commercial hubs on the way. A visit to the Kawasaki Heavy Industries facility in Kobe, where high speed trains are manufactured is also on the cards.
During the annual summit around 12 pacts will be signed between the two sides and there is also a possibility of a 'Civil Nuclear Deal' being signed, officials added.
Lower labour costs, large domestic market and macro-economic stability combine to make India a very attractive investment destination: PM pic.twitter.com/r3E2h3wOzG

— ANI (@ANI) November 11, 2016
PM Narendra Modi had made his intentions clear about taking India to the international level and wants to encourage all developed nations to invest and trade with India. His recent ties with the US, Russia and other developed countries are an example of the same.
Let us march forward and explore bigger potentials and brighter prospects: PM @narendramodi

— PMO India (@PMOIndia) November 11, 2016
Modi has been interested in technology since his tenure as the Chief Minister of Gujrat and everybody has seen the kind of development that Gujarat has gone through and now he wants the same for the whole nation. If this summit proves successful, then India could see a growth in Technological advancement.
Follow us on Facebook, Twitter and Instagram for more updates. Don't forget to like and share. Do tell us your views in the comment box below.
11 November 2016
Rohan Jaitly