A lot about a man, it is said, can be told, by the kind of shoes that he wears. Heard that one before? Well, but what about women? On a similar train of thought, some might say a lot about a woman can be judged by the kind of clothes she wears.
While most of us might budge the reality we cling on to without wrapping words around it, we do tend to make an impression about women concerning their nature of dressing.
But, hey, we are nobody to judge women or decide something about their character basis their nature or choice of clothing. Clear?
But while social commentary seems to be everyone's favorite unpaid profession, it does appear, however, that what a powerful woman wore recently did indeed tell something about herself.
The person in context was none other than New Zealand Prime Minister Jacinda Ardern.
And what she wore recently was a headscarf covering as a sign of concern, regard, and solidarity for the innocent that perished as a result of a terrible terror attack in Christchurch that killed 50 and wounded as many in what's being described as the worst form of terrorist attack to have ever engulfed New Zealand.
That said, something stood out from this gesture.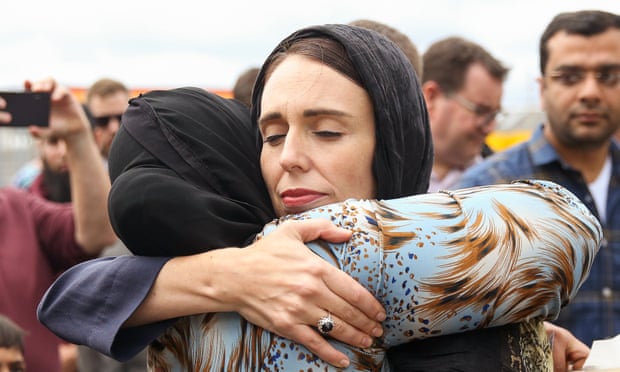 This utterly simple and humane gesture on the part of Jacinda Ardern proved one thing above anything else. It meant regardless of the racial rhetorics that the world has come to furnish about the Muslims, expressing love and concern for your own populace, was a sign of normality after all.
And aren't the Muslims living in New Zealand not New Zealand's own?
It's a pretty simple equation. The way the Muslims living in Pakistan are Pakistan's own, the same way, New Zealand's Muslims are its own. They form a part of the population; they contribute to the economy, do jobs, pay taxes and collectively form the 21st century identity of a country that indeed has its heart at the right place.
But here's some food for mentation.
While in some parts of the world the dislike if not hatred against the Muslims is being expressed rather vehemently- consider the fate of the Rohingya people- in New Zealand, the world learnt a fine example that caring for a lot of the population is absolutely free of cost and guess what, it needn't be seen as a sign of political correctness.
Implicit in Jacinda Ardern's wearing of the headscarf, and well, carrying it quite finely, by the way, was the simple, honest, hardcore truth.
At a time where the polarising opinions about one of the world's most intellectually vibrant and artistically driven cultures are about as real as Climate Change, she highlighted the fact that the affected community must be reached out to and made comfortable at the time of duress.
This expression of connectedness makes us human- at the end of the day.
Does it not?
Bear in mind the fact that the 38-year-old Hamilton-born Prime Minister could well have simply read out a message expressing the usual, "the whodunnit won't be spared and we'll do all we can to protect you from terrorism" but in actuality, Jacinda Ardern resorted to humanness, a quality that defines us at the end of the day.
Mind you, Muslims only make up 0.1 percent of NZ's total population. Had she wanted, the Labour Party politician may well have ignored the tiniest lot of her country's populace. But on the contrary, warmth and affection were expressed in the form of melancholic but concerned eyes and hugs that embraced one and all; those whose families were affected, their innocents snatched away by Brenton Tarrant in a pure exhibition of compassion.
The Guardian also made some observations of the NZ PM's gesture sharing, "Domestically, even Ardern's most strident critics have fallen silent. Sam Sachdeva at Newsroom said the event had allowed the prime minister's "clarity and decisiveness" to come to the fore, while the New Zealand Herald described her leadership as displaying "solace and steel".