It could be said, there are talents and then there are those who possess what's called prescient talent; souls gifted with rare virtues. Perhaps qualities that we hear in movies or fairy tales concocted solely to inspire.
What might be Zambia's biggest gain in these times mired in excessive red-tapism, corruption, lack of educational reforms, a lack of freedom of expression for artists- may be Pilato.
But here's the bad news. Perhaps, it won't be wrong to suggest that the two- Zambia and Pilato- are at constant odds against one another. They aren't the best of friends and the reasons aren't that shocking either.
He grew up in dire poverty. He was part of one of the messiest, poorest neighbourhoods in Ndola, the heart of Zambia's copper-mining belt where everyday reality was about a struggle to earn bread. And finally, he struggled to make a living in a country that's not necessarily the greatest guiding force for artists, particularly those who take the fight against restrictive, dogmatic government systems.
But resorting to writing poetry at the tender age of 10 would hold poignance in defining the formative years of arguably Zambia's finest modern singer-composer-musician- Pilato. Using his keen artistic endeavour to bridge the gap between the pitfalls of a democracy and its failings responsible in turn for failing a people- Pilato would soon rise to be known as the voice of the voiceless.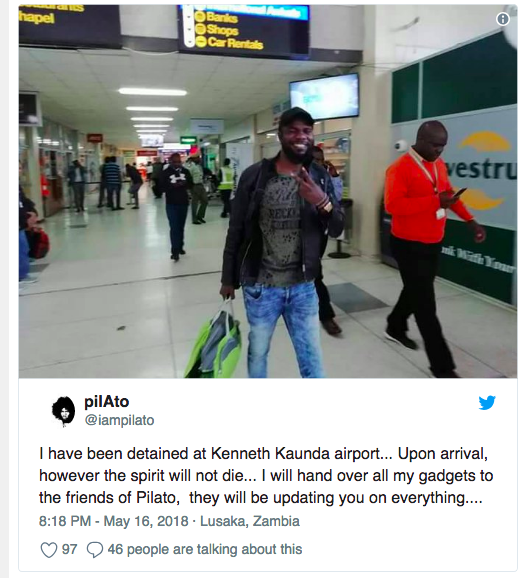 In some of the African nations given their fair share of problems and collective failures in self-administration of what seem like regimes instead of properly elected democracies, it appears that even a Mr Bean can run a country well enough but not political forces that have been elected to manage the state of affairs.
In some other other parts of the western world were hip-hop artists often indulge in many vices of life, where featuring in explicit video content alludes to a good, indulgent lifestyle, Zambia's Pilato often finds himself in the jail. And when he's not arrested, often for lack of a credible reason, he finds himself collected, picked straight from airports, thus hampering his musical tours and programs.
As recently as January, 2018, when Pilato- actual name, Fumba Chama- released his number Koswe Mumpoto, meaning "rat in the pot", he was quite simply given death threats. He himself thought that he may not live long enough. What he'd done to upset Zambia's political masters, it appears, is that he'd raised voice to generate awareness about the ills of the current president, Lungu and his current Patriotic Front (PF) ministers who steal from the people they're meant to serve.
What worries Pilato is exactly what is not right about Zambia. While on the one hand there's a persistent presence of bribery in almost all business spheres in of the copper-mining hub of Africa, there's also a weak, ineffective judicial system that can't ever do enough to curtail the negatives. In these times, Pilato's main concern?
"The right to freedom of expression must be allowed to thrive."
The courageous musical activist- since that's the only way one could describe Pilato- didn't leave the previous president Michael Sata (now, deceased) either, who'd been accused of false declaration of assets and for diffusing and even endangering Zambia's relations with China. As a matter of fact, China has a lot of interest in Zambia's copper-belt.
As on May 16, 2018- Pilato, who'd spent months together, living in exile in South Africa, following receiving death threats attributed to being from the ruling establishment was arrested from Kenneth Kaunda airport. More than his life, the anti-establishment singer is worried about the fate of his wife and his kids, who he's neither heard from nor spoken to in the several months that he'd spent outside of Ndola, Zambia.
The supporters of Zambian president Lungu don't want Pilato to live and Pilato's fans, obviously, don't want the music to stop. Which way will the musical career of a truly earnest artist flow- who can say? For now, a precious life and a precocious talent's fate hangs in limbo. Although, humanitarian and human rights agencies like Amnesty International have raised vital support in favour of the singer's release.