It is imposing in it's built and daunting in its frame! And now, it's home is in Africa. Well, to those among us who may not have particularly thought about Africa in the context of real estate, this one may bring up a bit of a surprise! Do you happen to know about Africa's tallest building?
Apparently, Africa's tallest building- the Leonardo– is currently making buzz and for good measure. At a time where the continent is already being stymied by existential concerns and crises, such as much of its laborious workforce flocking to other global destinations in the search of better opportunities, there is finally something that is making splashing headlines.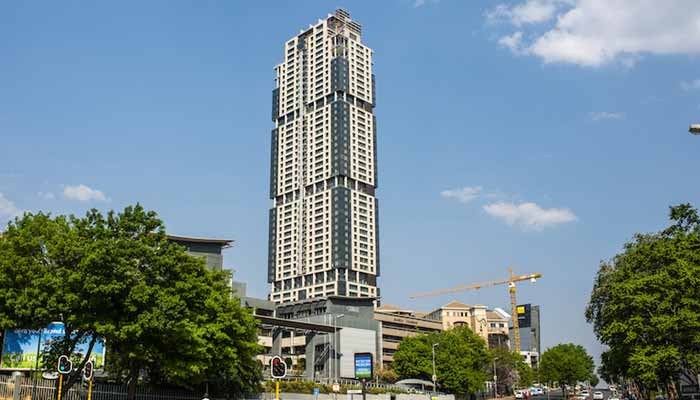 As it turns out, the Leonardo is around 234 meters in height and never before since its construction has Africa embarked on creating such a mammoth symbol of modern infrastructure.
Do the math. The Leonardo is around 768-foot high and in the current context of the African landscape, it is the tallest skyscraper that has embraced the skies.
Importantly, Africa's tallest building stands in one of the most enterprising parts of the continent, in the heart of the Proteas Land, i.e., South Africa, also known as the Rainbow Nation.
Standing at a walking distance of the famous Johannesburg Stock Exchange, Africa's tallest building also neighbors some of the headquarters of the continent's biggest companies and is barely a stone's throw away from the Sandton City, among the most premier shopping malls anywhere in the region.
If it's luxury that the conventional Africans-with a gamut of vibrant population involving college-going students, entrepreneurs, architects, mine-owners, restaurateurs, hoteliers- seek then this is the swanky new residence in all of South Africa, brimming with a confluence of modern architecture and luxurious design.
One can only expect that in the coming times, not long from now, the property-rates of the surrounding real estate may only rocket northward given that in The Leonardo, there's a showstopping infrastructure and needless to say, one of South Africa's most desirable new residences.
A leading online journal carried some interesting insights about Africa's tallest building and shared the following:
Developed by South Africa's Legacy Group and Nedbank Group Ltd., it will house 254 apartments, a three-floor penthouse and five floors of office space as well as shops, restaurants, a gym and a herb garden.
While Johannesburg's run-down city center is notorious for its high crime rate, the relatively safe suburb of Sandton has undergone massive change in recent years to become a showcase for ultramodern high-rises and glass-fronted office structures.
Developers are now increasingly looking to build residential space in the area, marking a shift from the more common living arrangements of South Africa's richest people. Johannesburg's affluent typically live in large free-standing houses with rolling gardens and swimming pools behind walls with electric fences.
Still, with in-house restaurants, a Montessori pre-school and room service, the Leonardo is likely to be more luxurious than most residential buildings in Sandton.
But now that one knows about The Leonardo, it's also pertinent to know the leading force behind the creation of a state-of-the-art building in all of Africa.
Apparently, it's a premier development corporation known as Legacy that has led to the creation of the eye-pleasing structure. Legacy already operates as many as 23 hotels all across Africa besides running several luxury residential complexes around the massively-large continent.
An implicit feature in the tall structure is the fact that it houses a 3-floor penthouse. Here are some more interesting highlights of the said piece of infrastructure:
Its properties range from the Michelangelo Hotel in Sandton to Hotel Le Cristal in Gabon and Labadi Beach Hotel in Ghana.
Adrian Landry, general manager of the Leonardo, declined to give a price for an apartment or to disclose how many have been sold. At the nearby Embassy Towers, a 12-floor development, two-bedroom apartments start at 7.2 million rands.