Implicit in the heart of every country is a quintessential figure by whose accomplishments the country is known and revered. Their character and feats define a nation. Their standing, often in their country mirrors the respect they command from the world.
For India, there's inarguably Mahatma Gandhi. For Russia prior to the Second World War and even hence, Leo Tolstoy and Lenin come to the mind. We have the most profound regard for Abraham Lincoln for United States. For France, Charles De Gaulle is considered an icon.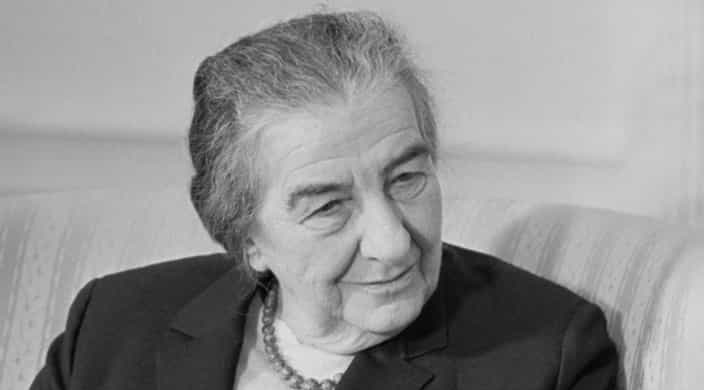 But for Israel, not one but three personalities spring to mind. When you look beyond the inspirational leadership of David Ben-Gurion and the affectionate avuncular personality of Ariel Sharon, it has to be Golda Meir, undoubtedly. No other woman in the history of Israel has been as profoundly respected and loved as Golda Meir, a world of a distance away from the standpoint of disregard and disconsolation one feels about political leaders today. It is rare and unheard of to find in a personality of such repute both the warmth that makes her a reflection of her times and the iron willed persona, that marked the period so defiantly.
Perhaps there's resonance about the great mother of Israel because she was among the very few who saw the formation of the Jewish homeland- a land of such immensity of complication as to be only imagined in a quintessential Steven Spielberg movie character. And the romance for Israel- that may not have existed had it not been for the inwardly driven attempts of those among David Ben-Gurion, Peres, Chaim Weizmann, Golda Meir herself- stems from having ruled it from the top-most echelon of leadership.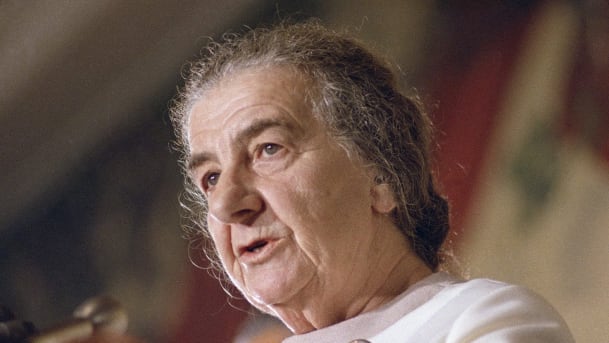 Perhaps not as much from the perspective of governance, but from the standpoint of providing the guiding light to a country that was so mired by darkness. Perhaps akin to a mother having the distinct and colossal pleasure of having to raise an ailing mother- that had it not been for the bloodshed, struggle, pain and tears- would have remained submerged amid despair. And who knows for for times to come?
Greatness doesn't only come to those who strive for it. It comes to those stare at the face of overwhelming odds without a shudder of doubt. And Golda Meir's intimate involvement in the struggle for the formation of the Jewish heartland- a story that shall remain undoubtedly poignant whenever the subject of Israel would be raised- is a testimony to her character and essence. She wasn't born in Israel but in Ukraine. She travelled to the United States. She sought support for those who found resonance in the idea of a struggle for Israel. She explained pithily the urgent need to give give the Jews finally a place they could call their own, and returned to be part of the struggle in her nation's formation. But she didn't return empty handed.
To this day, it remains to be seen which other political luminary has managed to raise 50 million dollars (imagine the amount in 1948) in a bid to strive for creation of a country that hitherto hadn't even existed.
She worked at the Kibbutz, interacted profusely with those who were involved in the struggle for a separate Jewish land, she guided lives, harboured faith and together raised the fight against the Arab hostility, to this day, an embittered and inescapable reality of being in Israel.
Lives were lost. Blood was shed. Innocence was ravaged and hopes were nearly lost and at all this time- a woman- where most other countries hide theirs in the garb of being progressive democracies- was at the face of overwhelming odds. That was Golda Meir.
Four decades in her passing the sincerity toward serving the embattled Jewish heartland upholds the spirit of Golda Meir like nothing else can. A pious devotee to the idea of Israel- still a blithe according to some of the word- Golda Meir was an exceptionally hard working woman for whom life was often being surrounded by political and administrative workings. Her involvement with the World Jewish Organisation was seminal to sensing the desperate need for a Jewish land.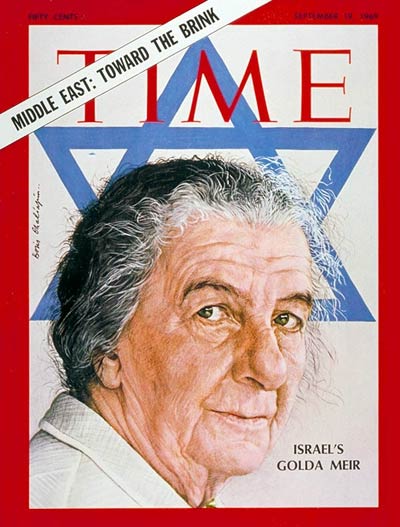 Somethings, it ought to be said, can only take place in Israel. Where else would you find a signer to a declaration of independence being a woman? Tireless in her approach for officiating the right political dictum for the nation's foreign offices, to this day, the current relations Israel holds with countries like Russia and England, to a very great extent pay a tribute to the work carried out by Meir.
In pure respect, it ought to be said, if there was indeed a Gideon in the Hebrew mythology then none would be able to represent its fighting spirit better than Israel's great lioness- Golda Meir. Forget the weaponry and the bluntness of the armoury. Her wisdom being the sword of Gideon and her inexorable might to fight for Israel's right to exist fuelled by her wisdom and spirit of compassion.
Meir continued to be associated with the political functioning of the state of Israel well past her halcyon years and was among the key figures that established the diplomatic firmament of the country. Legitimisation of the Jewish state might have been for her, a purpose of life, Golda Meir continued to attach herself to mitigating myriad other problems- whether it was solving Israel's great labour crisis in the immediate aftermath of the formation or finding solution to end hostilities with Israel's Arab neighbours, perhaps with whom peace even today sounds like an occurrence in a dream scenario.
Making snap decisions, regarded for being a shrewd thinker who worked solely and selflessly for the continuous resurgence of Israel, a country whose people for the longest time had been mired in obscurity, victimised by a fiefdom of hatred, there's little irony why Golda Meir had that first name. Perhaps Israel's birth, creation and continuation had to be lavished by the involvement of a 'Gold'en presence. And that had to be the tireless revolutionary- Golda Meir.