Being on time, i.e., being punctual in life is a habit one often wishes to achieve. If you are someone like a job aspirant or a leading executive from a blue-collar firm, then it is a trait that will almost always keep you in good stead. Being punctual, it can be said, is merely a rudimentary ask for some and almost a dream virtue that many aim to possess. But one has to work toward it- truth be told.
It really doesn't come that easy. So while we are already discussing the bright subject, what better than seeking some inspiration from New Zealand. Now, don't be confused, there's a point to drive home here. Apparently, Air New Zealand have commanded over some really mighty rankings when it comes to identifying some of the most punctual airlines and operators in the world. In an elite enlistment that has some globally-recognised fliers and operators such as airBaltic, Qantas Airways, Hong Kong Airlines and many others, Air New Zealand was ranked in the eighteenth place on the list of on-time performance.
This is a checkered achievement and indeed, something to celebrate. The travel data company, OAG, which also happens to be one of the most revered in the business has found Air New Zealand to be one of the most punctual and regular airliners in the world. But to arrive at the rankings was no child's play. Apparently, as many as 57 million flight records for the last year were assessed and data was compiled from such an exhaustive study- an onerous task in its own right. When it comes to the Asia Pacific region, Air New Zealand are ranked eighth.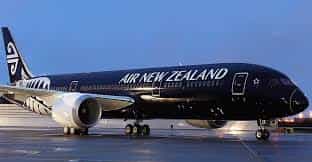 That said, the findings by OAG's report and subsequent rankings aren't a great cause of celebration alone for Air New Zealand. Where the rankings of large airports stand- according to the said travel data firm- then New Zealand's Auckland airport finds itself on the nineteenth rank with an OTP of 80.23 per cent. In fact, where the last year stands then, Air New Zealand reported pre-tax earnings of a whopping sum of roughly $527 million. If that's not remarkable, then what is? In the sphere of mainline airlines and revered operators, Air New Zealand- with exceptionally high standards of performance have left an indelible mark in the aviation sector. The rankings point to a celebratory period in the performance of one of the world's most prompt carriers.