Pope is one of the most influential people in the world, probably 'The' most, for some people, and it's almost a tradition for World leaders to visit the Pope while they're anywhere around the Vatican. And, so did Donald Trump, who after his summit in Saudi Arabia decided to have his first face-to-face meeting with the Argentinian pontiff, on Wednesday.
This is a known fact that both, Donald Trump, before becoming the President, and Pope were not on the best of terms last year when Pope Francis questioned Trump's Christian credentials. However, this meeting seemed to be going on with a good start, when Pope jokingly asked First Lady about the popular Slovenian cake. But one can have a hard time believing the good meeting part, because of this picture.
The entire Trump family (well, the important people) went on to have a group picture with Pope Francis, where, let's just say, Pope's not looking happy. It seems that Pope would like to be anywhere than being in here. One can simply have an assumption of how great the meeting went, after looking this particular picture.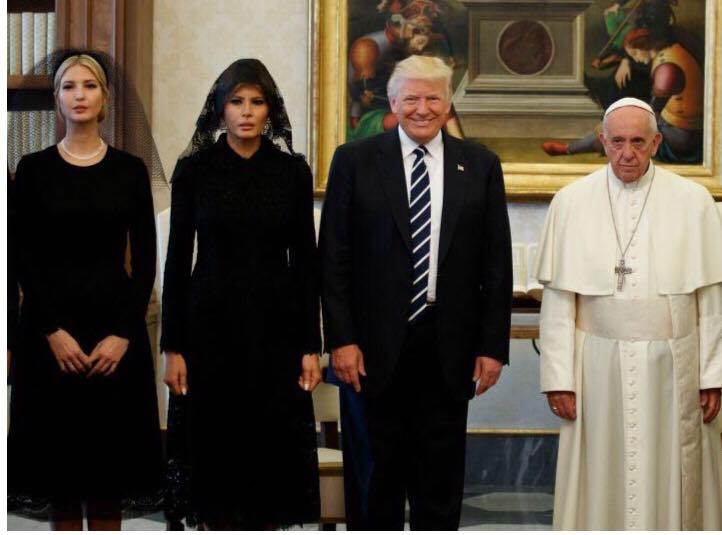 The photo is awkward and hilarious — but it also perfectly captures the tension inherent in a meeting between two of the world's most powerful men whose visions of the world couldn't be more different. Both the women, Melania Trump and Ivanka Trump, were seen sporting the conservation black dress and veils which are the Vatican protocol for women but are not mandatory. This particular choice has also prompted a lot of question about why the women chose to cover their hair in the presence of the Pope but declined to do so in Saudi Arabia.
However, that's not the interesting thing, the interesting thing is the reaction that people to this image. While Donald Trump seems to be extremely happy, it's the Pope's reaction that resonates with a lot of people, who decided to meme the heck out of the picture. And, we decided to present some of the best out of the lot. So, here you go:
Pope Francis with different heads of state during their visits at the Vatican.

Something seems…different 🤔 pic.twitter.com/JiyVTs014G

— Cassie Dagostino (@casatino) May 24, 2017
Pope: "I want to go home"
Aide: "You are home"
"I hate this"
"Just smile"
"These people are awful"
"Be nice"
"I want an ice cream" pic.twitter.com/zBwvOb5nQE

— TechnicallyRon (@TechnicallyRon) May 24, 2017
My kids at Portrait Innovations for Easter pic.twitter.com/8JiTqSYXUq

— Tony Posnanski (@tonyposnanski) May 24, 2017
this shit looks like if gomez died so morticia married lurch. (also pugsley became pope) pic.twitter.com/XB51E1klwq

— cullen "swamp trash" crawford (@HelloCullen) May 24, 2017
— Presidant of Hei Network (@timheidecker) May 24, 2017
https://twitter.com/DanaSchwartzzz/status/867354868348059649
when you've just walked into the ceremony and your toddler shits his diaper pic.twitter.com/zEPXHAs52K

— maura quint (@behindyourback) May 24, 2017
I photoshopped in the kid from THE OMEN and it's so perfect it's unnerving. pic.twitter.com/I3wGIrbvBW

— James White (@Signalnoise) May 24, 2017
you vs the guy she "only likes as a friend, promise" pic.twitter.com/YtPI0tOCEf

— shauna (@goldengateblond) May 24, 2017
https://twitter.com/KrangTNelson/status/867374281600245764
https://twitter.com/bourgeoisalien/status/867374121151324160
can't believe Melania was forced to wear a headscarf in this backward country where women aren't allowed to hold power #MAGA pic.twitter.com/GUmTmAiXaf

— I'm Cold, Bitch Li'l 🌲listen to @onbeliefpod (@karengeier) May 24, 2017
https://twitter.com/Bro_Pair/status/867368032036958209
I am legitimately impressed by the first family's ability to randomly invoke 70s horror movies though. pic.twitter.com/ERSUlHDeR8

— R. Eric Thomas (@oureric) May 24, 2017
https://twitter.com/ziwe/status/867364068809736192
$5 says Melania bought that outfit hoping to wear it to Donald's funeral pic.twitter.com/psGRwE3gQn

— Marcia Belsky (@MarciaBelsky) May 24, 2017
https://twitter.com/zieg/status/867389412749045760
— Trump's Ties (@TrumpsTies) May 24, 2017
Pope Francis is the one wearing white, yet he's the one who looks like he's in mourning. pic.twitter.com/R5XWrZmIsr

— Just Some Guy | Black Lives Matter (@Home_Halfway) May 24, 2017
Trump's new banner is him getting the stinkeye from the Pope. pic.twitter.com/P9CywtZ1Fg

— southpaw (@nycsouthpaw) May 24, 2017
— Ralph Douthat (@ralphdouthat) May 24, 2017
This is actually the largest smile Pope Francis could give in the presence of the Trump family. pic.twitter.com/9vuEhXwAqB

— Jason Gore (@sonicdork) May 24, 2017
Eloi, Eloi, lama sabachthani?? pic.twitter.com/M2e13SItZD

— Jason (@longwall26) May 24, 2017
https://twitter.com/_grendan/status/867380646511095811
— Simon Hendriksen (@SimonHendriksen) May 24, 2017
https://twitter.com/FattusAntus/status/867316003499376640
Not pleased. pic.twitter.com/0MUdGOYIjR

— meghnad 🔗 (@Memeghnad) May 24, 2017
https://twitter.com/SahilBulla/status/867325245291544576
https://twitter.com/SahilBulla/status/867325420999393280
https://twitter.com/SahilBulla/status/867326888598937600
https://twitter.com/one_by_two/status/867343072618741764
https://twitter.com/leeyaa13/status/867567610279321601
Apart from the meme, Donald Trump and Pope Francis have previously sparred over a number of issues like gun control, environmental protection, refugees, immigration and over Donald Trump's decision to make a wall.
25th May 2017
Jyotsna Amla