Where the news reports are pointing, then it appears that Finland's smallest restaurant is now up for sale. While to most of us, it may read like some random piece of news, not even worth spending our precious one or two minutes on. But to the curious ones, however, this piece of news might be catchy and interesting to binge on.
So, what after all, is of value in this bit of news that Finland's smallest restaurant is making news?
Well, for starters, Tanskalainen Voileipä- Finland's smallest restaurant- has been running since 1964. Doing the simple math tells you that this tiny eatery has been serving great taste for no fewer than fifty-six years. That's an awful lot of time in itself, right?
On the count of history, several African and Asian countries became decolonized starting with the tumultuous 1960s!
So there we have it: a piece of history in the otherwise leafy Helsinki neighborhood of Toolo that's home to churches and the parliament house, shaped out of rock.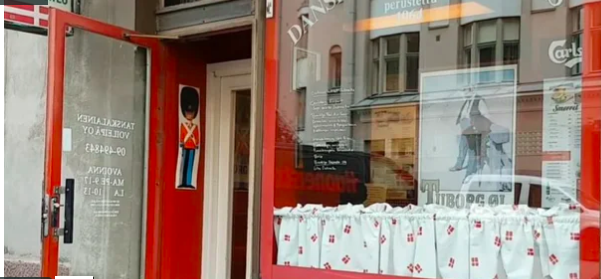 But on its own, it cuts a rather fascinating picture to note that a full-fledged restaurant has been running for well over five decades having a seating capacity of not more than two individuals. You read that right.
In a recent interaction with local Finnish media, the owner of Tanskalainen Voileipä, Mr. Aimo Lindgren admitted that for years together, his tiny eatery has been recognized as the famous Nordik country's smallest restaurant. And what makes the place unique is that while there's also a terrace seating arrangement that can place up to four eaters, the headlining material still remains the two-seating capacity!
And that's not all. Though, it's Finnish, the restaurant is most famous for its standard Danish offering: the mouth-watering smørrebrød, otherwise known as the Danish open sandwiches.
Interestingly, one of the dishes eaters can gorge on is called "Silli!" But having said all of that, what may also strike a sense of emotion into the hearts of the famous patrons of this well-known Finnish restaurant is that it may no longer continue as one.
The owners just confirmed that they are all set to retire which means one of Finland's oldest restaurants in its modern history, apart from also being the smallest in entirety may shut down for good.
But for years, apart from offering a sumptuous offering of Finnish and Danish delights, Tanskalainen Voileipä was also noted for its neat traditional interiors.
On the insides, the diners and those who come to collect their takeaway deliveries can have a look at the slice of what it means to be Scandinavian. There are cute souvenirs that cover pretty much everything that connotes the essence of Denmark: the tiny piece of the Little Mermaid, a football kept for decorative purpose, and of course, a collection of several classic pints that one can guzzle down without much ado.
There have been lots of regulars who keep coming back; frequenters who helped carve a niche for Tanskalainen Voileipä. Surely, along with the munchy servings of traditional dishes, they were the ones who helped chat a long memorable journey, one whose end might be up anytime now.
Also Read: The Big Positive By France Toward Protecting Wild Animals
That being said, what's mighty impressive is that the restaurant has been serving, to this date, some dishes that are at least a hundred years old. Can you dig that?