Bird. Not just a word, but an expression of wings-out and a creature being in full flight. Bird. Not just a four-letter word that indicates free-flying out there but the scaling of one's ambition; the reach for the skies.
And perhaps that is what Bird is inclined at bringing to the ambitious and much-needed trajectory of electric mobility, not just a cutting-edge sphere of transportation today but a much-needed change for the hour, for every moment.
If you happen to be a fan of automobiles or someone who's just keen on all things automotive, then you might have noted that for the past few financial years, the car-ownership numbers in the west (in particular) have been dwindling.
In fact, consider Germany for a second. Back in Angela Merkel-land, a destination for all things automobile, it appears that car ownership has sunken in pure numbers. This, it mustn't be forgotten isn't just down to fate. Perhaps it's the nature of the times that we are in where there's been an incessant rise in car rentals, ride-sharing, and cab-services.
Driving, fun and exciting that it may be hasn't really been all that fun, particularly in countries that are plagued with constantly increasing populations. Stricter laws, excessive four-wheeler and two-wheeler numbers on the roads and the ever-present scenario of traffic snarls- why would car ownership be on the rise in that part of the 21st century where the population runs in billions and billions?
There's, therefore, been a rise in urban transportation service providers like Uber, Ola, Lyft and several other key players operating in the market.
And that said, one couldn't possibly ignore another major plight of our times; the excesses of vehicular population, a scenario that rightly places spectacular inventions such as Tesla where they are currently- right?
But is that all?
One possibly cannot talk of the changing dynamic of urban transportation and commute and not talk about Electric Scooters- a rising phenomenon in urban and developed parts of both western and where the current trends point to, then even eastern societies.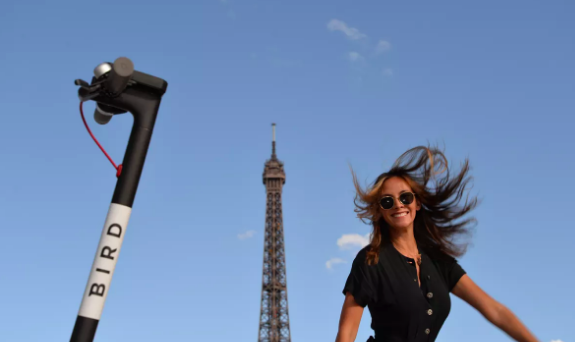 More and more people are taking to Electric Scooters as a dependable, comfortable, and convenient mode of modern transportation in times mired by excessive deadlines, longer distances due to traffic clogs and the everyday mobility struggles. Markets such as Germany, Austria and now, even France are increasingly moving in this direction.
Perhaps that is why it doesn't really come across as a huge surprise that popular American start-up Bird, that's a noted player in electric scooters has ramped up in Paris operations. Desiring everyone's favourite city to be the hub for its European operation, the LA-based firm has recently hired 1000 execs and more are in tow, it is believed.
Financial Times reported more on the bustling development from Paris:
Electric scooter sharing start-up Bird plans to open its largest European hub in Paris and hire 1,000 people over the next two years, underlining its backing for one of the world's biggest scooter markets despite a regulatory crackdown.
Los Angeles-based Bird's current presence in Paris is a service centre where its fleet of e-scooters are serviced and it employs about 100 people. It is confirmed that business functions and areas spanning operations, government partnerships, legal, marketing and communications will be based at the new French hub, Bird said on Thursday.
The number of so-called trottinettes, or e-scooters, offered for rent in Paris by a dozen companies such as Lime, Bird and Tier is forecast to rise from 15,000 to about 40,000 by the end of the year. This has resulted in the French capital's mayor Anne Hidalgo vowing to crack down on the "anarchy" caused by their sudden proliferation on its streets. Small rivals such as Bolt, Wind and Ufo have recently been decreasing their presence in Paris, and Germany has also emerged as a new battleground in Europe's scooter wars.