It's a race that has faced the wrath of unwanted hatred and mindless bigotry for the longest time. The culture of hatred borne by this race takes us hundreds and hundreds of decades back in time. Considered unwanted, undesirable, subjected to hideous and ignominious treatment for years together, the Jews have actually come to face the undesirable backlash and mistreatment from the world. So much so that anti-Semitism is truly considered the oldest form of hatred practiced in developed modern society.
And guess what, in this part of the 21st century where the world, including its physical and intellectual resources, are increasingly wowing to and practicing the global template of Diversity+Inclusion, anti-Semitism is rising and still very much prevalent.
Thus, it is putting to risk a part of the world's integral populace- the Jews- on the backburner and increasingly toward mistreatment, something it's embraced in the gallows of a tumultuous past.
But nothing should perturb, one would imagine, the Jews the most other than what a recent survey in Germany reflected. That anti-Semitism in Germany is rising and is very much, a part of the common ways of the society isn't good news on any count.
At the same time, anti-Semitism in Germany, it ought to be reminded, isn't a new burning issue for the worst form of anti-Semitism was witnessed back in the days of the Second World War where it hit peak crescendo.
Their homes taken, their properties seized, their belongings snatched away and destroyed cold-bloodedly, who can possibly forget when Jews were rounded up in heartless and bloodless fashion by the Nazis as they embraced manslaughter during the tyranny of Hitler's hate campaign against European Jewry.
But that the war ended nearly seven decades back in time with Germany and Israel's relationship having touched several highs on diplomatic and political fronts should've naturally neutralized the situation and bettered the lives of hundreds and thousands of Jews who reside in Angela Merkel-led country to this day.
Yet, on the contrary, what one gets to hear constantly about is the fact that anti-Semitism in Germany is on the rise!
A survey done for ARD public broadcasting by the pollster Intratest dimap Friday showed 59% of voting-age Germans believe that anti-Semitism is spreading in their communities.
Compared to 40% in a sampling last year that's a jump of 19 percentage points.
The representative poll conducted by Infratest surveyed 1,062 voters between Monday and Wednesday.
That told, the exact extent of this menace was underlined by a recent report published on DW.com that made its way to the public, hence raising the concern about the situation on the ground level.
Rising anti-Semitism was seen by two-thirds or more of supporters of Germany's long-serving parliamentary parties — Chancellor Angela Merkel's conservatives, the center-left Social Democrats (SPD), the Greens and the former-communist Left.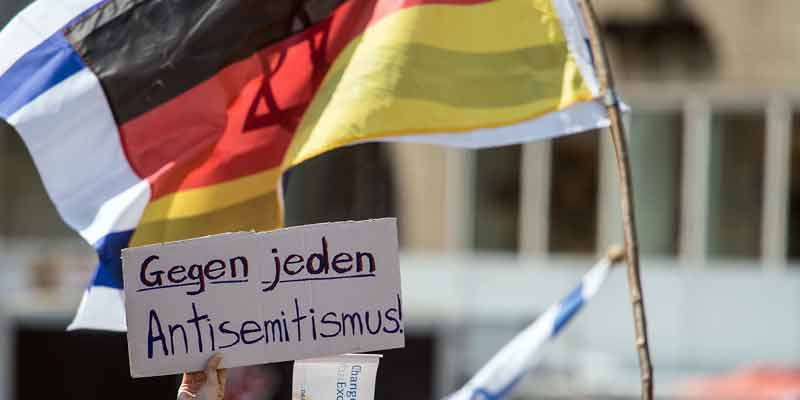 Among adherents of the far-right Alternative for Germany (AfD) formed in 2013 views were split. A rise in anti-Semitism was seen by 47% but not by another 48%.
It's not that the Jewish communities residing in Germany have simply sat helplessly on the pressing concern, for they've constantly been aware of the hatred that still very much persists against them in the modern, civilized German society.
DW.com's report further highlighted that Jewish communities in Germany have long warned of persistent anti-Semitism, with Josef Schuster, head of the Central Council of Jews, urging after the Halle shootings that "readiness for violence from the right must not be underestimated."
Suggested Read: A Former Nazi Bunker Is All Set To Open Up As A Luxury Hotel In Hamburg, Germany
Attacks in Synagogues and on commoners inside Jewish quarters and areas have long been common. But what remains to be seen is if this veil of indifference against the Jews that has heightened anti-Semitism in Germany will go downhill sometime in the future?
For now, it's safe to assume that the governments aren't really doing enough for one of the world's most intellectually gifted and culturally rich communities.