Finland is a country that usually makes news for promoting women in the main fray of politics and leadership. You hear about its premier institutions and academic centres as being benchmarks for young, inquisitive and cerebral minds. Honestly, there's a lot more to the country that's famous for its prowess in Formula 1, World Rallying Championship and Ice Hockey. And at the same time, there's more to Finland that its engineering might and talent.
Recently, the country known popularly as the 'happiest' in the world made news about a rather strange development. Rather, make that finding. So what was so strange that popped eyeballs into a state of perpetual inquisition, so to speak. Well, actually it was news pertaining to the discovery of an ancient carved snake.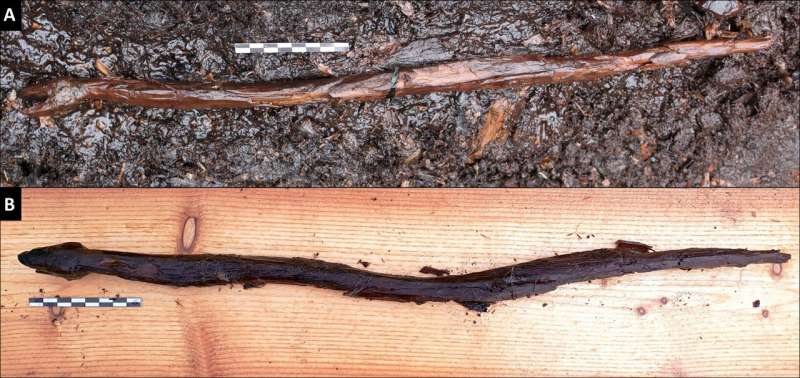 Yes, you read that right sans any errors.
Actually, an ancient carved snake discovered in Finland made news and so much so that the news quickly snowballed into being a sensation of sorts where European news updates were concerned.
Here's what a publication based in Europe had to say about a discovery that dates, god knows how many years back in time:
A pair of researchers from the University of Turku and the University of Helsinki, respectively, both in Finland, has found a well-preserved ancient carved snake at Järvensuo 1, a dig site in south-west Finland. In their paper published on the Cambridge University Press site Cambridge Core, Satu Koivisto and Antti Lahelma describe where the artifact was found, its condition, its age and its possible purpose.
The dig site Järvensuo 1 was discovered back in the 1950s, but little digging was done until recently. Items such as wooden utensils (including a large scoop with a handle whittled to resemble a bear's head) and pieces of fishing gear have been found. In this new find, the research pair have found a life-size carved wooden snake. They describe it as being in excellent condition. It is dark brown and very much resembles a snake as it is traveling or swimming. And its head shape indicates it was meant to resemble a viper—an adder perhaps or maybe a grass snake. The figure is approximately 53 centimeters in length and 2.5 cm thick and was made from a single piece of wood. Dating showed it to be approximately 4,400 years old.
The above told, what is rather fantastic- as the researchers studying the subject put it- is the fact that the shape of the snake is still in great form, albeit it being wooden in nature. And as a matter of fact, the exact spot where the ancient carved snake of Finland was found was right next to a lake. And moreover, the place is considered to be a wetland.
Also Read: Germany And Switzerland Lashed By Brutal Summer Storms!
Well, who knew that the land known for its remarkable Reindeers and the famous Finnish Spitz would one day make news for an ancient carved snake!
But then, expect nothing less than eclectic and dramatic pieces of news from a country where the Prime Minister's Breakfast bills can be subjected to scrutiny and whose premier Formula 1 export- Kimi Raikkonen- considers the very sport in which he's the most experienced man on the grid, no more than a 'hobby!'