Japan's Northeastern coast was hit by a powerful 6.9 magnitude Earthquake on Tuesday. The quake caused a 3.3 ft Tsunami that crashed with the Fukushima nuclear power plant, briefly disrupting its cooling process.
Tokyo was the epicenter of the earthquake and the city suffered a 7.4 magnitude quake. The Japan Meteorological Service said that it was centered off the coast of Fukushima at a depth of about 10 km. No deaths and injuries have been reported till now.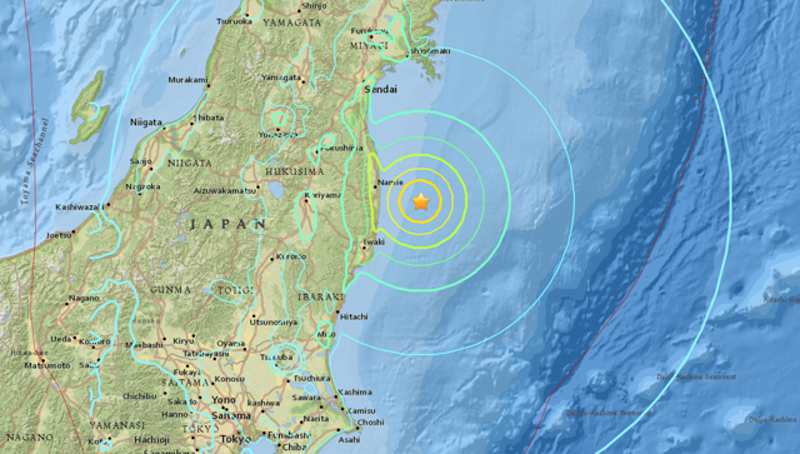 A tsunami of up to 1.4 meters was also observed around Sendai, about 70 km north of Fukushima, with smaller waves hitting ports along the coast.
An Iwaki City Fire department Official said that a fire was reported at Kureha's research center at 6:17 am. However, the fire was successfully put out by 6:40 am. He also added that no major damage in the city has been reported, yet.
Evacuation of coastal areas is in the process, as of now and the authorities have advised the locals to move to higher grounds for safety.
Fukushima also suffered a massive Tsunami and Nuclear Disaster in 2011 when a 7.4 magnitude earthquake triggered the above, killing some 18,000 people. The Fukushima nuclear power plant was swamped by tsunami, sending three reactors into meltdown, causing radiation into the surrounding area. The plant was decommissioned but the situation still remains serious, as radioactive fuel rods and debris are still not cleared from the area.
Follow us on Facebook, Twitter and Instagram for more updates. Don't forget to like and share. Do tell us your views in the comment box below.
22 November 2016
Rohan Jaitly