Even as the developed world is making news for economic prosperity and for garnering better standards of living, there are many who are constantly being challenged by limited means for survival. Dire straits exemplified by utter poverty convey the bitter reality of hundreds and thousands of those whose situations are anything but normal even in this part of the 21st century. In this regard, a thing that separates the stable from the aggrieved today is homelessness.
While many of us, rather most us have a house to go back to and a family to spend the rest of our lives with, there are also some not so privileged who have been spending days and nights either on stranded roads or roadside pavements. Homelessness, therefore, defines so many of us in more ways than one can imagine. So much so that recently when an 8-year-old, who had spent most of his life being a homeless was shown something as rudimentary as a bed in a living room, the kid was at loss of words. He couldn't believe what he was seeing.
Together with his mother Dionna, Daeyrs from Detroit have been living in a state of homelessness for the past several years. Since the time before last Christmas, the only wish that the kid had been harbouring was to have his own bed. So recently, when the state of Michigan provided young Daeyrs a place to live, which also had just what he'd wished for, the boy's feelings- a mix of shock and awe- were just too splendid and heartwarming to be contained in words. It appears that Daeyrs mother, Dionna, a former trainee nurse had lost her job and, subsequently her home. But thankfully, after months of suffering and prolonged travail with homelessness, the duo were provided with a shelter by the Michigan state housing.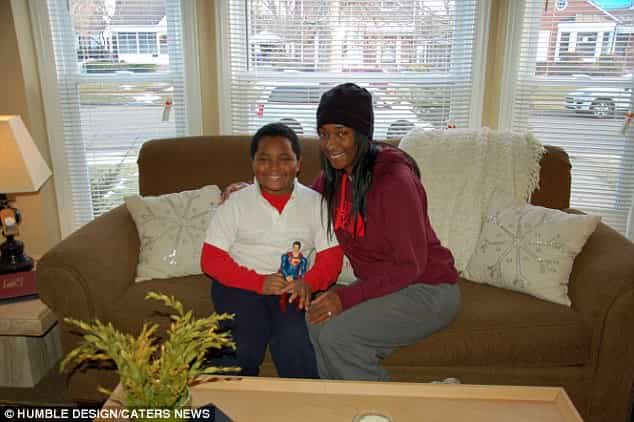 Moving in with nothing more other than a blowup mattress and a couple of chairs, Daeyrs, still unable to cope with the fact that he had now been given a bed of his own, was all smiles and elation as his Christmas wish had come true. He now calls himself as the 'man of the house'. But it is important to state who came to the rescue of the mother and son duo, providing them both with a roof to live under. Daily Mail reported that a social worker who had been representing the family approached the government authorities, upon which, contacting Humble Design, apparently a home furnisher in Detroit which fully furnished Daeyrs home.
Now one hopes that Daeyrs and Dionna, who now have a home, can only build their lives better and lead it with a greater purpose.