US President Barack Obama, speaking at a rally for Hillary Clinton on Monday said that social media is spreading lies and fake news in the current US Presidential Election season.
Barack Obama said that the way in which current election campaigns have unfolded, it shows that people have started believing in crazy lies and all this have become possible due to the outright and baseless attacks on people through social media.
He also said that as long as a baseless story is on Facebook, people will see it and eventually start believing in that story. This creates a 'dust cloud of nonsense' on social media.
Obama was highlighting the murder-suicide news feed that linked Hillary Clinton with the FBI Agent who opted for suicide and further stated that the same agent was responsible for leaking Hillary Clinton's Emails.
The denverguardian.com story began circulating on Facebook on 5th November with a tittle stating, " FBI Agent Suspected in Hillary Email Leaks Found Dead in Apparent Murder-Suicide." The story was gaining 100 shares per minute and later it was found that there was no such domain as 'Denver Guardian' and even the news was just a deception.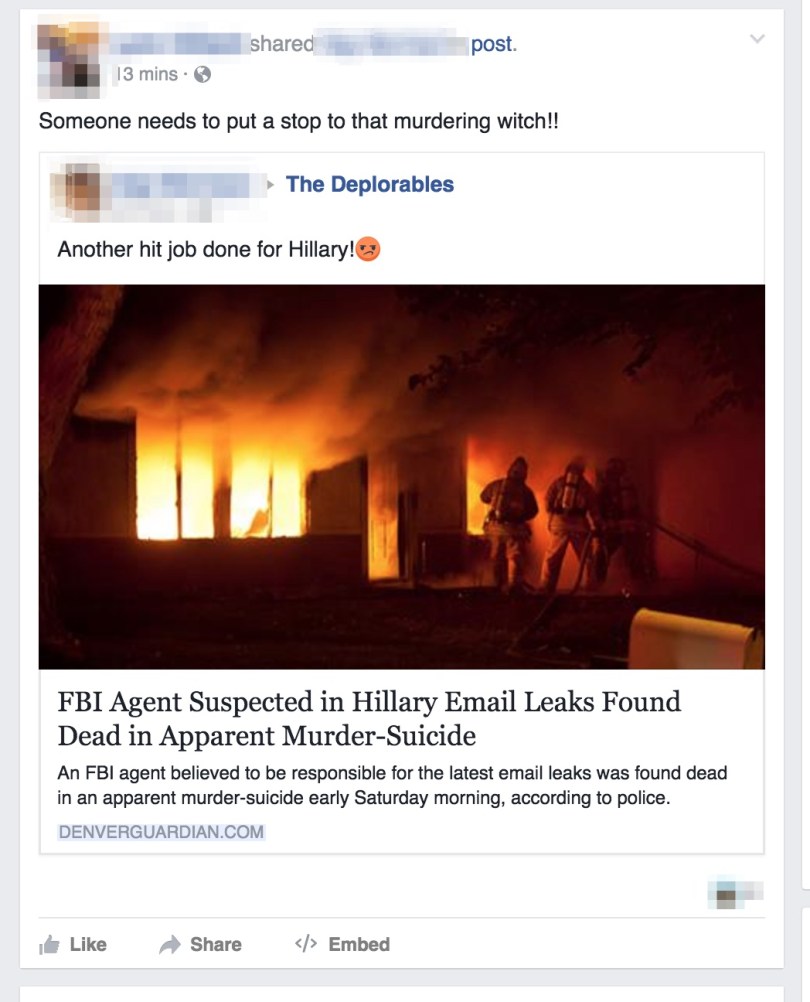 According to an investigation by Buzzfeed News, this is just one of the thousand such stories circulating on Facebook through fly-by-night 'hyper-partisan' sites in this election season. The investigation also found that 38 percent of the total post shared by top right- wing politics (conservatives, Christian democrats, nationalists, racists and fascists) pages are showing 'false or misleading' information in their posts.
Obama's statement has further highlighted the Fake News Problem that Facebook is suffering from years and baseless news circulating on this giant social network is not a new thing.
Since Facebook opted for share algorithm in the place of humans to share its posts, the number of such stories circulating on the website has increased rapidly. The new share thirsty algorithm has made it easier to share false and misleading information on Facebook.
Facebook is not the only social network suffering from this problem as last week a twitter post that stated that people can vote for Hillary Clinton through text messages went viral on Twitter's platform. The company deleted the post and apologized for not reviewing such posts.
According to Facebook Officials, the company is trying to find a solution for the false news problem and the social network is also planning to modify its News Feed software.
08 November 2016
Rohan Jaitly