In a first, the land of the incredible Gilles Villeneuve, the affectionate Winnie the Pooh, the charming smile of Justin Trudeau, and the benevolent Maple Leaf has released a hitherto less-seen coin but one marked with a difference.
Canada has just launched a Canada-shaped coin, a sort of novelty that not only Canadians from different walks of life but collectors from all around the globe would love to possess.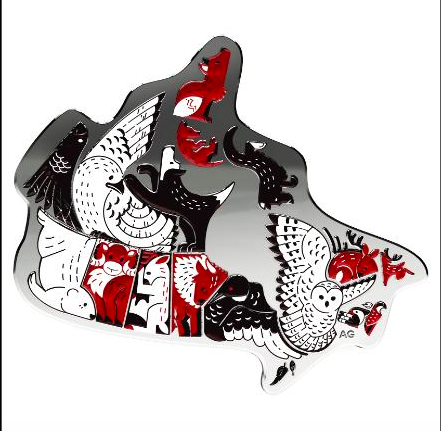 Now that leaves us with a question. What is a Canada-shaped coin and how legitimate is its usage in normal society; can it be traded?
It appears that the incredible land of the great Niagra Falls has quite simply launched a coin in honor of the biggest national celebration of them all: Canada Day.
It's a great gesture to mark the significance of July 1. Developed and launched by the Royal Canadian Mint, the Canada-shaped coin is an attempt to capture the spirit of Canadian patriotism, the sprawling wildlife, and the unique splendor that Canada, the second largest nation in the world (area-wise) is.
But what's impressive in the concept behind the Canada-shaped coin is that its concept was envisaged by a local designer, Ms. Alisha Giroux, an Ottawa-based illustrator whose talent is now being recognized even outside of Canada.
In a meeting that was held a few years back in time, the product manager at the Royal Canadian Mint- Erica Maga- discussed the possibility of having the same once Ms. Giroux showed a print of her map of Canada design.
A year later, a beautiful collector's item is out there for. Revered American media platform CNN reported more on the famous story and shared:
Erica Maga, product manager at the Royal Canadian Mint, told CNN this was a first for the Mint. The engineering and research and development teams worked together to create the innovative shape before the design was selected. The Mint reached out to artist Alisha Giroux, who had previously designed a Canadian map with a different animal for each province.
But that told, this isn't the first time that the Mint has developed a Canada-shaped coin. It's been creating unique coin shapes for a while. A variety of different coin shapes have included squares and the famous and unmistakably important maple leaf. It had also developed the 'glow in the dark' coins in the past, which were a first of its kind creation in the world.
But the rarity of the Canada-shaped coin is the very fact that, at this moment, Canada is the only country to have developed a coin in its shape. The only other nation that's come up with a similar novel creation, it is believed, is Australia.