Donald Trump, the current American President and one of the richest people in the World, knows his way to headlines and even controversies. From being a businessman, television personality, author, and now the President of the United States, this has been a hell of a journey for Donald Trump in which he has converted tens into millions, millions into billions and even critiques into haters.
By far, Donald Trump is the most controversial President-Elect as nobody expected him to win the Presidential elections against Hillary Clinton and that too after all those sexual harassment accusations as well some remarks about Muslim community and Mexican Internationals. His political views and statements, personal life and his businesses have always received unwanted media attention but Donald Trump has managed to channel all that into a controversial but inspirational success story.
Forbes has been trying to figure out the exact amount of Donald Trump's wealth for years and according to its 2016 issue, he was valued at $4.5 billion. However, the now President has rubbished the claims and has said that he is worth more than $10 Billion. Regardless of this, it is said that it was Donald Trump's father who has the literal 'rags to riches' story and the current US President was lucky to have born with a silver spoon, the one which was rumored to be worth $100 million. He then started investing his inheritance smartly and as a result, Trump now owns one of the biggest skyscrapers in the US.
A man with this kind of money and commitment to turn millions into billions, must have his share of outrageous hobbies and as for Donald Trump, his favorite one is to 'shine bright like a diamond'. Everyone knows that Donald Trump likes to show-off his possessions no matter what the occasion is, and here are 5 Unbelievably Expensive Things That The US President Owns. Gold is is his favorite metal and the list proves it too.
5. Sikorsky S-76 – $7 Million
While not everyone can own a helicopter, the Sikorsky S-76 that Donald Trump has is the one that only a handful of people can afford. This particular chopper has received a hell lot of attention and it even featured in an episode of CNBC's Secret Lives of The Super Rich, titled "P*mp My Chopper". Donald Trump even hired a designer and spent an estimated $750,000 to modify it according to his needs. Well in his case, it was Gold that he needed. Everything from seatbelts to handles, from cabinets to any other hardware, has been plated with 24-karat gold.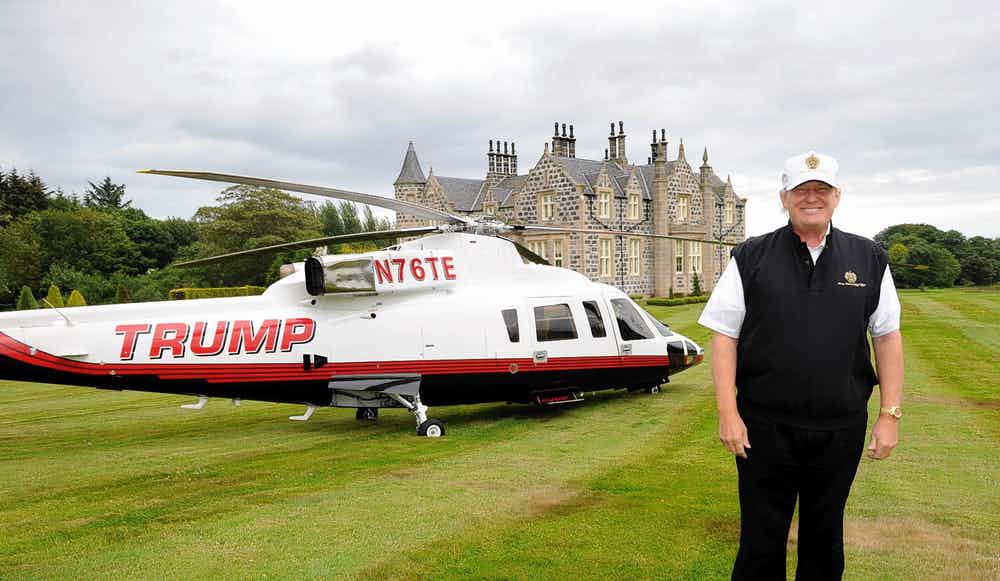 Moreover, the bird comes with four luxury leather chairs with plush pillows and every other creature comfort that you can only imagine being in your den. Gold-crusted Trump emblem can be seen everywhere from pillows to cabinets and from chairs to tables. Even the tail of Sikorsky S-76 boldly reads, TRUMP. This man is really fascinated with his name!!
4. Boeing 57 – $35 Million
The one thing that you dream about after becoming rich is a 'Private Jet' but after seeing Donald Trump's collection of airplanes, even your dream will feel an inferiority complex. One Boeing 757, a Cessna 750 citation and three helicopters, most of can't match the numbers with our garage and Trump has all of these goodies (as he likes to call them) to get around the world like a 'Boss'. The highlight of this lineup is the Boeing 757 aircraft that was a passenger plane before the now US President bought it.
Trump had all the original seats and interior removed and replaced them with a much more lavish outfit. The Boeing 757 has an office, a master bedroom, a master bath with a 24-karat gold sink, more bedrooms for his guests, a dining room, best in class entertainment system and a lounge. Basically, it's a literal example of a 'Palace On Wheels' that can also fly. He even went on and replaced the original Boeing engines with a pair of more powerful Rolls-Royce engines. No wonder it's worth $35-Million.
Since he is the President of the United States of America, how the hell does he manage to travel in the Air Force One, is still a mystery. (pun)
3. Mar-a-Lago Resort: Bought For $10 Million, Now Worth Over $200 Million
This is where Trump likes to spend his weekend, an 110,000 square foot (17 acres) private club in Palm Springs, Florida. He bought it for $10 Million in 1985 and in his typical fashion, the property has been renovated since then. The massive resort has 58 bedrooms, 33 bathrooms, 12 fireplaces, 3 bomb shelters and it comes with a spa, tennis court, a mini golf course and a 20,000 square foot ballroom.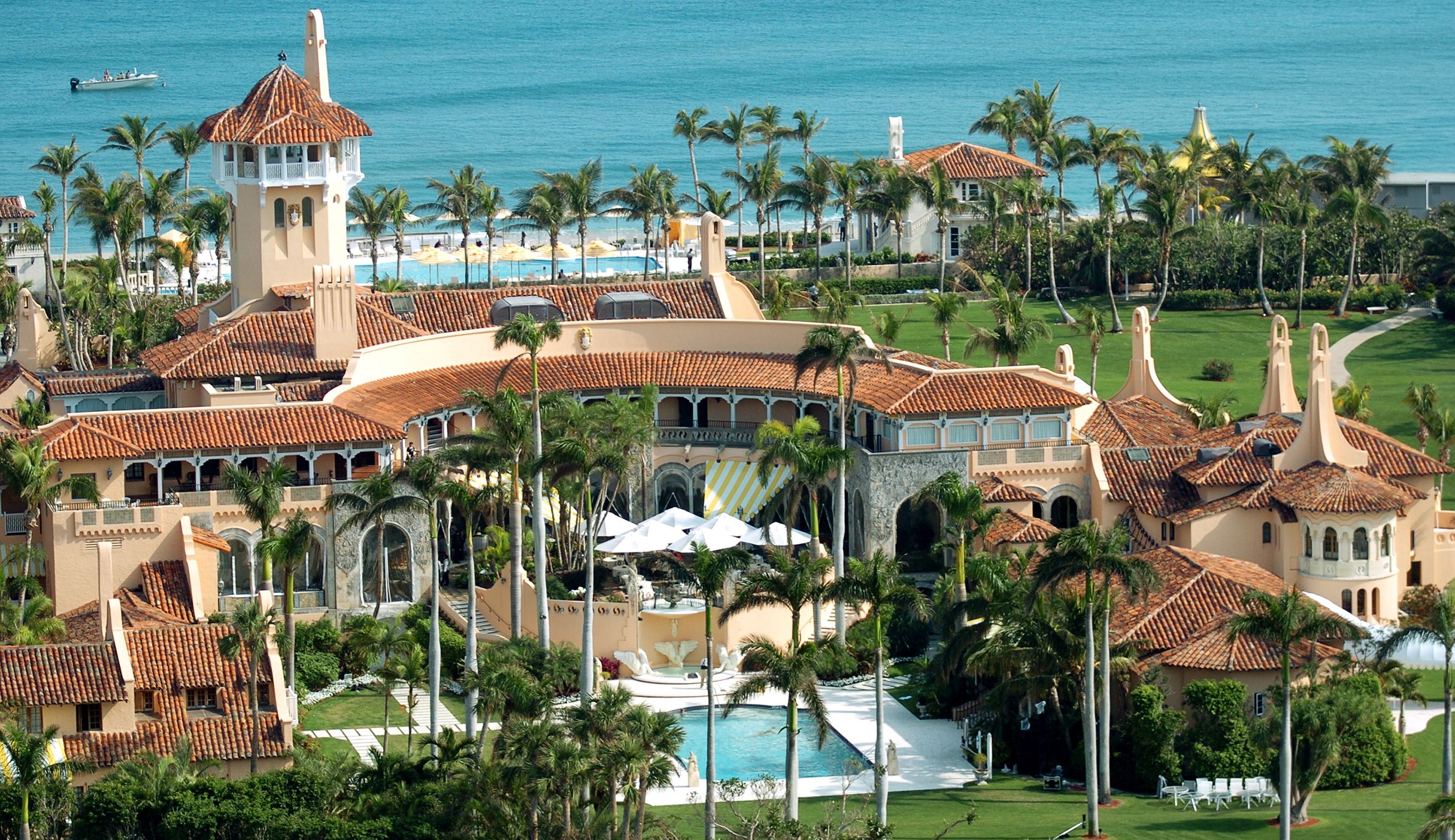 Half of the property is used by Donald Trump and his family and the other half has been converted into a private resort/club, and it's not a cheap one. The membership fee is $100,000 and one has to pay $14,000 as annual charges. This is an another example of Trump's exceptional business skills as the property is now worth more than $200 Million.
2. Seventeen Golf Courses – $300 Million
Golf is also known as the game of the Rich and since Donald Trump is one of the most influential richest humans on Earth, he also has a soft corner for this game. His love for the sport has made him invest in one one, not two, hell not even 5 but 17 golf courses with an estimated worth of over $300 freaking million. Donald Trump owns three golf courses in New York and Florida each, two in New Jersey, one each in California, North Carolina, Philadelphia and Washington, DC. coming to his international investments, he owns two golf courses in Scotland (where the game was created), two in Dubai and one in Ireland.
Although not all of them are private golf courses, they certainly are extravagant. He has even hosted Open Championships at the Ailsa course in Scotland four times.
1. Penthouse – $90 Million
This where Donald Trump used to live before he became the President of the United States and going by his collection of goodies, the Penthouse has to be nothing short of a masterpiece and it really is. The decor is inspired by Louis XIV and is spanned over three floors in the 5th Avenue in New York skyscraper, Trump Tower, which he owns too. His penthouse is named as the 68th floor even the building only has 58 stories in total.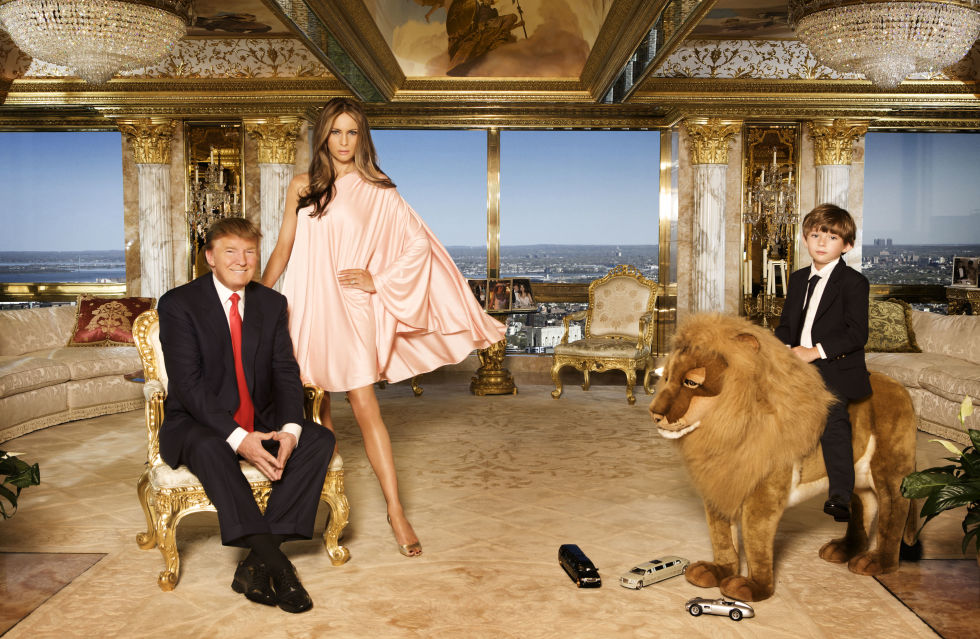 The Penthouse is decorated with marbles, diamonds and of course, everything is plated in 24-karat Gold. The Penthouse is so splendid that it is said to be even better than the Queen's Palace and the White House is certainly nothing in comparison to his former home.
These are the 5 Unbelievably Expensive Things That The US President Owns and maybe there is more to the list and we only know only this much about Donald Trump's prized-possessions. Everything said and done, the real estate mogul has made it big single handedly and he might have the same vision for America and every citizen's 'American Dream' at least.
P.S There are many other properties, mostly skyscraper, that Donald Trump owns but the above-mentioned ones have something really special about them.