In a world where we live, nothing is impossible and it gets most bizarre every day. Accidents are heartbreaking, however, this one accident will make you bite your tongue. In a very unusual accident that happened in Southern California, a car crashed into a building's first floor. Yes, you may not believe your ears but it did happen.
The images look weirder than the news though. The relieving news is that no lives were lost in this accident. Around 5 in the morning, the car was traveling at a high speed in Santa Ana. The driver was no driving parallel to the divider, he was coming from the side street. He lost the control of the vehicle and crashed it into the median.
The crash was so impactful that it rolled the car in the air and sent it to a dentist's office on the first floor. Right after the crash, a small fire was ignited, however, it was soon extinguished. Orange County Fire Authority received a call related to this crash around 5:30 a.m.
Three people including two passengers and driver were inside the car at the time of the crash. The driver managed to get out of the car, where both the passengers were stuck for over an hour. All three of them were taken to the hospital immediately with minor injuries.
Fire officials then used a crane to bring down the car. Santa Ana police have stated that the driver has been arrested as he admitted having been under the influence of narcotics while driving.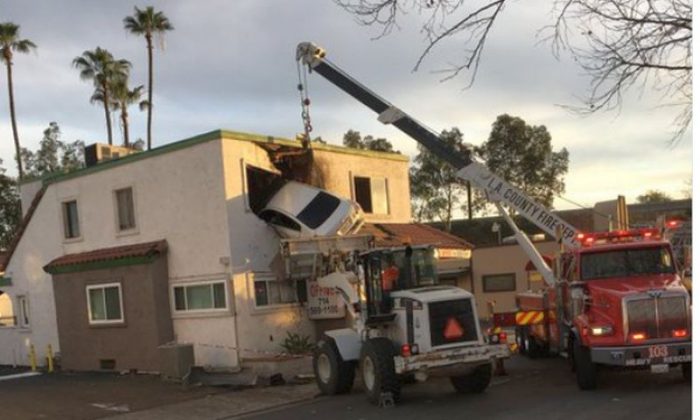 The car crash was so terrifying that it could have cost all three of them their lives, it was their luck that they remain unharmed.
However, people actually took the bizarre pictures of the accident as a joke and here is the best one we have got.
I warned my cousin in California not to open the package of new brooms from Benin inside his car.
Keeping all the comic things about the picture apart, people really need to understand that they should not risk their lives and if they are under the influence of alcohol or narcotics, they should refrain from driving. Maybe someday we humans will learn life lessons without committing mistakes.
Avni S. Singh