We all know how blessed chefs are with their kitchen techniques and skills, after all, they're supposed to be. However, every once in a while we come across someone who's just incredible with their art of cooking, and we're not just talking about their food. Some chefs prodigious with their techniques, from handling their tools to making things work, they know how to capture the interest of their customers, even before serving the food to them.
Most of the times, we come across these skills among chefs who are out of their 5-star territories and often indulge in a more street style cooking.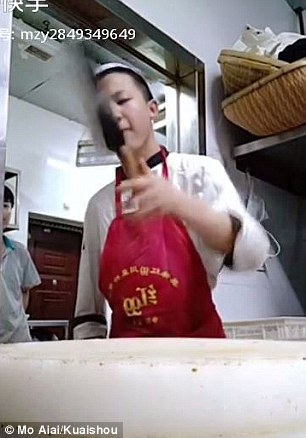 The same can be said about this 17-year-old sous chef from China, who's extremely talented with his knife-spinning skills. The teenager, who calls himself Mo Aiai, said he taught himself how to 'play with blades' as a hobby after watching tutorials online.
As reported by Daily Mail, Mo just started with his knife-spinning training two and a half months ago, however, one look at his technique and you'll absolutely be floored by his work. Mo Aiai is originally from Gansu province in north-west China, but currently resides in Beijing where he works as a sous chef.
Check out the video over here:
https://www.youtube.com/watch?v=JVFEdViGnmc
Source: World news for all
The young worker uploads videos of himself performing the skills almost daily on Chinese live-stream video app Kuaishou. He said he used the app because 'it's fun'. In one clip filmed seven days ago, Mo demonstrated how to juggle a meat cleavers between his fingers with just one hand while blindfolded in his kitchen.
Even though Mo is very modest about his work, he indeed knows he's really great at what he does, especially at this tender age.
As for filming blindfolded, he only does the stunt with segments he's too familiar with and often starts slowly before speeding up. This 17-year-old Chef has time and again advised his audience to not do what he's doing at home because it can result in some serious accidents.
Mo is not alone in live-streaming his talent to the people of China. Live-streaming is a popular social interaction and interface in China as of now. Various teenagers and adults are live-streaming themselves almost daily and doing some of the most absurd stuff online.
Tai Zi, the live-streaming director of Tunshou Entertainment in China, told MailOnline: 'A good live-streaming entertainment host could easily earn one million yuan (£114,000) a month.'
In the race of cashing in the most, people are now doing some dangerous stunts to cash-in the viewers. Last December, a 26-year-old vlogger died while trying to film himself doing pull-ups on top of a 62-story skyscraper, while in 2016, a 21-year-old woman was jailed for four years after live-streaming herself participating in an orgy online.
Jyotsna Amla