We have reached a stage where comedians are the soft target who need to answer each and everyone's allegations. If there's a profession with too many limits and a possibility to being offensive to anyone, in today's time then it would definitely not be of Politician, but of a comedian. Because our society loves to take offence and shove that offence into the other person's mind.
Plus, with a population of 1.25 billion people, you never know who would take an offence on what? That offence usually comes with a threat. While people with influence take the medium of FIRs and police, a common man takes the medium of social media and abuses.
One such case happened with Sourav Ghosh. His stand up video where he jokes about Mumbai Airports has already been watched more than 3.5 lakh times. The video includes some jokes about the name of Mumbai Airports and his recent experience surrounding them. In some parts of the joke, he took the name of Shivaji – as it is the name of the airport. One of the men was totally not happy about the inclusion of Shivaji Maharaj's name in the set, after which the heckler messaged the comedian on Facebook and gave some apparent threats to him.
Watch The Video Here:
(Source: Sourav Ghosh)
What follows this threat is something seriously amusing, accompanied with Ghosh's wit and perfect comebacks. Read the entire conversation for yourself and tell us what you thought about this conversation.
#1
#2
#3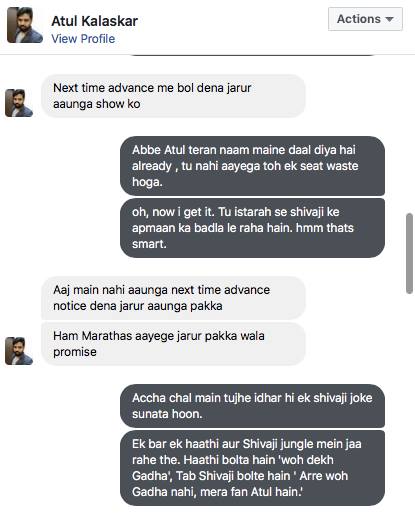 #4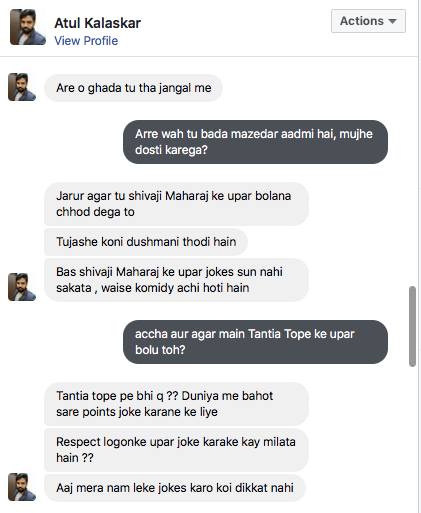 #5
#6
#7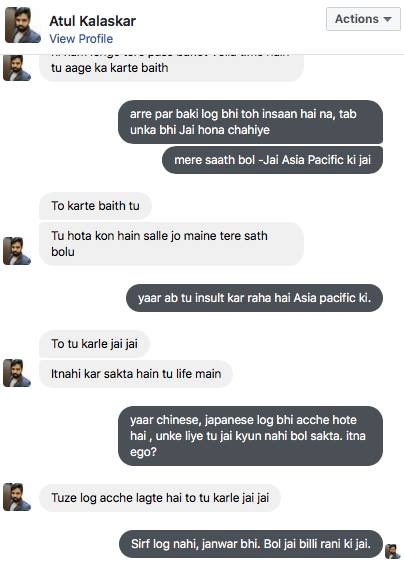 These online hecklers are nothing new to the comic and many like him. While the culture of heckling on stage has been there for the longest time, online hecklers are rather more in-your-face and abusive.  

20th March 2017
Jyotsna Amla