Pierce Brosnan aka 007 has been given a challenging task to endorse something we have never thought of.
He was on the cover of many Indian newspapers endorsing….a…ok listen, A PAN MASALA. Yeh, you heard it right A freaking Pan masala.
He looks classy as ever in his trademark 007 style using Pan Bahar as a weapon but one thing we couldn't understand and trust us, we really tried to, that how someone will be able to fight with four people by just having a Pan Masala box.
If this is the case then I am flushing away my dream of making an Iron Man Suit some day.  
Here is the endorsement video:
https://www.youtube.com/watch?v=Mi5Xm0EnuVg
(Video Courtesy: UCeejay)
Now you can see, what we are trying to say.
Twitteraties could not control their emotions and you can see how they reacted:
https://twitter.com/DenNehaS/status/784258949272842241
Haters Will say Pierce Brosnan is Photoshoped @coolfunnytshirt @LostByWaves @Being_Humor @sagarcasm @Amit_smiling @Madan_Chikna pic.twitter.com/e2UM1uc8hn

— लघर वघर घर पर है . ( Lagharvagharamdavadi ) (@vlvareloaded) October 7, 2016
Pierce Brosnan endorsing Pan Masala. Yeh kaise din aagaye hai! pic.twitter.com/vx6T1uqcdf

— All India Bakchod (@AllIndiaBakchod) October 7, 2016
Someone also send a screenshot of his email account: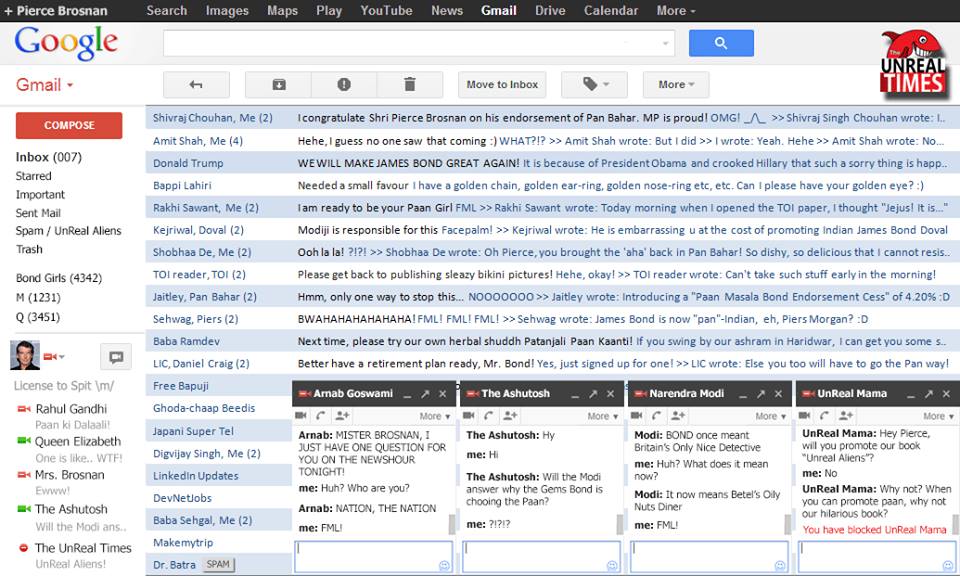 Follow us on Facebook, Twitter and Instagram for more updates. Don't forget to like and share. Do tell us your views in the comment box below.
7 October 2016
Rohan Jaitly