Quite more than just a few years back, one particular video went viral on the Internet, it was way before someone even knew about virality and things of that sort. The video showed a Pakistani journalist Chand Nawab reporting the news of people going home for Eid. He became an instant sensation, however, his hype was only limited to avid social media and Internet users at that time.
Then in 2015 came Salman Khan and Nawazuddin Siddiqui starrer Bajrangi Bhaijaan, in which Siddiqui plays the character of a journalist from Pakistan who helps Bajrangi in returning the girl back to her country safely. However, his introduction to audience came in the form of a viral video and it was the same Chand Nawab video.
It was now when the entire world, at least India and Pakistan were well aware of Chand Nawab. News channels were talking about his video, interviewing him and once again the man went viral, quite a story, no?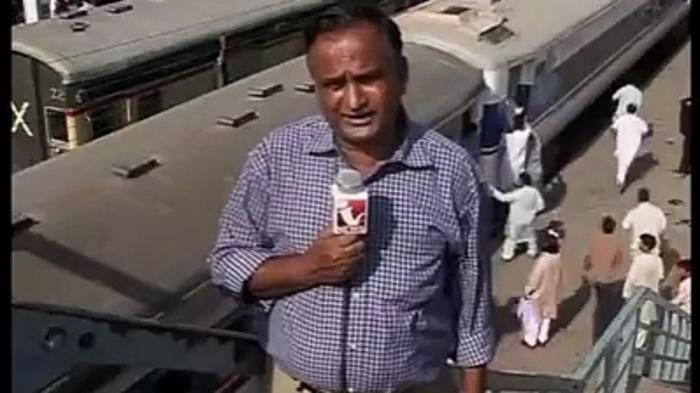 Now, he's back and this time he's promoting actor Ali Zafar's upcoming Pakistani film in a way only he can. Chand Nawab can be spotted asking "Teefa Kaun Hai?" along with regular people coming in between. He re-enacts his helplessness, guaranteeing to leave us laughing, again!
Check out his new video over here:
Breaking news! Braking news! Biraking news! Mr. Chaand Nawab. #TeefaKaunHai #TeefaInTrouble pic.twitter.com/IUyPAO0WiX

— Ali Zafar (@AliZafarsays) February 18, 2018
In case you're looking for some context on this video then check out the teaser of Ali Zafar's recent movie.
Ye lo phir! Yeh Teefa Kaun Hai? ☠ 🌹🏍 #TeefainTrouble #AliZafar #MayaAli #AhsanRahim #LightingaleProductions @official_mayaali #TNT #ComingSoon #GetReadyForTrouble #TeefaKaunHai @teefaintrouble pic.twitter.com/weAsEvpcXx

— Ali Zafar (@AliZafarsays) February 16, 2018
Here's the original Chand Nawab viral video which brings in a lot of nostalgia.
And, here's the Bajrangi Bhaijaan version which Nawazuddin Siddiqui cracked brilliantly.
https://www.youtube.com/watch?time_continue=49&v=u7LJ4QaDy_Q
Jyotsna Amla