Everyone in the country knows about the four guys who came together to become one of the largest YouTube India contributors and formed All India Bakchod (AIB), along with few controversies on their way. Apart from that, everyone in the country also knows how woke the AIB people are, all thanks to their occasional sketches surrounding various political and apolitical things happening the country, as well as, around the world.
Along with this, they have time and again made some of the feminist content for their audience in the country. Who can forget The Bollywood Diva Song, A Woman's Besties and A Woman's Besties 2? However, there's something super messed up in their other videos that are not specifically made for women by the women in the team.
Two people, Aayushi Jagad and Sumedh Natu have come together to explain all that and more to their audience about how AIB uses feminism. Most of the points made by these two were right in front of us but we never really thought of them as that. AIB's selectively using Feminism in their work, whenever it's especially needed or centered around. Apart from that, all of their other created content merely uses women whenever they're needed because of their gender.
Very rarely do women in All India Bakchod videos play gender-neutral roles. Plus, apart from their women-centered content, AIB failed miserably at the Bechdel Test.
Watch The Video Over Here:
All the points stand true to their explanation and just tell a story almost all women in the entertainment industry are a little too familiar with.
However, there's something more interesting here and that is AIB's response. Rather than going into all defensive mode, the AIB team chooses to acknowledge the problem mentioned along with assuring that they'll actively work to fix this across their content. They also said that they won't be doing this just for the sake of social currency or likes, but because representation matters. Check out their entire response over here: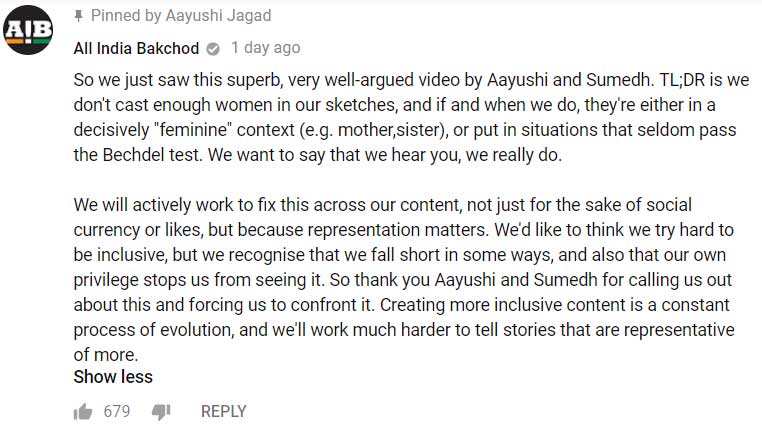 If more and more organisations, when put under scrutiny give a response like AIB's then maybe we will be able to solve the entire problem much faster.
Jyotsna Amla