Airports. You can find all sorts of people here. The nerdy book-holding travellers who are withdrawn from all that's happening around as important announcements go about. The classic last minute arrivals for boarding a plane who are gutted to note that they've made a boo-boo of their time. Then there are those who seek in airports yet another chance to bite into something appetising and snacky. Say the word airport to them and you'd hear the phrase hamburger or chicken sandwich being muttered in a hush tone. But ever seen someone wanting to board an airplane with a peacock?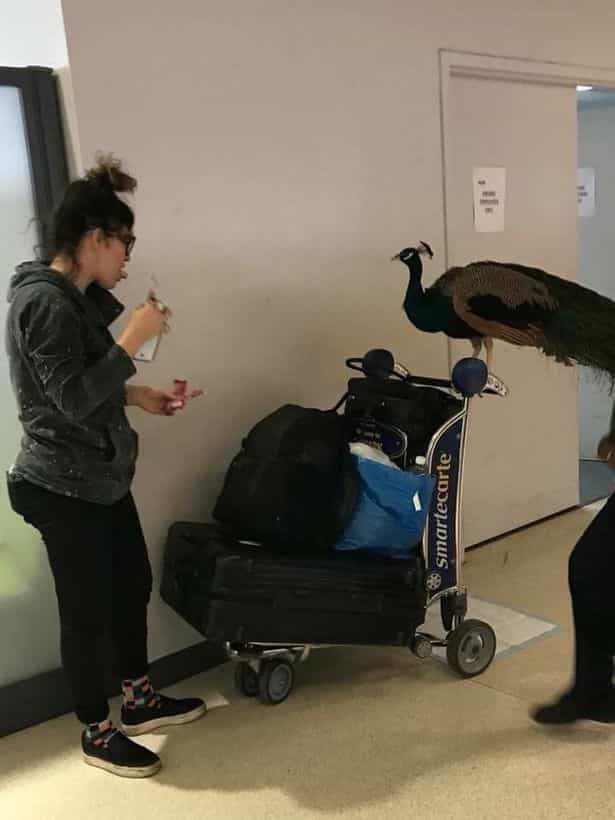 Yeah, that is right. A woman at the Newark Liberty International Airport  was seen walking around with her luggage with a peacock perched on her shoulder. When asked by shocked onlookers as to what had been going on, she replied that the peacock was for emotional support. Would you believe it? It isn't certain what the woman was high on but what is certain is that the bird wasn't allowed inside the aircraft for a plenty of reasons. Among them being its weight and size that didn't meet the guidelines set by the airline.
As soon as the report about the incident was posted on Facebook along with some pictures, one saw a virtual flooding of comments. Some people insisted, " I would be happy to sit next to them both. But I just don't know how it would sit without messing up its feathers." Some people went a yard extra in imagining humorous possible accounts of traveling with domesticated pets, with comments like, "How about an emotional support Iguana?" entering the comment section.
Well, we are surely living in funny times, aren't we? Whatever the woman meant by saying the bird was accompanying her for emotional support, it is certain that the emotions of those travelling with her mid-air would've been surely disturbed had the peacock been allowed to take the flight. In that case, it ought to be asked, would it have been issued a boarding pass? What would it have preferred for drink- beer or plain water. Worse still, since peacocks are known to dance, would it have been competing for mainstream attention along with air hostesses? What about the seatbelt? A rule is got to be universal for everyone, whether it is a bird or a human right?