Weird that it may sound, the state of Maharashtra has planned to develop a culture around jail tourism. So what is it and what does it even mean? Truth be told, such a piece of news actually pushes us to focus on some common truths; questions that warrant some reasoning. So what are they?
How can one man's suffering be another man's joy? Furthermore, can there be much sense about having a large mass of public gather around a place that is associated with someone's incarceration? A place that's got everything to do with one's captivity! To some, it might seem that it is 'criminal' to think on the lines of jail tourism- isn't it? But while suffering and sadness are undeniable truths of human life, so is the aspect of learning by visiting a place that has a lot to teach.
If darkness, suffering and sorrow can be viewed from a lens of learning, or more specifically, as a reminder that one mustn't commit the same mistakes as did some that led to their incarceration, then probably that is a fine lesson to know.
Probably that is why, to this day, seven decades from the conclusion of the tectonic events of the Second World War, the world still pays a visit to the Nazi sites where the harmless were held captive and confined to treacherous conditions. It may only be fair to say that unless and until one doesn't visit instances that serve a fresh reminder of man's grave undoing of his fellow beings, one cannot learn enough the lessons that history so willingly has for us all.
And maybe that is why, to this day, when someone thinks of the legendary figure associated with India's freedom struggle Vinayak Damodar Savarkar- popularly known as Veer Savarkar, there's much attention given to the cellular prison where the brave Maratha soul was held captive.
Now, guess what? There are more sites in Maharashtra- the great land of the Shivaji (where unbridled courage reigns supreme- that can offer a unique perspective as the one we've talked about.
Also Read: Petrol And Diesel Prices In Delhi And Mumbai Have Shot Up Once Again!
This is why the government wants you to focus on jail tourism. Only recently did the Maharashtra CM Shri Uddhav Thackeray launch the up and coming jail tourism initiative in the city of Pune.
With the highlight being the famous Yerawada Central Jail, a key movement was launched in the last few hours.
Here's what the revered Hindustan Times had to say on the Mahrashtra government-led initiative:
Ajit Pawar, Deputy CM and guardian minister of Pune, was present at the prison premises on the occasion of the 72nd Republic Day.
The launch of the event was done by 10 students from Genba Sopanrao Moze Vidyalay, chaperoned by three teachers, and were among the first few tourists inside the jail premises.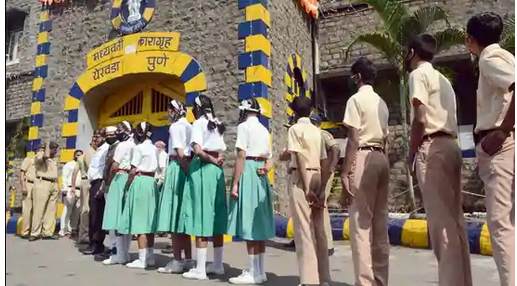 "Now one doesn't need to commit a crime in order to visit the jail. Instead of "jail bharo", people can now indulge in "jail firo". This book by Balasaheb Thackeray describes the then jails – a container with phenyl, aluminium cutlery, and a space to sleep. That cutlery served all kinds of purposes," said Shri Uddhav Thackeray.
In what can be called an interesting albeit hitherto uncommon ways to promote the concept of tourism, the Maharashtra government wishes you to step up and learn a very different perspective to human life. As the saying goes, one can truly reflect on the positive by also journeying through the dark. Isn't it?