You have seen him perform some of the deadliest martial art stunts, of the kinds that even the likes of Hrithik Roshan, Akshay Kumar and Tiger Shroff may struggle with. He's someone who truly epitomises the fact that it's not just about a chiseled physique or the barbaric biceps; it's also about fluidity and agility. Blessed with good looks but having manufactured an envy-inspiring drool-worthy physique, it was only a matter of time before Vidyut Jammwal got some kind of global recognition that would take him places.
And now, guess what- it appears that, that very special moment has arrived in the life of a man who is as much a Bollywood actor as he is a martial artist. Someone who looks comfortable in his skin and doesn't make any pretences- Vidyut Jammwal has recently been included among the best martial artists from around the world.
It's, in some ways, the Bollywood equivalent of Cricket's Hall of Fame where only the elite and swashbuckling achievers, whose deeds have transcended generations and cultures are enlisted- don't you think?
But truth also is that while on the one hand there are our Bollywood celebrities who engage in all possible shenanigans, and in the absence of any immediate forthcoming release, give it their all to stand out and put an act on social media, here's a guy who quietly goes on about doing his job.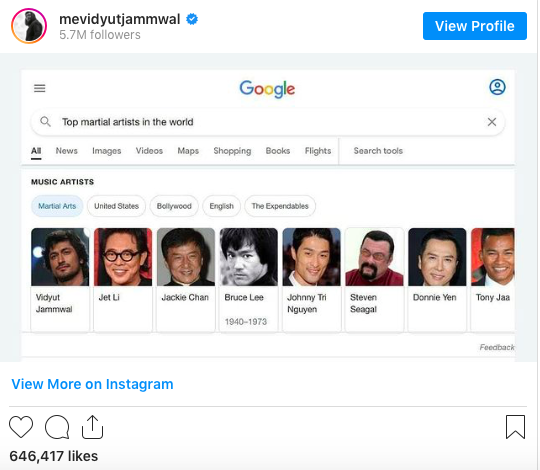 Therefore, truth be told, it's less of a surprise that a firmament of greats that features timeless icons of the realm of Martial Arts such as Bruce Lee, Jackie Chan, Jean Claude Van Damme, Jet Li, there's India's own Vidyut Jammwal. Perhaps, at the same time, it may no longer be untrue to construe the fact that not many might have imagined that an actor, who until some time back, wasn't really recognised in the mainstream would gather some tremendous international traction.
As a matter of fact, Vidyut Jammwal also happens to be an ace in the ancient India-born Martial Art form of Kalaripayattu. And it must be mentioned that while he honed his craft down in God' own country, it did take him months of following a tidy regimen to hone his skills.
India's own "Commando"- who can forget that blazing action film- has done the country proud. That told, have you ever wondered if- just for imagination sake- if there were to be a full-fledged movie made on the newfound version of the mythical Tarzan, not like the old dreary goofy films of the past, then who might suit the role perfectly?
Also Read: Who Might Have Been Zack Snyder's Number 2 Choice For Batman If Ben Affleck Would Have Said No?
Well, not Hrithik or Arjun Rampal or even Siddharth Malhotra- but our very own Vidyut Jammwal. Once, he started his career with a Telugu film Sakthi, and back in 2011. Today, he has found international recognition. It's one thing to be a mega star in one's own country- but truly something spectacular to be rubbing shoulders with some of the greatest personalities from the realm of international martial arts. And honestly, what a feeling it must have been to be in the same list as the inimitable legend Bruce Lee!