If you're on Twitter and don't know why the heck is Covfefe appearing everywhere, all of a sudden, then just sit down, because we will be disclosing the mystery to you. It all started as the US President Donald Trump was in on his Twitter session where he tells the world what he's thinking, literally with zero sugar-coatings. In exactly one of those sessions, Donald Trump tweeted out a word, which has united everyone. Be it Donald Trump fans or Donald Trump haters, every*freaking*one is collectively witnessing the power of one word which brought together millions of people on the Internet. 
And the word is – Covfefe.
Yes, on a fine Wednesday midnight, Donald Trump tweeted something about the constant negative press and ended the sentence with – Covfefe. While initially, everyone considered it to be a true mistake which will soon be deleted by the US President, it didn't happen.
10 Minutes. 15 Minutes. 30 Minutes. 45 Minutes. Time Just Passing By.
And, the tweet is still up on President's Twitter account. (we don't know if he'll delete the tweet or not, but to be on the safer side, we are inserting an image of it). As of now, the tweet has some 145k likes and 115k retweets, which is a record in itself, but it's still up.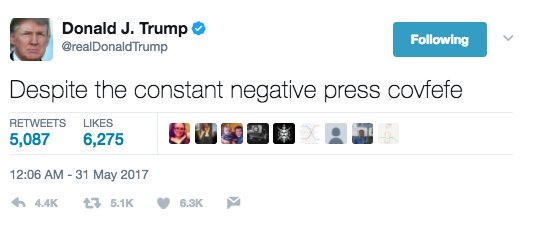 This single tweet has left some 31 million followers of Trump completely baffled, who just don't know – What does Covfefe mean?
Even Merriam-Webster, the dictionary that has become one of Donald Trump's most prominent and unlikely critics, had to make clear that it didn't know what the word meant.
Wakes up.
Checks Twitter.
.
.
.
Uh…
.
.
.
📈 Lookups fo…
.
.
.
Regrets checking Twitter.
Goes back to bed.

— Merriam-Webster (@MerriamWebster) May 31, 2017
It might just be a typo, or it can mean something very deep, who knows but Twitter is trying their best to decode its meaning. And, some are even having fun with it, check it out:
"And just before you serve it, you hit it with a dash of #Covfefe" pic.twitter.com/fm9CAF4Iyz

— Charles M. Blow (@CharlesMBlow) May 31, 2017
This is #covfefe translated from Russian. pic.twitter.com/1Im7ZzLO0Y

— Kristina Wong ❄️ (@mskristinawong) May 31, 2017
This is #covfefe translated from Russian. pic.twitter.com/1Im7ZzLO0Y

— Kristina Wong ❄️ (@mskristinawong) May 31, 2017
https://twitter.com/jannikMK/status/869830292835639296
US- #Covfefe

India- COWfefe

— Scotchy(Team) (@scotchism) May 31, 2017
This is why Twitter will win. #covfefe pic.twitter.com/r6TNq7c5DN

— Chris Quilietti (@ChrisQ_1) May 31, 2017
May 30 will be a new national holiday called #Covfefe Day.

I'll have trouble falling asleep on Covfefe Eve from the excitement.

— John King (@johnkingaustin) May 31, 2017
https://twitter.com/XxZroyaxX/status/869831451352719360
https://twitter.com/christoq/status/869831703459536896
https://twitter.com/chaudhry_nabeel/status/869831261019398144
https://twitter.com/hookem5746/status/869829556512800769
RT talicoop: My dad just bought the CA license plate "COVFEFE." #covfefe pic.twitter.com/dhBmrLw3H7

— Bhosdi Waley (@bhosdiwaley) May 31, 2017
Already #Covfefe pic.twitter.com/q1di0bu1YF

— Eliza S (@ES_chickadee) May 31, 2017
This is the way the world ends
This is the way the world ends
This is the way the world ends
Not with a bang but with #covfefe.

— Sarah T. (@saritat42) May 31, 2017
We'll assign our own definition to #covfefe – When you're so obnoxious you have 1 job & screw it up so badly there are 5 investigations on u

— Rogue NASA (@RogueNASA) May 31, 2017
USA right now. #covfefe pic.twitter.com/Sg1RLpX5Tz

— meghnad 🔗 (@Memeghnad) May 31, 2017
https://twitter.com/gauthmm/status/869823327753437184
It's all coming together. #covfefe pic.twitter.com/aip2kbdb3O

— Ben Richman (@BenjaminRichman) May 31, 2017
"The President was just referring to the size of his #Covfefe like during the debates" pic.twitter.com/DAZW9l6eVs

— Stuart (@exhumestuart) May 31, 2017
Me: Wtf is #covfefe and why is everyone tweeting about it?!

[looks it up in urban dictionary]

Me: Aha, makes sense now. pic.twitter.com/9RxSqeUhUa

— Mädchen Amick (@madchenamick) May 31, 2017

31st May 2017
Jyotsna Amla