Sachin Tendulkar, the God Of Cricket, is considered one of the holy cows of the country that no one can talk shit about. He is also one of the few people in the country that everyone loves, literally, we bet you 1000 bucks to find someone who absolutely despises this man.
His popularity among the masses reached new heights when in April 2002, Tendulkar decided to become a Member of Parliament in the Rajya Sabha. People all over the country felt Tendulkar would swing some masterstrokes off-field too. However, things didn't quite go like advertised. Tendulkar's stint as an MP was constantly surrounded by negative assessment due to his incalculable lack of attendance.
Which is why, on March 28, as PM Narendra Modi bid farewell to a bunch of retiring MPs, he also said goodbye to Rekha and Sachin Tendulkar due to their extremely low attendance. While Sachin's attendance came up to 7.3%, Rekha's was a poor 4.5%.
As reported by News18, Sachin has attended a mere 29 of the nearly 400 Parliament sessions during his tenure as MP. He has asked 22 questions and introduced 0 bills. He has drawn Rs 86.23 lakh as salary since April 2012. Rekha, with her 18-session attendance and 0 questions or bills introduced during her six-year stint, has drawn a salary of almost a crore.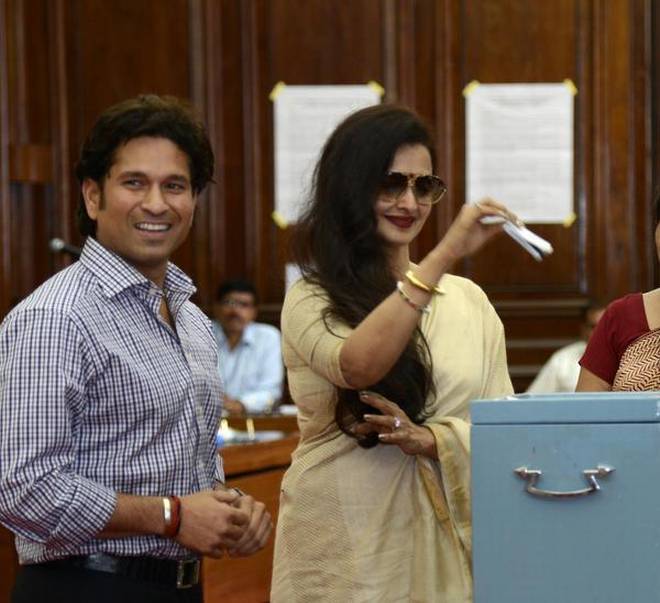 However, by the end of his term, Sachin Tendulkar decided to donate all of his salary, almost 90 lakh, to the Prime Minister's Relief Fund. While some have appreciated the move, other's called it a no-big-deal, as in he any which ways didn't deserve the salary, owing to the poor attendance.
However, the government indeed acknowledged the move, especially PM Narendra Modi who sent a letter to Tendulkar appreciating his decision.
Check out the positive comments Tendulkar received on his decision over here:
Sachin Tendulkar's Rajya Sabha Term Has Ended And He Has Donated His Entire Salary (About Rs 90 Lakh) To The Prime Minister's Relief Fund. Master Stroke By Master Blaster. 🙏🇮🇳 #SachinTendulkar pic.twitter.com/lIEst5rykC

— Sir Jadeja fan (@SirJadeja) April 1, 2018
Cricketer @sachin_rt has donated his entire salary and allowance of ₹ 90 Lakhs which he received as Rajya Sabha MP to the Prime Minister Relief Fund..

Nice Gesture.. 👏👏 pic.twitter.com/HUVg0uZuyM

— Ramesh Bala (@rameshlaus) April 2, 2018
Well played Sachin. That lovely move should end all controversies on the Little Master's RS innings.. https://t.co/mHHISK4hKi

— Chitra Narayanan (@ndcnn) April 2, 2018
Sachin Tendulkar, whose term as Rajya Sabha MP ended recently, has donated his entire salary and allowances to the Prime Minister's Relief Fund. In the past six years, @sachin_rt has drawn nearly Rs 90 lakh in salaries and other monthly allowances.

— Sachin Tendulkar Fan Club (@OmgSachin) April 1, 2018
What a Straight Drive. Lofted over the Bowlers head into the stands.
Sachin Tendulkar has donated his entire salary from Rajya Sabha in his term as MP to the Prime Minister's relief fund. Well Done Legend @sachin_rt.

— Prabhu (@Cricprabhu) April 1, 2018
That should shut a lot of people up. Well done @sachin_rt https://t.co/aK7yGYXWy2

— Mohan Sinha 🇮🇳 (@Mohansinha) April 1, 2018
And, the criticism Sachin Tendulkar received on his move over here:
Attendance of Rekha 4.5% and Sachin Tendulkar 7.3%. He donates entire salary nearly Rs 90 lakh & other monthly allowances to Prime Minister's Relief Fund. Nice move but This will not solve Attendance issue. Why to give Salary for 7% Attendance? We should link Salary to Attendance

— Anshul Saxena (@AskAnshul) April 1, 2018
With all due respect to @sachin_rt , Sachin donating his Rajya Sabha earnings to charity is NOT what we are looking for… Sachin the parliamentarian asking questions and making laws for us, is why he was sent there.

— Tinu Cherian Abraham (@tinucherian) April 2, 2018
Cricket Icon Sachin Tendulkar's RS term Ended.

He has donated his entire salary about Rs 90 lakh to Prime Minister's Relief Fund.

Don't know how to react, but if he had to give to some poor or to needy farmers wud hav been nice

— Frankie (@FrankieMendonca) April 1, 2018
Before that he had donated the time he should have spent as a MP to other causes. https://t.co/aQF3200PhL

— Arnab Ray (@greatbong) April 1, 2018
https://twitter.com/GappistanRadio/status/980419841176817664
MP @sachin_rt donates entire salary to PM's Relief Fund. At least he knows he's not doing anything as an MP. Good.

— mayflower (@MGNTheTwin) April 1, 2018
He was not there to donate. He was there to use to platform and money to serve the nation. A Lutyens banglow for 5 years and umpteen benefits is worth much more than 90L. https://t.co/LhWA1m1INt

— Raju Katli (@soorazkhan) April 2, 2018
https://twitter.com/dnrmanchuri/status/980665066071711744
Celebrities and politicians all over the world are considered to be strong role models for the masses, however, the same just can't be said for the ones in India. While we criticise MPs for their lack of work and attendance, celebrities and social figures after joining the Parliament also start acting in the same way, which is not at all acceptable.
Tendulkar's move can indeed be considered a way to make amends, but it should never be forgotten.
Jyotsna Amla