Much like everyone in the country, even CBFC Chief Prasoon Joshi is grieving over the death of a seven-year-old from Ryan International School, Gurugram.
Pradyuman Thakur, a seven-year-old class two student's death is something that this country will not forget for a long time. Everyone is grieving and sending their condolences to the parents of the kid, who would have never thought before leaving their kid for school in the morning, that this would be the last time they'll see him.
The death of a young and innocent soul has led us to fight for the security that we and our loved ones deserve, especially kids. Every kid in our country deserves a safe environment where their parents would not have to think twice before seeing them off for a school day.
While the authorities have not yet come out with a strong answer, as to how something like this can happen, and that too in one of the best schools in Gurugram.
In between all of this, lyricist Prasoon Joshi recently shared a beautiful poem on his Facebook page. He posted this poem in relation to the child abuse case in Ryan International and every line of his work would hit you hard. It will make you want to cry so hard for everything that is wrong in us, our society, our country and our world, where even a small child is not safe from the atrocity of a human behaviour.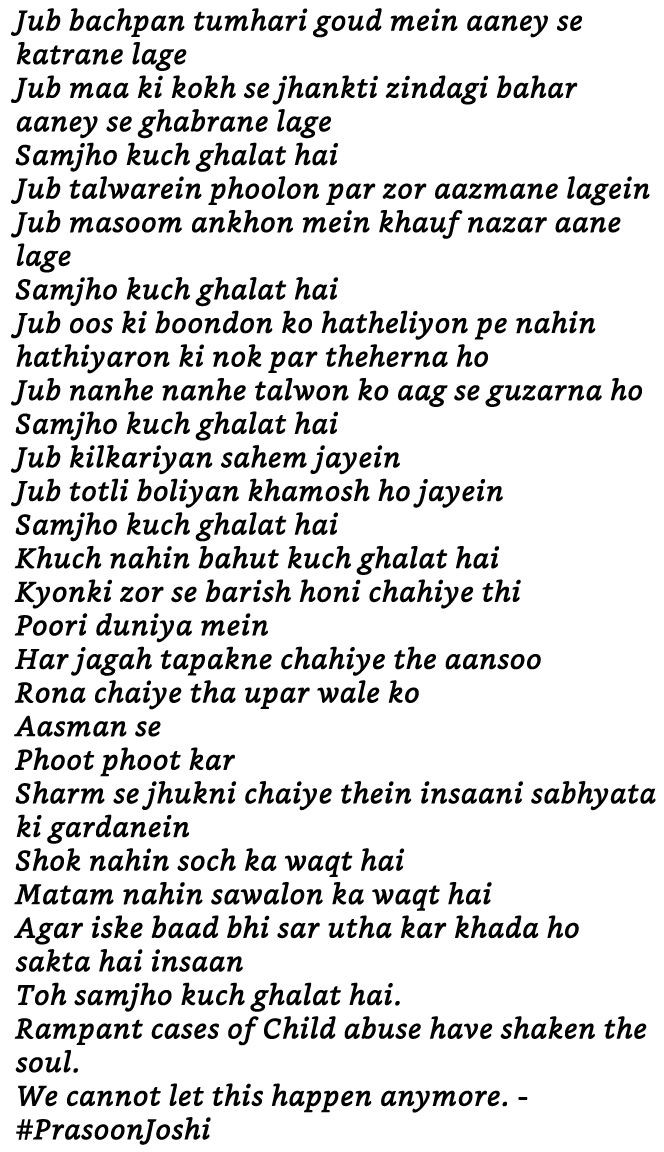 Joshi had first written and posted this poem in 2014, in the wake of Peshawar Attack on the Army Public School where hundreds of kids lost their life. It's sad that kids all around the world are still suffering.
13th September 2017
Jyotsna Amla