In the wake of Women's Day celebration around the world, brands come out with the most bizarre, amazing, uncalled for and obnoxious campaigns to put their best foot forward in the market. A majority of brands and companies often do this to create a facade about themselves, in the market,
While are welcomed with open arms from the consumers, others often receive a ton of backlash for the same idea. And, then, there are some who receive mixed reactions and they are always the most interesting one.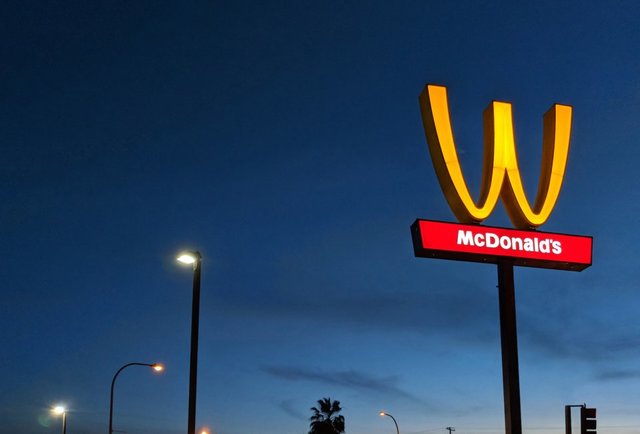 One of such is McDonald's new campaign for women's day in which they decided to flip their golden arches upside down for a day at their Lynwood, California location, along with their social-media display pictures. The fast-food chain has officially flipped its M for a W and this isn't a prank or a mistake but rather a true campaign.
The flipping of golden arches are done in "celebration of women everywhere", said a McDonald's spokesperson to Business Insider.
"In celebration of women everywhere, and for the first time in our brand history, we flipped our iconic arches for International Women's Day in honor of the extraordinary accomplishments of women everywhere and especially in our restaurants," McDonald's Chief Diversity Officer Wendy Lewis said in a statement. She added,"From restaurant crew and management to our C-suite of senior leadership, women play invaluable roles at all levels and together with our independent franchise owners we're committed to their success."
However, this is not just the interesting news, it's the reaction that the tactics are receiving. While some loved the idea and congratulated the chain for their step, some have come forward to publically the chain out for their dual standards. One Twitter user, Nate Lerner tweeted, "Hey @McDonalds, maybe instead of a cheap PR stunt where you make the M a W to "support" women, you do something real — like paying your workers a living wage."
Here are various other reactions to the story.
Hey @McDonalds, maybe instead of a cheap PR stunt where you make the M a W to "support" women, you do something real — like paying your workers a living wage. https://t.co/xoOHRvSQdx

— Nate Lerner (@NathanLerner) March 7, 2018
mcdonalds is flipping the arches on their signs to celebrate international women's day

all other days it stood for MEN https://t.co/TRrgCYWVQZ

— shoe (@shoe0nhead) March 8, 2018
WOW! This is so awesome!! Thank you, McDonalds!

McDonald's is flipping its iconic arches upside down in an unprecedented statement – Business Insider https://t.co/IUYwMBhrse

— itsme (@rmw2744) March 7, 2018
McDonalds is flipping one of their signs to celebrate International Women's Day, which is cool! but as a bonus now they can sue every anime ever made pic.twitter.com/ag54a772tl

— Cabel (@cabel) March 7, 2018
idol: [is racist]
knetz: oh, people make mistakes..

idol: [wants to take someone for a date in mcdonalds]
knetz: pic.twitter.com/nFO0RFpwfZ

— basic soft stan (@seouft) March 7, 2018
https://twitter.com/JessicaKRoy/status/971504072791556097
https://twitter.com/jenstatsky/status/971609592114237441
Before looking at the image, I really thought McDonalds was turning the arches upside-down to look like a butt to celebrate women and was like, yeah not the best marketing idea. A "W" for "women" makes more sense. https://t.co/LnF4hr7uTF

— Katelyn Caralle (@Katelyn_Caralle) March 7, 2018
https://twitter.com/RespectableLaw/status/971618068953780224
If @McDonalds actually cares about women—how bout:
•Paying a livable wage
•Providing healthcare to your employees
•Hiring Women/minorities in leadership. (Women/Munorities are 70% of your employees but only 35% of your exec team)

A mere "W?"

Sorry, Im not exactly "lovin it" https://t.co/4FEqNahL0w

— Qasim Rashid, Esq. (@QasimRashid) March 8, 2018
https://twitter.com/mrfeelswildride/status/971510565104332800
https://twitter.com/truebe/status/971450954053697536
mcdonalds employee: what can i get you?

me: ill have a big mac

mcdonalds employee: great thatll be thr-

me: ACtually *smiling knowingly* its international womens day so ill have a big Wac *entire mcdonalds bursts into applause*

— ᴘᴀᴘᴇʀʙᴇᴀᴛssᴄɪssᴏʀs (@paperbeatstweet) March 7, 2018
I THOUGHT THE UPSIDE DOWN MCDONALDS LOGO STOOD FOR WOLVES

OR LIVABLE WAGES

BUT YEAH THIS IS GOOD SURE FINE

— NOT A WOLF (@SICKOFWOLVES) March 7, 2018
you, a sexist: let's get sausage McMuffins at McDonalds for breakfast

me, a feminist: i would be happy to join you at WcDonalds and partake in some sausage WcWuffins

— clio (@cliomiso) March 7, 2018
This is too true and honestly 100% of girls would LOVE McDonalds for the first date

— tristen the haybale (@cowboy_dan420) March 7, 2018
"Here at McDonalds we're proud of giving men & women EQUAL amounts of diabetes. But to honor women we're announcing that Grimace was always a woman, that's canon. The Hamburglar is also now the Ma'amBurglar. We put a chicken nugget in a dress? Please don't make us pay people"

— Alex Hirsch (@_AlexHirsch) March 8, 2018
McDonald's is not the only brand who's going all out with their campaign. Johnny Walker recently introduced a female version of their popular logo and named it, "Jane Walker", whereas, brands like Old Navy and Barbie have debuted special products to honor the day.
Jyotsna Amla