It's a commonly understood fact that when it comes to Canada, then few other countries on the face of the planet enjoy a more welcoming feeling than India. Indians have been in Canada for the longest time. And even as they may have faced some form of discrimination in the other parts of the world, racism still being as prevalent in our society as it was back then, one cannot comment on Canada on those lines; for it's been welcoming and accepting of Indians and generally people of Indian origin always.
Today, one thinks what could possibly establish this feeling better than visiting the inner functioning of Canadian PM Justin Trudeau's new cabinet.
Where the latest news stands then it appears that Justin Trudeau's new cabinet features no fewer than 4 ministers of Indian origin.
Now if that doesn't go onto explain the close bond and faith that Canada has with India then one wonders, what will?
Only recently did the Canadian Prime Minister unveil the face of his new cabinet that also happens to include Anita Anand, a former law professor at the University of Toronto.
Justin Trudeau's new cabinet includes seven new faces in all. What's rather exemplary, especially from an Indian point of view is that it includes, as stated, 4 ministers of Indian-origin.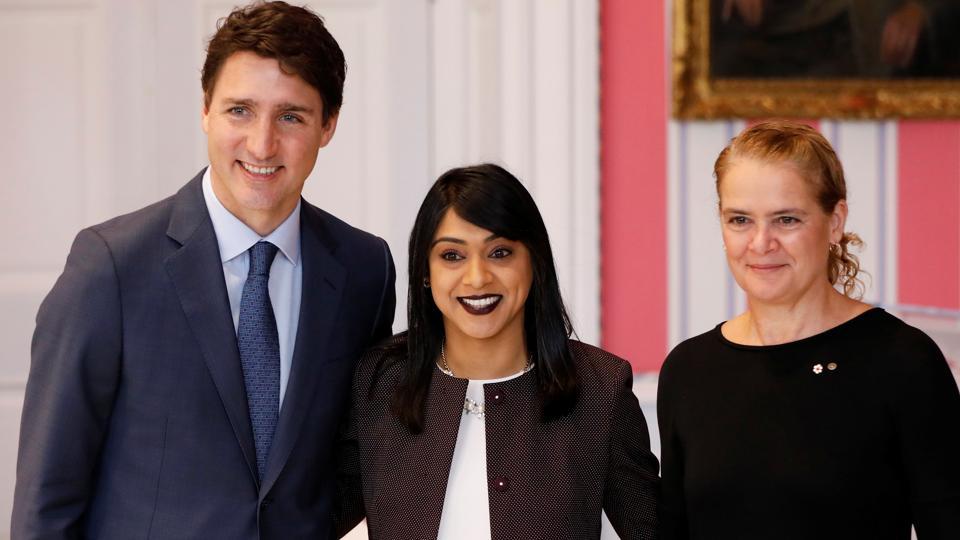 One might be curious to know about the other Indian inductees into Justin Trudeau's new cabinet. To that end, it's important to note, the other three Indian-origin MPs are Sikhs, newly inducted into the cabinet. Their names are- Navdeep Bains (42), Bardish Chagger (39), and Harjit Sajjan (49).
It's also confirmed that the Liberal Minority's government was recently sworn in on this last Wednesday, at the Rideau Hall in Ottawa. This again put 47-year-old popular Canadian politician Justin Trudeau in the seat of absolute dominance in the sphere of Canadian politics and diplomacy.
Elaborating on Ms. Anand's induction into Justin Trudeau's new cabinet, it's worthwhile to note that the 50-something professor represents Oakville in Ontario and also happens to be among the two newly-elected ministers.
She was elected into the 338-seat strong House of Commons for the first time during the October Federal elections.
It's confirmed that Ms. Anita's role would be toward public services and procurement portfolios, a crucial role that comprises approximately billions of dollars of public spending, an aspect that also includes the purchase of military hardware.
Popular news outlets in India happened to elaborate more on the details of the roles of the other newly-inducted MPs of Indian origin in Justin Trudeau's new cabinet and shared:
Mr Sajjan, a former Vancouver police detective and a lieutenant-colonel in the Forces, remains the minister of national defence, the Canadian Broadcasting Corporation reported.
Mr Bains was named as the minister of innovation, science and industry. He represents Mississauga—Malton district in Ontario and retains the innovation and science files but his ministry has been restructured to include industry, the report said.
Meanwhile, Ms Chagger, who served as the government House leader in the last Parliament, will now not only take on diversity and inclusion, but also Mr Trudeau's responsibility for the youth, it said.