Lockdown has pushed. Billions of people stay indoors for more than a year, moreover it has put a halt of sorts in our normal life. However, the group that is facing the maximum brunt of this pandemic are the students in school and college, giving up on the crucial years of their life and being stuck at home. Our education system already puts rote learning and exams at a priority over learning through experiences, the current situation has added more pressure on the kids to compete in the rat race.
In the midst of all this, we have a group of kids from Amity International School, Saket, who decided to do something exciting during the school-from-home time rather than just attend online classes.
Competing in the global F1 In School competition, these kids have designed a F1 car with the help of Autodesk Fusion 360, all while keeping the rules and regulations of F1 in mind. It is a multi-disciplinary global challenge where students aged 9 to 19 can participate in teams and deploy CAD/CAM software. With this, they work on collaborating, designing, analysing, manufacturing, testing and then racing miniature compressed air powered cars made from F1 model blocks. It helps the kids to come out of their sanctioned education box and experience something interesting and exciting to make a product powered by technology, all from scratch. In addition to all this, these teams must also raise sponsorship for their project and manage budgets to fund their research, travel and accommodation, finessing their entrepreneurial spirit right from the beginning.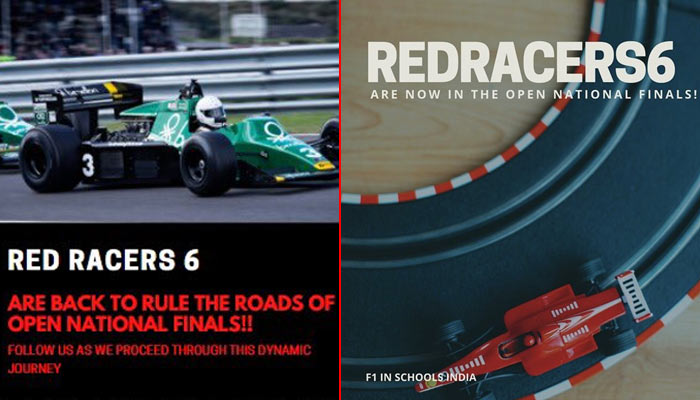 Going by the team name of RedRacer 6 owing to the number of members in the team, and as a way to showcase their growing love for racing. The team consists of Sshiven Barathi, Lakshita Agrawal, Aarav Sabharwal, Aagastya Manoj, Navya Das and Lakksh Malik. 
F1 in Schools, a not-for-profit company established with the commitment of partners who are keen on providing an exciting, yet challenging educational experience to kids in schools, all through the exciting and magnetic appeal of F1. In fact, this is one of the only truly global programs that works on raising awareness about STEM and Formula 1 among students, reaching kids of every country and every continent. The founding constitution of the organisation has stated that they will always be a not-for-profit organisation, and all the funds that they'll raise would be diverted and invested in administering, developing and expanding the challenge.
Programs and competitions like these help the kids to move out of their comfort zone and embark on a fun and exciting journey, helping them to grow in a real-life scenario and helping them in building an entrepreneurial spirit, something that can never be taught or learned in school. We wish these kids the best and hope they'll be able to achieve their goals and win the competition too.