He was called the King of pop. He was the greatest dancer the pop music world had ever seen and has been one of the noted entertainers in the whole wide world. Few lives, it has to be said, have made such an impact in the world of pop culture and entertainment as Michael Jackson.
While many to this day feel sad that Michael Jackson isn't there anymore, longing for his presence, if you were a true fan, you'd know that the former King of Pop is perhaps in a peaceful spot. He wouldn't mind being there- one can humbly submit despite missing Michael Jackson all the time.
He had already gone through a lot of remorse and pain was his only constant companion well into his final days as more and more strained ties with friends and family dominated discussion surrounding Jackson.
But then, implicit to Michael Jackson's whirlwind life has been his signature dance moves and the famous face, an impression that has made its presence whether on pop culture graffiti, items of memorabilia, books, vinyl covers and whatnot. It's something that fans and critics thrive on and do not wish to be deprived of.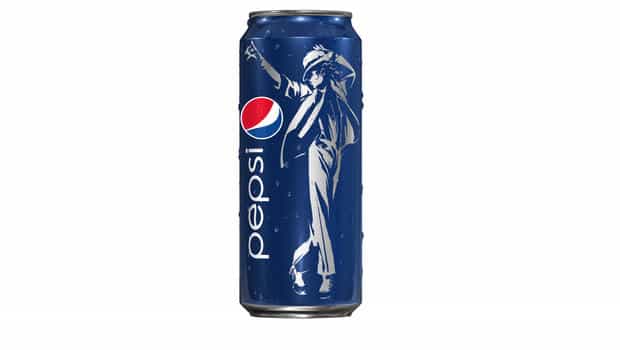 In fact, if you thought about the trend, cut away from the hoards of paparazzi culture and the rush you'd find that the world breeds on celeb-dom or celeb culture. Perhaps, even as the underlying idea is to associate a famous celeb's face to an iconic brand in order to push sales, it leaves behind an important remnant: that of holding on to the image of someone who's been a grizzly in the world of celebrity. And there's hardly a doubt about Michael Jackson's legendary presence in the world that often depended on him to push the envelope of music and thus, creativity.
Therefore in the light of Pepsi coming out recently with a limited edition of Michael Jackson cola cans, there was both a feeling of nostalgia and a reminder of the starry image of the US-born entertainer. The Billie Jean singer was one of the big brand ambassadors of the carbonated drink maker during the heydays of the 1980s where after the launch of Thriller and the build-up to 'Bad', he had been signed up by Pepsi.
While Jackson had begun appearing for the Pepsi shots and campaigns way back in 1984 itself, it is known that Michael Jackson had appeared posthumously around 2012 in a series of ads to celebrate Bad, on the occasion of his album's 25th anniversary. But that leads us to question just what is the idea behind new Michael Jackson styled Pepsi cans that have hit the market?
It is known that in order to mark the legendary #Pepsigeneration campaign, that Michael Jackson was a part of in the eighties, the brand has marked this as a special occasion to commemorate the signature ad campaign which truly started an era of the brand becoming an irreplaceable part of the mega Superbowl campaign. Together with Michael Jackson, there are also stylised designs of other singers and prominent ones at that such as Britanny Spears and Ray Charles.