I still remember the time when as a kid my family and I used to cherish the picnic days on weekends. Forget family, I was super excited for even the school picnics. But there's this distinct thing about going on a picnic with your family, where you would pack some gazillion variety of food, games to pass the day and a comfortable setting.
All of these were picnic starters, however, slowly and steadily, the picnic culture among people seems to be dying. Not many are seen out there in parks and historical places with sheets and picnic baskets. Which is why places slightly on the outskirts of Delhi are the favourite of people while planning an amazing day out and picnic.
I have this special place for picnics in my heart which cannot be replaced by any kind of nightclubs or cafes, and I know that there would be many like me who feel the same and are in constant need of places to explore. This list includes destinations outside Delhi which are the best picnic spots that you can explore with your family or friends, and have a day to cherish for your life.
Best picnic spots near Delhi:
1. Damdama Lake
Damdama Lake is a perfect place for when you want to have an amazing picnic day with your friends and family, along with a picturesque lake being an absolute beauty for you. If you want, you can also book a room or two at the resort which is present outside Damdama Lake. You can also indulge in activities like paddle boating, row boats, motor boats and what not, at this lake which is said to be one of the biggest natural lakes in Haryana. Along with a beautiful lake, you also have a backdrop of scenic Aravalli Hills which would immediately pull you out from the entire Delhi feel.
Distance from Central Delhi: 50 km
2. Sultanpur Bird Sanctuary
Sultanpur Bird Sanctuary is best for all the bird watchers out there who love to explore different birds and have a gala time while doing so. The best time to plan your picnic at Sultanpur Bird Sanctuary is in winters when a large variety of migratory birds visit the sanctuary. You can almost expect to 100 species of migratory birds, gracing their presence to the watchers. Take a walk around the park, which would almost take 1.30-2 hours and have a fulfilling lunch afterwards. What more can one desire for?
The sanctuary is located near Gurugram and can be reached easily.
Distance from Central Delhi: 45 km
3. Pratapgarh Farms
Pratapgarh Farms is the new age adventurous place for all the folks who never have had a taste of rural India. The place is advertised as a unique holiday village around Delhi which is best for anyone who wants to try something new this weekend. Many have described Pratapgarh Farms' experience as something that everyone should try, at least once in their lives. And this becomes all the more essential for all those city people who never got the opportunity to experience villages, first handedly. You can indulge in some sports, games, mud wrestling, camel rides and what not, the place is fully equipped with an amazing staff and essentials.
Distance from Central Delhi: 70 km
4. Asola Bhatti Wildlife Sanctuary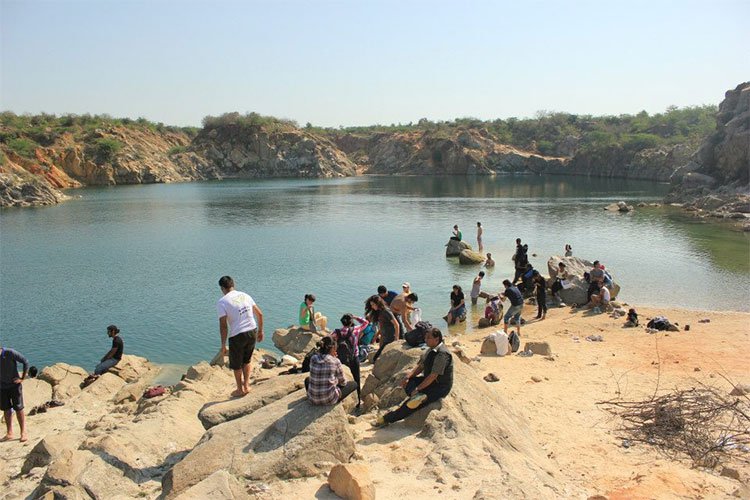 Asola Bhatti Wildlife Sanctuary can be considered as the most easily accessible and reachable place from all of the above. It is not near Delhi but rather in it which makes it an absolute favourite for people who don't like to travel a lot in cars. Visit the sanctuary for a day long adventure which involves a huge variety of bird species. If you want to make your experience an educational one for your kid then don't forget to visit the Conservation Education Centre (CEC) which is situated in the Forest Department Building and has detailed information on Flora and Fauna, as well as how can one help to conserve them.
Distance from Central Delhi: 30 km
All these locations come with one major and most important thing and that is the scenic beauty. Spend a long day with your near and dear ones while having a lot of fun doing the most adventurous and soul-fulfilling things. Trust us, one trip and you would be wanting more of this solace that locations like these carry with them, which is the reason why they're considered to be some of the best picnic spots near Delhi.
17th March 2017
Jyotsna Amla