A trip to Leh and Ladakh is every traveller's dream, the scenic beauty is the perfect fuel for wanderlust of a wanderer. Wishes are one thing but reality is another, many have planned to visit this magnificent beauty, some fulfilled their wish and some are still waiting. Most of the people do not visit this place often as travelling Leh and Ladakh requires big money and a shoestring budget keep them from experiencing the beauty of this mysterious land.
Well, if you are one of those fellas who were waiting for a miracle, here it is. This NEWS will make you go WOW! You can now visit the land of snow-clad peaks and mountains in the easiest and cheapest way possible. How? Here is your answer:
Himachal Road Transport Corporation (HRTC) just started New Delhi-to-Leh bus service and one-way fare on the Delhi-Manali-Leh route will cost you Rs 1365 only. Isn't it exciting?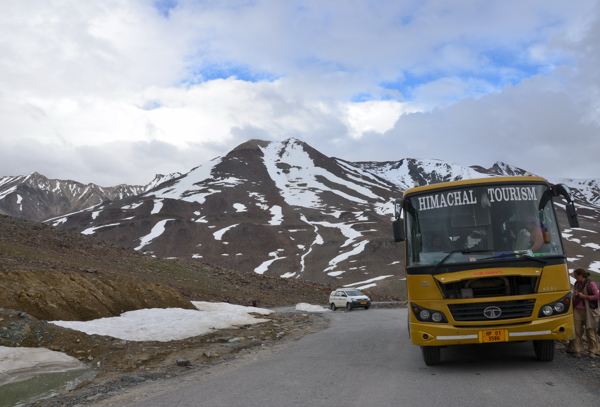 Before you go over the moon, you should know that there are some guidelines to this journey. A faint-hearted person can not travel as the destination's weather conditions are never constant. They keep swinging from sunny to rainy. You will be 17,000 feet above sea level, therefore, you may experience sickness, nausea and headaches.
The journey will cover a gruelling 1050 kilometres in one way. The drivers of these buses are highly skilled and are trained to drive on the deadliest roads. The bus will leave Manali at 11.a.m. on every alternative day and will reach Leh next day in the evening. The bus will halt overnight at Keylong in Lahaul-Spiti district, this overnight stay and breakfast will cost you Rs 2700 extra.  HRTC ensures that your journey will be safe and secure.
So what are you waiting for ? Pack your bags to explore some beautiful routes.
Follow us on Facebook, Twitter and Instagram for more updates. Don't forget to like and share. Do tell us your views in the comment box below.
22 June 2016
Avni S. Singh