Bali has turned into one of the most popular travel destinations in the last few years. People are going there for partying, for exploring the place, for bachelor parties, weddings, honeymoons and everything in between. The tourism of this place has spiked significantly and there are tons of reasons behind it, the place is cheaper, offers nature at its best and you get to do so many great things while being here. However, many still are not completely aware of the beauty of this place and for them, we have made this list of some of the best things to do in Bali.
This list is a mine gold for anyone who is planning to travel to Bali in the coming time and needs some good suggestions to put in their itinerary and also for those who are simply just considering Bali for now. We have added some of the most adventurous, visually stunning and awesome experiences in this list of best things to do in Bali and each and every one of these is incredible and a must-do.
Check out these things and then decide when would you like to actually visit Bali and put a tick on every one of these experiences.
1. Visit the Tegalalang Rice Terraces
A visit to Ubud in Bali is absolutely incomplete without a visit to the Tegalalang Rice Terraces. The view of these rice terraces is just stunning and it is definitely something that will remain in your memory for a long long time. There are tons of shops and cafes around these terraces selling art and some of the most scrumptious food for very cheap. The best time to explore this place is definitely in the morning time when everything is very slow and fresh.
2. Taking a stroll at the Monkey Forest in Ubud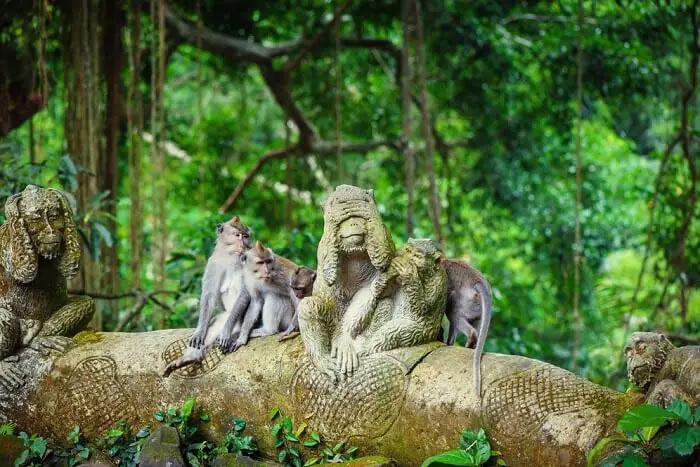 Another one of the best things to do in Bali is to visit the monkey forest in Ubud which is a natural forest sanctuary which is home to a horde of grey long-tailed macaques. It is one of the oldest forests in Bali and has been a well-preserved site, all thanks to the community-based management program which is responsible for the well-being of this monkey forest. You can watch cute monkeys in their natural habitat, relaxing, playing and eating bananas while you take a stroll through the stunning leafy nutmeg forest.
3. Witness Kecak Fire Dance
If you're in Bali or planning to visit it then one of the best things to do in Bali is to witness the Kecak Fire Dance, first handedly. Some 65 plus people come together to vocalize the sounds of different instruments and tell a story through their dance performance. The entire performance takes place in an amphitheater around the Uluwatu temple during sunset with a stunning backdrop to the entire performance.
4. Visit the Besakih Temple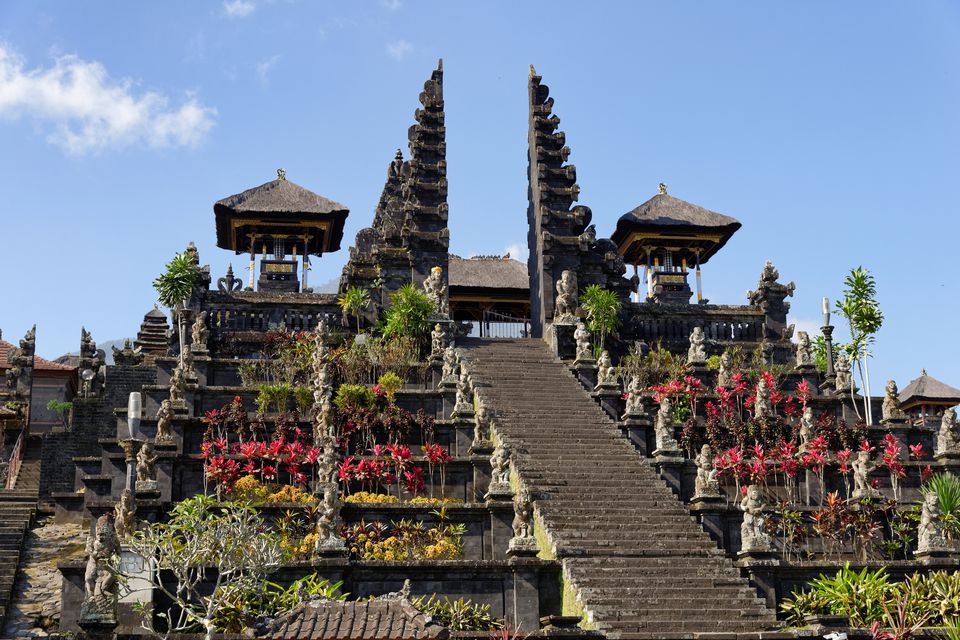 Bali is filled with temples and every one of these temples has something different to offer to the devotees. The Besakih Temple on the south-western slopes of Mount Agung, which is the tallest peak in Bali, and it is considered to be the "mother temple" of Bali. One of the largest temples in all of Bali, the Besakih has a total of 18 different sanctuaries and each one of them belongs to a different caste group. In fact, the central complex is surrounded by three different temples that are devoted to the holy Hindu trinity – Shiva, Brahma and Vishnu. This particular temple has also been recognised as one of the world heritage sites in Bali in 1995 which makes visiting this place to be all the more special.
5. Surf in Bali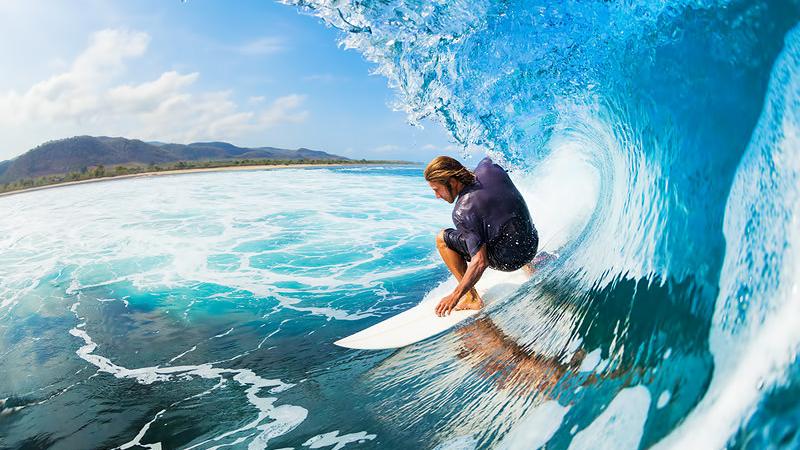 People visit different parts of the world to quench their thirst for some good waves to surf on and if you're also someone who likes to surf or have always wanted to learn it then you need to give this place a shot. One of the major reasons behind the staggering growth of tourism in Bali is its surfing scene and the waves that have been piquing the interest of surfers from all around the world. The incredible waves in Bali were first discovered in the 1930s and people are coming here to test the waves, ever since then. A hardcore surfer will always consider this particular thing to be one of the best things to do in Bali. And, if you want to learn how to surf then there are a bunch of surf schools and board rentals around the beach that you can get in touch with.
6. Party at Kuta, Legian and Seminyak
If you're going to Bali to party and just party then you should devote all your time to the Kuta-Legian-Seminyak strip which is filled night clubs and party places with a wide range of styles, crowds and price points. You can explore anything, from a beach club to a quiet sunset cafe and even some of the craziest parties. These 3 beach resort areas are popular for offering some of the best partying experience in all of Bali where anything and everything can happen. These 3 areas are known as the epicenter of all things dancing, drinking and dining which is why visit them during the wee hours are one of the best things to do in Bali.
7. Uluwatu Cliff
Located in the deep south tip of Bali, the Uluwatu Cliff offers you a breathtaking view. There is a 70-meter drop from this cliff, so if you're someone who enjoys cliff diving and adventure then you can totally check this place out. A sunset view from this cliff will be able to encapsulate all your Bali's trip in one moment and everyone deserves to experience a moment like that.
These were some of the best things to do in Bali that everyone who is planning to visit Bali should know about and then add in their itinerary. So, what are you waiting for? Get your friends and book your tickets, this is the time to go on an adventure.