Rajasthan has to be one of the most culturally significant states in the country and if you're planning to explore the northern part of India, gleaming with hot weather and dessert then you need to keep Jodhpur in your places to travel to. Jodhpur, also known as the blue city, is the second-largest city of Rajasthan and popular for its unique and decadent blue houses. However, much like the rest of the country, every city has too much to offer its visitors and if you're short on your time and need to hit the best of the best then add these places to visit in Jodhpur to your itinerary.   
These specific places come with a rich and historic past, along with a great significance to the people of Rajasthan. So, check out some of the best places to visit in Jodhpur.
Best Places To Visit In Jodhpur
1. Mehrangarh Fort
It is the most explored places by the tourists who pay a visit to Jodhpur and thus considered to be one of the best places to visit in Jodhpur. Earlier, it used to be a majestic palace but now it has been converted into a museum, one which represents the rich culture, tradition and heritage of Jodhpur.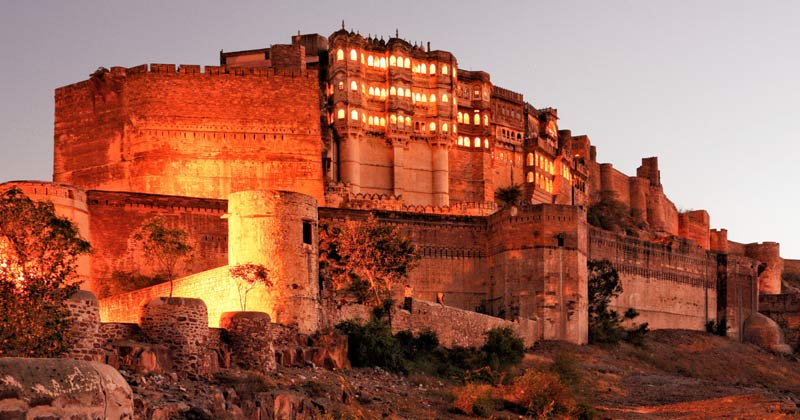 This fort is a work of architectural brilliance and one of the largest in the country. Also, it is located on a hilltop at a height of nearly 410 ft above the city and giving a mesmerizing view of the whole city. It costs ₹60 for one person and is open from 9 in the morning to 5 in the evening.
Timings: 9:00 AM to 5:00 PM
Price: ₹60 per ticket
2. Umaid Bhavan Palace
This is one of the last constructed palaces in India and is very popular for its design and architecture. The palace is divided into three areas, out of which one is still owned by the royal family of Jodhpur. The other two remaining areas have been converted into a hotel and museum each.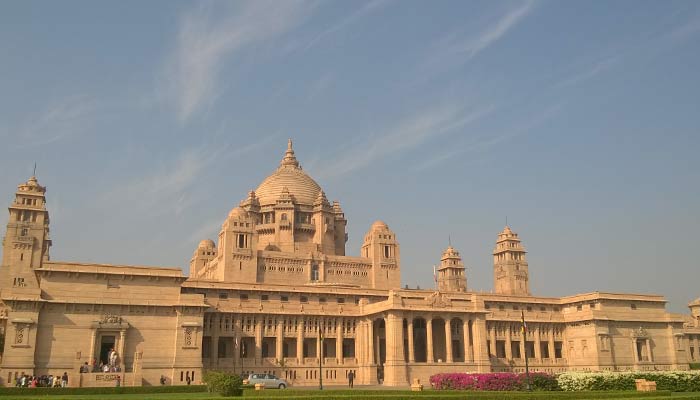 The heritage hotel provides a royal experience to its visitor and the museum showcases the royal age art pieces. It is truly one of the best places to visit in Jodhpur. It costs just ₹15 per head and is open 24 hours. Recently, the palace has witnessed some major celebrity weddings – Priyanka Chopra and Nick Jonas being one of the couples.
Timings: Opened 24 hours a day
Price: ₹15 per ticket
3. Ghanta Ghar – Best Places To Visit In Jodhpur
Also known as the clock tower, it is the most important landmark in the city of Jodhpur. This tall colossal tower was built by Maharaja Sardar Singh under his rule between 1880 and 1911. Also, it lies close to one of the most famous markets in the city, Sardar Market.
In the night, the clocktower gets beautifully lit with amazing lightings and is a sight worth watching. You can buy several artefacts and artistic things from the market as souvenirs to commemorate your trip to this city. There's no entry fee and it opens from 10 am to 8 pm.
Timings: 10:00 AM to 8:00 PM
Suggested Reads: Best Places To Visit In Pushkar To Enjoy The Beauty Of This Historic City
4. Bishnoi Village
This place in Jodhpur has still kept its traditional and cultural activities alive unlike most of the other places in our country, which makes it a unique tourist spot. One can enjoy their time here with Camel Trek, Cane spotting, Desert Excursion, Village walk etc.
The art and handicraft make it an excellent tourist spot and brings its tourists closer to the history and culture of Jodhpur. Several tours provide you with the best experience here and you can also opt for a heritage walk to understand the significance of this place better.
5. Flying Fox
It is a small adventure park that provides several thrilling activities to its visitors. You can find ziplining, rock climbing, rope climbing, flying fox etc. being offered here for the thrill-seekers. It offers you an excellent view of the city while allowing you to fight your fear of height. It is open from 9 am to 5 pm, and costs somewhere around ₹500-₹2000 per person.
Timings: 9:00 AM to 5:00 PM
Price: ₹500 – ₹2000 per person
Suggested Read: Why Is Jaipur Called Pink City? Pink City of India – Jaipur
6. Jaswant Thada – Best Places To Visit In Jodhpur
It is located near Mehrangarh Fort and is considered among one of the best architectural landmarks in Jodhpur. It is an empty commemorative tomb that was built in honour of Maharaja Jaswant Singh. The location and surroundings of this place make it a popular tourist spot attracting millions of tourists every year. It is one of the best artistic marvels to visit in Jodhpur. It costs ₹15 per person and is open from 9 am to 6 pm.
Timings: 9:00 AM to 6:00 PM
Price: ₹15 per ticket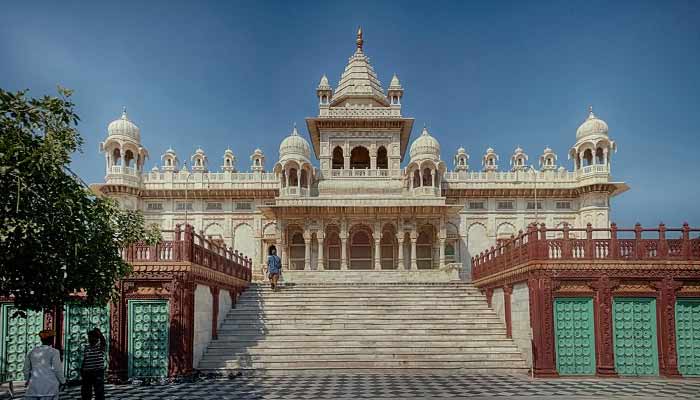 So, these were a few of the best places to visit in Jodhpur that one needs to pay a visit to, during their stay in the city. The Blue City is mostly famous because of its rich heritage and its proper showcase at some of the best architectural marvels. Even if you're not a fan of history, you are bound to have a great time over here. So, make sure you give this place a visit.