Within a couple of days all the 'Big Boys' of Telecommunication Industry have launched new unlimited voice call plans starting from as low as Rs 145. Since the introduction of Reliance Jio in the telecommunication industry, Airtel, Idea and Vodafone, the three biggest networks in India, are struggling to hold the ground in front of the new entrant.
We have seen many offers coming out from Airtel, Idea and Vodafone, in the past and they are back to up their game with new unlimited voice call plans.
Airtel
The company has launched two plans for Rs 145 and Rs 345. If you subscribe the Rs 145 plan and you have a 4G enabled smartphone, you will get 300MB of data with unlimited Airtel to Airtel local and STD calls. Yes only Airtel to Airtel!! Are you serious?
There is a catch, if you go for the Rs 345 plan, you will receive 1GB of data and unlimited local and STD call for any network. It clearly shows that Airtel is still finding it hard to offer unlimited voice calling for lower rates,if not free.
Idea
Similar to Airtel's plan, Idea is offering Rs 148 and Rs 348 plans. The Rs 148 plan allows users to use 300GB of 4G data and make local as well as STD all over India, but again, only Idea to Idea.
The Rs 348 plan gives 1GB of data with unlimited local and STD calls on any network, all over the country. Surprisingly, the data usage is limited to 50MB for all 3G and 2G smartphone users.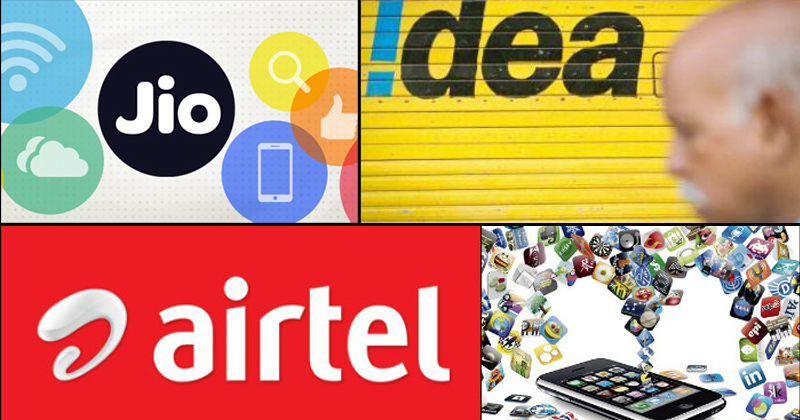 Vodafone
The company has taken the lead here and will attract more subscribers to its network. Vodafone has launched two plans for Rs 149 and Rs 344. Not only the plans are more economical for the users but they also give unlimited voice calling for local and STD, irrespective of the plan you choose. Take that Airtel and Idea!!
The Rs 149 offers 300MB 4G data while the Rs 344 plan offers 1GB of data.
Both the plans from all the three companies are valid for 28 days.
Even Aircel has joined the race and has launched a Rs 148 plan with a validity of 90 days. The plan offers 2GB of 4G data per month with 15000 seconds of free voice calling for the same period. Voice calling includes all Local and STD calls irrespective of the network, however, after the consumption of 15000 seconds limit or we can say 250 minutes limit, all calls will be charged at 0.30 per minute.
Despite being the most economical plan, the underdog of the Telecommunication Industry may find it hard to compete with the other three due to quality of services.
Coming back to the 'Top Three', Vodafone seems more promising, considering the quality of services, 100 million consumer base and Unlimited calling offer, irrespective of the plan.
However, Vodafone's new strategy is still not at par with that of Reliance Jio's free voice calling and data plans with no terms and conditions, period. With Reliance Jio getting a nod to extend its free services till March, 2017, it is not going to easy to stay in the competition.
Everything said and done, Reliance Jio has also suffered and is suffering from its share of difficulties since its launch in September 2016. One of the prominent being the call drop rate and quality of network.
Vodafone will definitely retain its current users and if Reliance Jio continues to fail in providing quality services, the former may emerge as a clear winner.
Follow us on Facebook, Twitter and Instagram for more updates. Don't forget to like and share. Do tell us your views in the comment box below.
9 December 2016
Rohan Jaitly