Facebook-owned WhatsApp is soon going to launch another update which by far, is one of the most substantial ones and this WhatsApp update is going to save you from the embarrassment of awkward or mistaken texts.
You would be lying to yourself if you have never ever regretted sending text messages on a WhatsApp chat that you weren't even meant to send. These texts might have gone to your boss, your teacher, that want-to-ignore colleague or maybe you were at fault for drinking that much. It can get even worse when messages have been delivered to your parents instead of your lover or instead of your current boyfriend/girlfriend, a message was mistakenly sent by you to your ex.
You would kill to go back in time and make it all right but by then, the damage had already been done.
What if you have a solution for this? Sounds fantastic right!!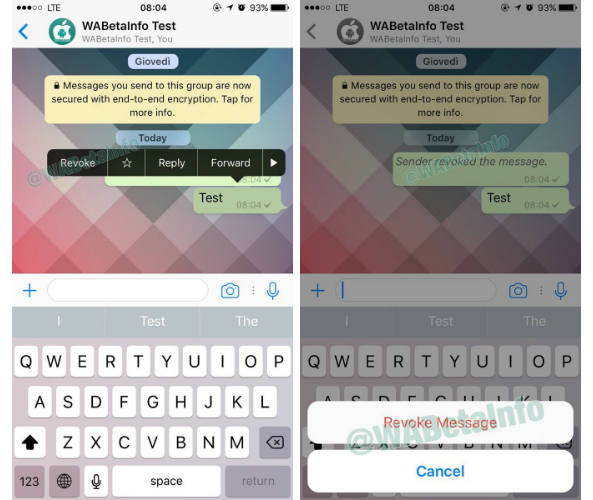 Well, WhatsApp, the most used messaging app in the world is developing an another feature that will make to able to unsend (recall) or edit a sent message within five minutes of making the mistake and this has been confirmed by WaBetaInfo (@wabetainfo), a Twitter handle that tracks developments in WhatsApp's beta build.
The Recall feature will be remotely enabled in 2.17.30+.

— WABetaInfo (@WABetaInfo) June 5, 2017
Moreover, it won't be limited to text messages only as anything from images, videos, GIFs to documents, quoted messages and status replies, users will be able to recall anything after this WhatsApp upgrade.
The revoke feature (called now "unsend") should be available very soon, but probably we should wait the next iOS official update before.

— WABetaInfo (@WABetaInfo) April 17, 2017
If you didn't read, the new WA Web update adds many improvements for revoked messages, modifying the time limit to unsend messages (5 min).

— WABetaInfo (@WABetaInfo) April 17, 2017
If you are thinking that this it, you are wrong my friend. There are a slew of other updates that WhatsApp might come up with and one of the most notable one of the comeback of a 'contacts tab' that had to be disabled for the Status feature.
Since the new features are expected to come in iOS based apps first, we expect them to be launched with Apple iOS 11 update and once it is there, WhatsApp might bring the new changes to Android OS soon and most probably before the end of 2017.
WhatsApp has been coming up with new features every now and then, and while Video, as well as Audio calling, has been it's biggest of updates, the unsend feature will help it regain the lost ground due to the emergence of Snapchat and Instagram's message options.
WhatsApp is currently available in more than 50 languages all over the world and 10 languages in India which has given the app 1.2 billion active users worldwide as well as 200 million in India.